Hammon calling shots for Spurs in NBA Summer League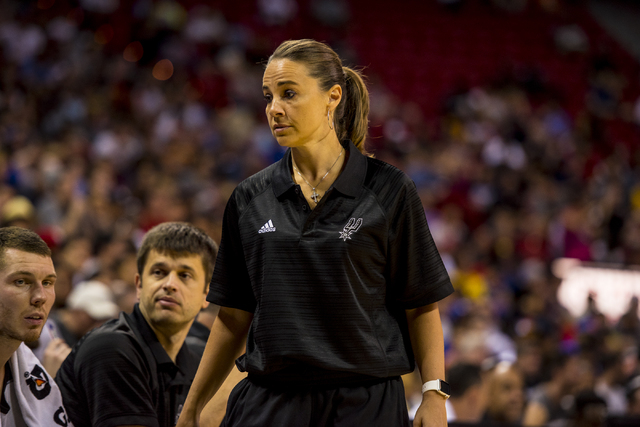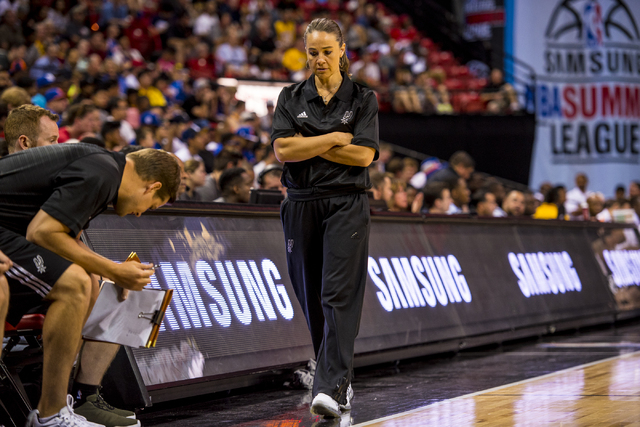 It was a few ticks past 1:30 p.m. Saturday when Dick Calvert, the Thomas &Mack Center public address announcer, introduced the wannabe San Antonio Spurs to another impressive NBA Summer League crowd.
He said the wannabe Spurs were being coached by Becky Hammon.
A guy sitting behind the San Antonio bench cheered lustily. He was wearing a Kawhi Leonard jersey and black socks with the Spurs' logo. You could tell he knew a lot about the Spurs.
Nobody else, however, seem to seize on the significance of Dick Calvert's announcement. Before the just completed season, Becky Hammon, the former Colorado State and WNBA star, became the first woman in NBA history to be named a full-time assistant coach.
If you think it was a publicity stunt, you're nuttier than Dennis Rodman.
The guy who hired her, Gregg Popovich, grew up in mean streets near Gary, Ind., and graduated from the Air Force Academy. If you haven't seen him interviewed at halftime of NBA games, Popovich is a no-nonsense fellow who isn't fond of the media or big on publicity stunts.
So history was being made, even if it was only NBA Summer League history.
A woman had been announced as head coach.
A guy wearing Spurs socks cheered.
But then the wannabe Spurs fell behind the wannabe Knicks 13-2. When 38-year-old Becky Hammon jumped off the bench to request a timeout, her ponytail was flying.
From my seat in the fourth row, I could hear her telling the wannabe Spurs that now would be a pretty good time to get one or two of those hustle statistics they're keeping for the first time in the summer league. And that when No. 6 on the Knicks flashed through the lane unimpeded, perhaps it would be a good idea if one of her big guys at least tried to impede him.
The other San Antonio assistants stood to the side nodding their heads as Hammon drew up pro basketball plays.
You could tell it was her huddle.
While this was happening, two teenagers wearing strange basketball jerseys sitting behind me were conversing in a foreign language.
One spoke rapidly before finishing by saying "Becky Hammon" in English.
The other spoke rapidly before finishing by saying "Oh — Becky Hammon."
Their names were Ryan and Dion, and they play for 116 Ragunan Senior High School in Jakarta, Indonesia — and they were national champs in Indonesia. They knew of Becky Hammon. They also said they were coached by a woman, so no big deal, really, at least not in Indonesia or out on Christmas Island in the Indian Ocean.
Anyway, the wannabe Spurs must have been paying rapt attention to what Ms. Hammon had to say.
It wasn't long before San Antonio took the lead.
From there the game ebbed and flowed as most summer league games do. When a wannabe Knick flowed to the basket for a backboard-rattling dunk, Ryan and Dion slapped palms and exclaimed, "It is not like this in Indonesia."
The wannabe Knicks led by three during the final seconds when Becky Hammon asked for time again and drew up another play on the eraser board. She was standing in front of Dick Calvert at the scorer's table when her wannabe Spurs began to look confused, so she asked for another timeout, with 15 seconds to go.
Nice job, Ms. Hammon. Savvy coaching move right there. Red Auerbach would have done the same thing.
This time the wannabe Spurs got a great look.
The ball went to Jarell Eddie, who missed an open 3 from the corner.
During the past season, Eddie played for or was property of the Wizards, Hawks, Celtics, Fort Wayne Mad Ants, Austin Spurs, the Hawks again, the Austin Spurs again, the summer league Pacers, the summer league Spurs.
Sometimes guys who are that well traveled do not knock down the open 3, no matter how well it is drawn up.
Afterward, Hammon talked about drawing up plays, and how she's learning to speak to young pros who sometimes aren't keen on hustle stats, and the significance of her being announced as an NBA Summer League head coach.
She said learning basketball from gruff but lovable Gregg Popovich is like learning to build cars from Henry Ford.
"I feel like I'm just a flower that is getting great roots but far from blossoming," she said.
"I just think it's important for society that women be rewarded for their brains just as much as any guy. To me, it's about the bigger picture. We want to make sure that when your wife or daughter goes in for a job interview that she gets the same opportunity a guy gets.
"That's the bigger picture, the bigger goal. Whether it's the Army or the operating room or CEOs, we want women there. And statistics will tell you it does pay off to have a woman in the mix."
She talked a little more about the brief summer league timeouts, and how you have to draw up plays real fast, before the Spurs' PR guy said she'd only take one more question.
Asked if she had any memories of the Thomas &Mack Center, she said only one: "Yeah. Losing my senior year. I remember that," she said with a frown — not a Gregg Popovich halftime scowl, but just a small frown for effect.
That was the season she led Colorado State to a 33-3 record and the NCAA Sweet Sixteen and surpassed Keith Van Horn as the Western Athletic Conference's all-time leading scorer.
That was before Becky Hammon would become a WNBA star and play in the Olympics and become an NBA pioneer, and before they would hear of her on the playgrounds of Jakarta.
Las Vegas Review-Journal sports columnist Ron Kantowski can be reached at rkantowski@reviewjournal.com or 702-383-0352. Follow him on Twitter: @ronkantowski.