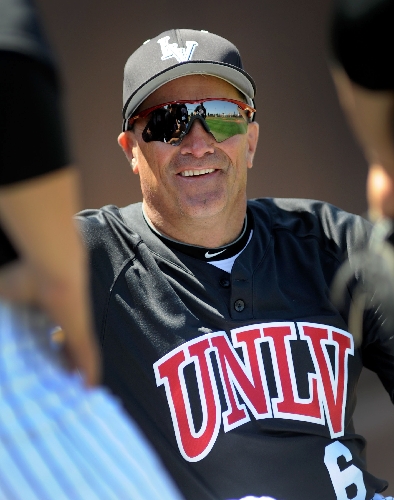 I was texting with one of my old American Legion teammates the other day, and he wanted to know what I thought of Bryce Harper's rookie season.
"That's a clown question, bro," I typed.
My old teammate didn't know what I was texting about, because he now lives somewhere in southern Indiana where there are log cabins and lots of trees and they apparently don't get ESPN.
Clown question, bro. That's what the Las Vegas phenom had told a Canadian reporter in June after Harper had a monster game against the Blue Jays, and the reporter asked the 19-year-old Washington outfielder what Canadian beer he might celebrate with, because drinking beer is legal in Canada when one is 19.
(So, too, I believe, is high-sticking in the corners – now that Gretzky has retired – and shooting at a moose with an AK-47, as long as one is from Saskatchewan.)
So even had Harper batted .221 – Mario Mendoza's average during his rookie season with Pittsburgh before that line dividing the good hitters from the late-inning defensive replacements was named for him – Harper's rookie year would have been remarkable based on that quote alone.
But Harper didn't hit .221. He hit .270 in 139 games, with 26 doubles, nine triples, 22 home runs, 59 RBIs and 18 stolen bases – as a teenager. He also threw out guys running the bases from darkened nooks and crannies. So you can understand why one might consider any question about his ball-playing skills of the clown variety.
Imagine, if you will, what kind of numbers he could have put up if those 'fraidy-cat pitchers had the gumption to throw him a 3-2 fastball, like they do with A-Rod.
I am aware that fellow phenom Mike Trout also played in 139 games, hit .326 with 27 doubles, eight triples and 30 homers, and drove in 83 for the Angels. But he turned 21 in August, which in baseball years is two more than 19 – though Harper turns 20 on Tuesday.
Plus, Trout was only the 25th guy picked in the 2009 draft. He didn't face the same expectations as Harper. Trout also played in 40 games in 2011.
When Sports Illustrated was anointing Harper the "Chosen One" – baseball's LeBron – it put him on the cover when he was 16.
When Trout was 16, Sports Illustrated was more interested in selling him a subscription and throwing in a free hoodie with the name of his favorite team on front.
On Sunday, when UNLV baseball coach Tim Chambers – Harper's former coach at College of Southern Nevada – was asked what he thought of his star pupil's rookie season, he at first offered a one-word response.
"Phenomenal," said Chambers, who, like Stephen Strasburg, must have been on a strict pitch count.
But then Chambers elaborated, as only Chambers can. And by the time he was finished elaborating, I now totally expect Harper to hit four home runs on Opening Day next year, the last of which will topple a light standard a la Roy Hobbs in "The Natural."
"We're just glad we got to know him," Chambers said with an awe-infused shake of his head. "He's that special."
When my former teammate now living in the Indiana backwoods asked why I was so enamored of Harper, who now and then still disses reporters who ask clown questions – and whose agent won't let me speak to him anymore – I asked if he had watched the Yankees-Orioles game the other night, when Robert Andino hit a popup that went eight miles high, and Mark Teixeira lost it in the breeze.
Instead of standing on second base, where he would have represented the go-ahead run in a taut playoff game, Andino jogged only as far as first.
Harper would have been standing on second with an infield double – or possibly been thrown out at third trying to stretch it into an infield triple.
Bryce Harper plays baseball the way Pete Rose played it, or how I assume Billy Martin must have played it, or maybe how a utility infielder who is out of options and without a college degree or a rich father-in-law to fall back on plays it. Like his hair is on fire, which mostly is a football expression, though Rose once famously said he would walk through hell in a gasoline suit to play baseball.
When last seen by the TV cameras, Harper was watching the Cardinals celebrate after coming back from a 6-0 deficit against his Nationals in Game 5 on Friday. He looked more upset than glum – upset that he would no longer get to play baseball this year.
Later, when it dawned on him that he still could be playing baseball at the highest of levels for another 20 years – until he's as old as Raul Ibanez – he said that to a reporter. And there was no mention of clown questions, only of gasoline suits that last for a very long time.
Las Vegas Review-Journal sports columnist Ron Kantowski can be reached at rkantowski@reviewjournal.com or 702-383-0352. Follow him on Twitter: @ronkantowski
UNLV'S CHAMBERS TO UNDERGO BACK SURGERY
UNLV baseball coach Tim Chambers said Sunday he will have back surgery, tentatively scheduled for Oct. 26, that will prevent him from hitting fungoes at practice for four to six months.
"But I should be back pitching batting practice in three months," the Rebels' third-year coach said.
Chambers has been plagued by a bad back for years and can only stand for short periods of time. Last season, when talking to reporters, he often would conduct interviews on one knee because it hurt too much to stand.
"I'm a little nervous, but I'm excited (to be healthy), too," he said after the Rebels scrimmaged at Wilson Stadium.
"I couldn't go another year like this. I wouldn't wish this on anybody. I can't sleep, and I don't have the energy to get (upset) with the players when I need to."
Plus, he joked, it's difficult to argue with umpires when you are sitting on a dugout stool.
Chambers said Dr. John Anson, a Las Vegas neurosurgeon, will perform the delicate surgery in which discs in his back will be rebuilt. Barring complications, Chambers expects to coach the Rebels' season opener Feb. 15 against Tennessee.
LAS VEGAS REVIEW-JOURNAL