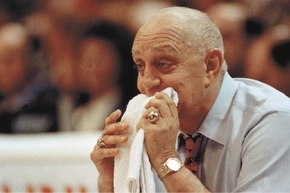 Give 'em hell, Harry. And Jerry.
UNLV has called a news conference for Wednesday to announce a statue will be erected near the Thomas & Mack Center to honor Jerry Tarkanian, the legendary Rebels basketball coach, as he continues morphing into Harry Truman.
If you were around in 1952, you might recall that Kansas, coached by Phog Allen, won the NCAA men's basketball title by defeating St. John's, coached by Frank McGuire. And that a month before, in February of '52, Harry Truman's approval rating was 22 percent in the Gallup poll, which is like The Associated Press poll, except sports writers don't get to vote for Gonzaga.
So much for straight talking.
Truman's approval rating was lower than Richard Nixon's (24 percent) when Nixon resigned as president. In basketball terms, it was only 9 percent higher than Northern Illinois' field-goal percentage of .131 (8-for-61) in a 42-25 loss at Eastern Michigan on Jan. 26.
(NIU had only one basket at halftime and trailed 18-4; unlike Truman vs. Thomas E. Dewey in '48, there would be no miraculous comeback, no erroneous headline in the Chicago Tribune, no second term in office. Not even a play-in game in Dayton.)
Harry Truman was so unpopular during his second term that a couple of Puerto Ricans tried to assassinate him.
And now he is considered the seventh-greatest president off all time, ranking just ahead of Dwight Eisenhower and Andrew Jackson (tied for eighth), just behind Woodrow Wilson.
This reminds me of Tark. Except the band Chicago has yet to write a song about Tark.
It wasn't that long ago when UNLV impeached its fearless basketball leader, forcing him to seek asylum in the NBA asylum as coach of the Spurs. This was when San Antonio had Vinny Del Negro at point guard. Coaching them was like being junior senator from one of the Dakotas.
When discussing Tark's fluctuating bar graph the other day, a pal recalled it thusly: Tark went from hero, to embarrassment to his own administration, to minor embarrassment (though still loved by many), to being asked back into the UNLV fold, to being fully embraced by the entire basketball nation with his recent selection to the Hall of Fame.
Through the years, Tark has remained steadfast. Unlike Pete Rose, he did not have to apologize. For anything. All that has changed is how the basketball establishment views him.
Does the established order have a heart? Or did it just look in the mirror?
It voted in Connecticut's besmirched Jim Calhoun at almost the moment he became eligible for the Hall — ditto Jim Boeheim at Syracuse, who had his own kerfuffles with the NCAA.
If Calhoun got in and Tark didn't, someone might call for heads of certain Hall of Fame committee members. Or at least their names.
So now a lot of people in the basketball establishment are saying it was Tark who laid out the blueprint for John Calipari and Kentucky to win a national championship, and John Calipari and Memphis to come close. (Only Tark never vacated anything.)
Laid it out for a lot of programs in the Calipari mold to be successful. Like wherever Bob Huggins lays his hat. And now a lot of people also are saying that perhaps we shouldn't put so much/any faith in the NCAA, because the NCAA is evil.
Being elected to the Hall of Fame must be like landing on Free Parking in Monopoly. Or going to confession and saying three Our Fathers. Or getting a presidential library.
It's better than getting total consciousness on your deathbed from the Dalai Lama.
Now that people have seen the light, or that Tark is in failing health, or both, people have jumped aboard his bandwagon. They want to sing his praises. Build him a library. Cast his likeness in bronze. Ask if he's using his tickets for the San Diego State game.
It wasn't always that way. Used to be when you honored Tark, you did it far away from the bright lights, on the edge of town.
Two streets are named for Jerry Tarkanian in Las Vegas. One is an alley behind the Thomas & Mack Center. The other is a frontage road off the 215 freeway. Maryland Parkway, the main artery delineating the UNLV campus, is not called Jerry Tarkanian Parkway. Neither is Swenson Street near the Thomas & Mack Center.
A nightclub once capitalized on his name, where you could drink "Funky Cold Medina" and dance with women sporting big hair and short skirts on a catwalk. But the Shark Club has been closed for a long time.
A shark fin and Jerry Tarkanian's name eventually were burnished onto the basketball court in 2005 when Lon Kruger said it was the least we could do.
So now Tark's bound for the Hall of Fame, and now the UNLV Alumni Association wants to erect a statue of him.
And I say great, fantastic, well deserved, you go, Tark! Now Rebels fans who leave their cellphones on the bar at PTs will have a place to meet before and after games.
I also say, "What took so long?"
Las Vegas Review-Journal sports columnist Ron Kantowski can be reached at rkantowski@reviewjournal.com or 702-383-0352. Follow him on Twitter: @ronkantowski.