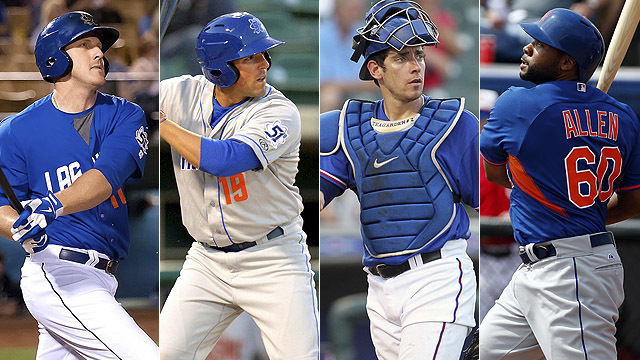 If you were to set the 51s' 16-4 victory over the Salt Lake Bees on Thursday night to music, two choices that pop into mind, at least if you were around in the 1960s and didn't do too many drugs, are "Happy Jack" by the Who and "Master Jack" by 4 Jacks and a Jill.
A "jack" is baseball slang for a home run. In the top of the fourth inning at Smith's Ballpark in Salt Lake City Thursday night, Las Vegas' Allan Dykstra, Zach Lutz, Taylor Teagarden and Brandon Allen hit consecutive home runs.
Four Jacks.
Off the same Salt Lake pitcher, a crafty left-hander named Jose Alvarez.
And a Jill.
Actually, Jose Alvarez is considered a decent prospect. He pitched briefly for the Tigers last season. But he wasn't so crafty on Thursday night, and that's putting it mildly.
In a weird sort of way, 51s manager Wally Backman said he saw it coming.
"After those first two homers — Teagarden's already hit eight home runs in (about) 60 at-bats, and I've seen Brandon Allen play, I saw what he could do when he was with Tucson last year. I've got to think those (first two homers) are starting to go through those guys' heads as they put the swing on the ball," the Las Vegas skipper told reporters after witnessing the rare feat.
The 51s' quartet thus became the fifth to smack back-to-back-to-back-to-back long balls in Pacific Coast League history, and the first since 2009.
In the major leagues, it has been done seven times. The first time was in 1961, when Milwaukee's Eddie Mathews, Joe Adcock, Hank Aaron and Frank Thomas connected off Reds pitchers Jim Maloney and Marshall Bridges at Cincinnati's Crosley Field.
"That was crazy," Allen said after going 5-for-6. "It's the first time I've ever witnessed that. It was exciting.
"You try not to smile," Allen said of trotting around the bases after hitting the fourth straight jack off poor Jose Alvarez, and not trying to show him up. "It's a lot of excitement. I could hear my teammates getting excited and making a lot of noise in the dugout."
The noise finally subsided a bit when Daniel Muno grounded out to third base. So the home run streak ended at four, and poor Jose Alvarez did not hurl himself off the top spire of the Mormon Temple.
Although it is widely held that the Chico's Bail Bonds Little League team yielded five consecutive home runs on more than one occasion, the only evidence of such a feat turned up by Google was by South Carolina in an NCAA Super Regional game against Georgia in 2006. But that was with aluminum bats.
Eastern Illinois also did it, in 1998. But that was with aluminum bats, against Morehead State.
Wally Backman said he had never seen a team hit four in a row, and Backman has seen a lot of baseball. If you're wondering what are the odds of it happening, the best answer is it all depends.
In 2007, after Boston's Manny Ramirez, J.D. Drew, Mike Lowell and Jason Varitek hit consecutive taters off Yankees rookie Chase Wright, various mathematicians and sabermetrics eggheads pulled calculators out of pocket protectors and numbers were crunched.
The Wall Street Journal wrote a story about it.
Phil Birnbaum, who has written books about sabermetrics that Tony La Russa probably has memorized, put it at one in 313,260.
Christian Albright, of the Indiana University Kelley School of Business, had it at one in 25,000.
Ken Ross, emeritus professor of math at the University of Oregon, came up with one in 7.7 million.
Jim Albert, professor of statistics at Bowling Green State University, said one in 1,000.
Were the guys who belted the homers long ball hitters? Were they looking to hit home runs?
What about the pitcher? Was his reputation nibbling at the corners, or challenging hitters and yielding lots of gopher balls?
Was the wind blowing in or out? What about the ballpark? Was their ivy on the walls, or was the game played in a dome?
Was it the Astrodome when Jim Wynn was playing? If it was the Astrodome when Jim Wynn was playing, the odds would have been one in a bazillion, because it was nearly impossible to hit one ball out of the Astrodome in those days, much less four in a row.
There are just too many variables to say for sure.
Here's what I know: Guys hitting back-to-back-to-back-to-back home runs doesn't happen every day.
I also know that if Bob Gibson or Don Drysdale or one of those other bad-ass pitchers from yesteryear still were around — or even Roger Clemens — and one had been pitching for Salt Lake Thursday night, the 51s might have hit two consecutive home runs, and that's it.
And Taylor Teagarden would have been standing on first base, rubbing his ribs, after being hit by a pitch.
Las Vegas Review-Journal sports columnist Ron Kantowski can be reached at rkantowski@reviewjournal.com or 702-383-0352. Follow him on Twitter: @ronkantowski