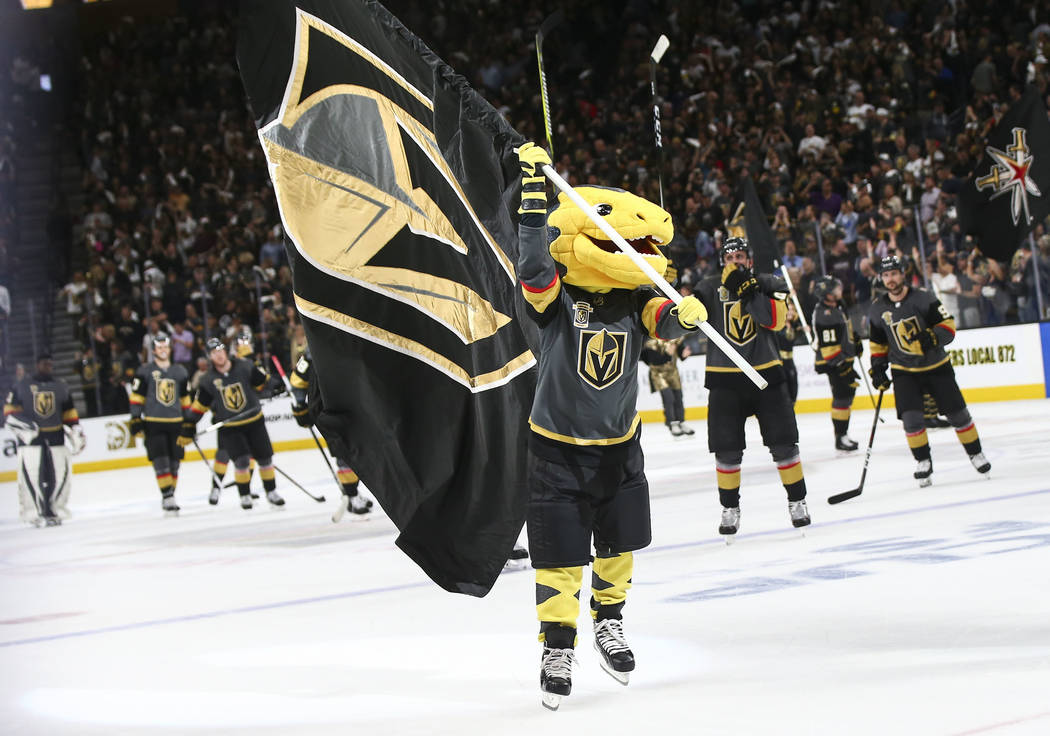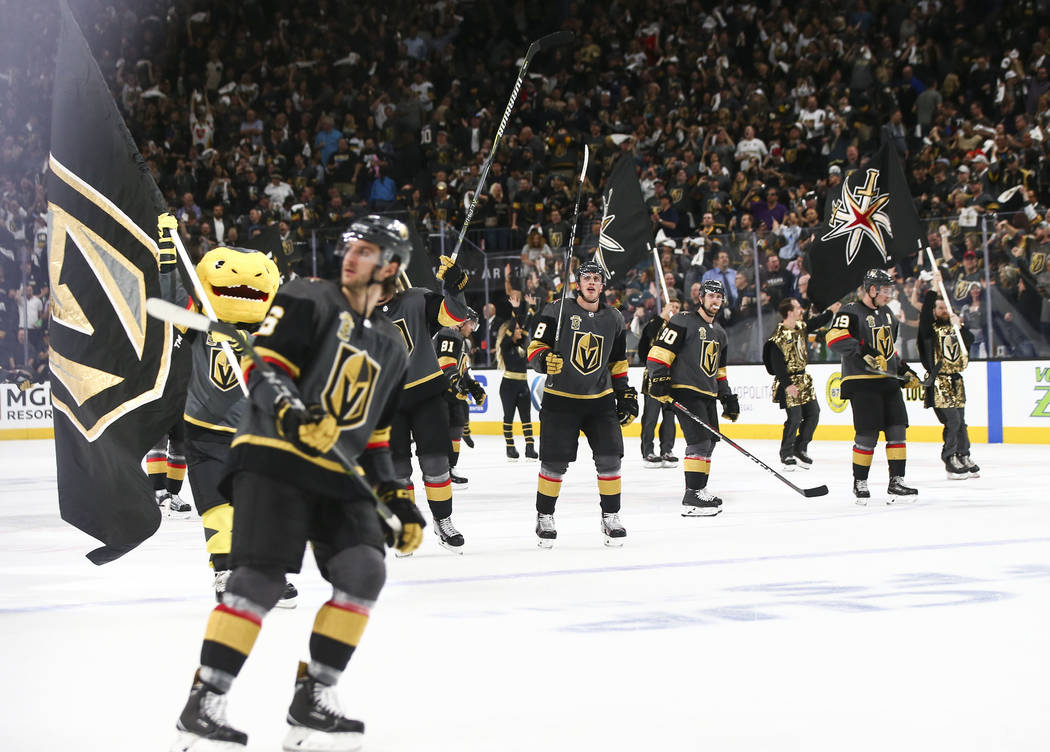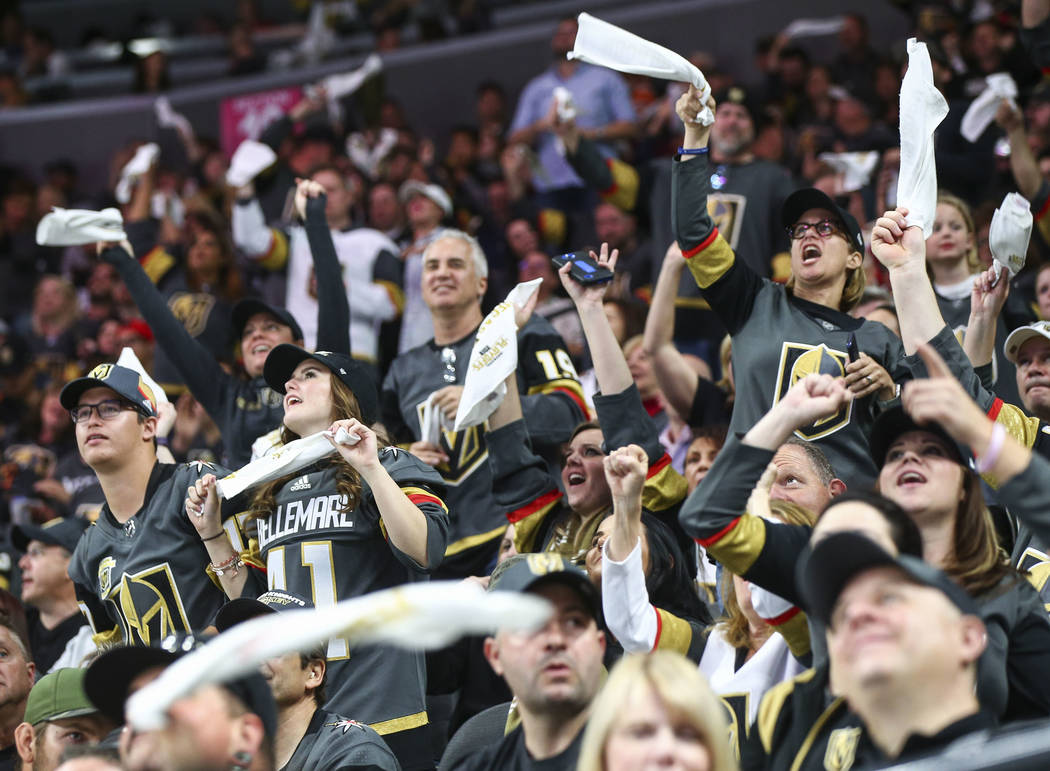 It has been a season of firsts for the Golden Knights, and so a lot of people were referring to the team's 1-0 victory over the Los Angeles Kings on Wednesday at T-Mobile Arena as the first playoff game of the four major sports to be played in Las Vegas.
Which isn't true.
On May 3, 1992, the Portland Trail Blazers defeated the Los Angeles Lakers 102-76 at the Thomas & Mack Center to close out a first-round NBA Western Conference playoff series.
The game was moved to Las Vegas on short notice during the Los Angeles riots stemming from the Rodney King beating incident and the jury trial in which four Los Angeles police officers were acquitted.
Review-Journal colleague Steve Carp, who covered the game, said he doesn't recall Jack Nicholson being in attendance.
"But it seems to me there may have been some ordinary celebrities there — like Dyan Cannon," Carp said.
Las Vegas Events president Pat Christenson was director of the Thomas & Mack Center when hasty arrangements were made.
"I remember being in (former UNLV president) Bob Maxson's office and getting a call from Claire Rothman (general manager and vice president of the Los Angeles Forum) literally 48 hours before they made the decision," Christenson recalled.
"We did the deal in a hurry. It was pretty easy putting on a basketball game (at short notice), although an NBA playoff game was probably a little more difficult. The big thing was putting tickets on sale. I think we sold 15,000 in 36 hours."
Christenson has a memory like an elephant.
The game attracted a crowd of 15,478 — not a sellout but impressive given the lack of notice.
It also showed Las Vegas might have been ready for pro sports as early as 1992, which was three years before Knights defenseman Shea Theodore, who scored the winning goal Wednesday, was born.
0:03
— That giant Knight's head through which the home side now skates as it comes onto the ice at T-Mobile Arena is pretty awesome. But I've still got to go with "Mozilla" by the slimmest of margins when it comes to local sports props born of ingenuity and creativity and one too many Vodka Red Bulls at the frat house.
Mozilla was this humongous cardboard cutout thing with flapping arms that was used at UNLV basketball games to distract opposing free-throw shooters. It was the Rebellion student section's tribute to Mike Moser, a star power forward for the Rebels before he transferred to Washington and then to Oregon.
I called it the "Barry Bonds of fat heads."
Mozilla was the biggest fat head-type thing I had ever laid eyes on.
Until Khem Kong.
Khem Kong was an even more monstrous free-throw distractor inspired by Moser's successor, Khem Birch (now with the Orlando Magic). It didn't have as many movable parts. But I'm told it was responsible for creating at least two pagan religions, and may now be dating the Statue of Liberty wearing the Knights' jersey in the harbor at New York-New York.
Got to be sure to keep the "Khem Kong" legend alive in anticipation of its long awaited appeance in the NBA. He was a defensive beast at UNLV. pic.twitter.com/IYNHZ52W1j

— Witt (@WitterSR) January 24, 2018
— There weren't as many Los Angeles hockey sweaters with Kings fans inside roaming Toshiba Plaza and T-Mobile Arena before and during Games 1 and 2 of the playoffs. Part of the reason might be that Knights' playoff tickets are some of the most sought-after/expensive in the NHL — according to the online ticket marketplace Vivid Seats, the average price for a Knights' playoff ticket is $289, an increase of 137 percent over regular-season tickets.
At those prices, Kings fans might have decided waiting for Game 3 at Staples Center was the better option.
The only NHL team with a more dramatic increase in playoff ticket price is Winnipeg, at 182 percent. Nashville (114), Columbus (113) and Toronto (91) are next after the Knights.
But nobody seems to be complaining about getting gouged at the turnstile metal detectors.
A decent seat to see Cher at Park Theater just a clearing pass down the plaza costs $270.64, and if you ask me, William Karlsson had a much better season.
— RJ sports writer Justin Emerson, when asked if he had seen the Golden Knights play at T-Mobile Arena:
"I was there on $14 Beer Night."
Contact Ron Kantowski at rkantowski@reviewjournal.com or 702-383-0352. Follow @ronkantowski on Twitter.
NBA playoffs in Las Vegas
— Date: May 3, 1992; Game 4 Western Conference first round
— Venue: Thomas & Mack Center
— Score: Portland Trail Blazers 102, Los Angeles Lakers 76
— Leading scorers: Portland, Clyde Drexler 26, Danny Ainge 19. Los Angeles, Sedale Threatt 17, Byron Scott 15
— Attendance: 15,478