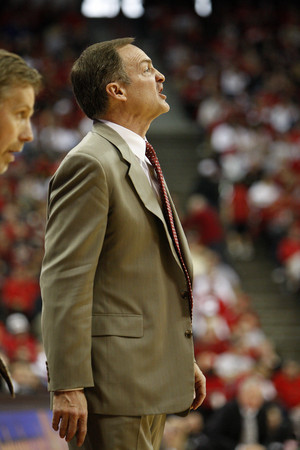 Don't be misled by coach-speak that suggests every game is as important as the next.
For instance, if Rick Pitino is wearing an all-white Colonel Sanders suit, chances are Louisville is playing Kentucky or a top 10 team such as Marquette on national TV.
If New Mexico's Steve Alford breaks out the red sport coat, it probably means Arizona or Texas Tech is in town.
If Rick Majerus is wearing a sweater sans mustard or meat sauce, one can be fairly certain Saint Louis is playing Dayton or St. Bonaventure or whoever is leading the Atlantic-10.
And if Lon Kruger is wearing a natty camel-hued suit with a starched collar and understated maroon tie, it means the UNLV basketball team is playing Brigham Young in front of a sellout crowd at the Thomas & Mack Center on a dark and damp Saturday afternoon in February.
Kruger did not sport a tie at Wyoming on Wednesday. The UNLV coach opted for the basic black henley pullover, just as he does for most games at Air Force.
If, however, you catch him wearing a Terrible Herbst T-shirt and flip-flops, it probably means the Rebels are playing a midweek game on The Mtn., because hardly anybody watches those games and you can wear whatever is comfortable.
In honor of The Rebels' sartorially splendid 88-74 victory over the 12th-ranked Cougars on Saturday, today's Three Up, Three Down is dedicated to Kruger's necktie, Tre'Von Willis' jump shot and anybody and everybody who guarded Jimmer Fredette.
THREE UP
• TALKIN' 'BOUT WILLIS: I received an e-mail that said Versus planted a "wet kiss" on BYU's Jimmer Fredette during Saturday's halftime feature. This, of course, is because Everybody Loves Jimmer, just as everybody loved Ray Romano on TV. Fredette scored 21 points but made just 4 of 15 field goals. UNLV's Willis scored 33 points and made 11 of 20 field goals. He didn't get so much as a friendly pat on the back during the halftime feature. Everybody loves Jimmer, but everybody respects Tre'Von Willis. Except certain TV people.
• FOR WHOM BELLFIELD TOLLS: UNLV point guard Oscar Bellfield committed two turnovers, although I don't remember them. That's two more than he made in either of the Rebels' last two games before BYU. Bellfield handles the ball as if there were vise grips attached to his wrists. He has had three games in which he committed nary a turnover and six in which he has committed just one. He's first team Allstate. The Rebels are in good hands with him running the point.
• SOW ABOUT THAT: There have been games this season in which UNLV couldn't hit the broad side of a barn, couldn't throw a pea in the ocean if it were standing on the pier, couldn't make a silk purse out of a sow's ear. Whatever that means. The Rebels have made 50 percent of their field-goal attempts just seven times, but consider this a warning to sows everywhere: Saturday was the fifth consecutive game in which they have made more shots (32 of 61, 52.5 percent) than they have missed.
THREE DOWN
• FAIR-WEATHER FORECAST: So much for the notion that Las Vegas is a haven for fair-weather sports fans. The weather Saturday was about as far from fair as Al Roker can get, yet a sellout crowd of 18,557 wiped its feet on the Thomas & Mack Center welcome mat — the largest home crowd since 18,723 turned out to watch the Rebels beat Georgetown in 1993. The stars of those teams were J.R. Rider and Othella Harrington. Yes, it has been awhile.
• B-Y-LOSE: The Thomas & Mack is to BYU what Alabama or Mississippi are to a liberal Democrat. The Cougars simply cannot win here. As good as it is and as good as it has been, Saturday's defeat was the seventh consecutive time BYU has left Las Vegas without a "W." And many of those — such as Saturday's, such as the 70-41 wart from 2008 that hasn't gone away — have been uglier than the immigration debate.
• SARAH-DIPITY: With 3:43 to play and the Rebels leading by a whole bunch, a fan in the cheap seats yelled "Where's Sarah?" in reference to "Psycho" Sarah Cummard, wife of former BYU star Lee, who challenged the entire UNLV cheering section to a fight after the Rebels beat her husband's team in the 2008 Mountain West Conference Tournament final. My guess is she's not too far from where she was last year, given Lee is averaging 5 points per game for the NBA D-League's Utah Flash.
Las Vegas Review-Journal sports columnist Ron Kantowski can be reached at rkantowski@reviewjournal.com or 702-383-0352.