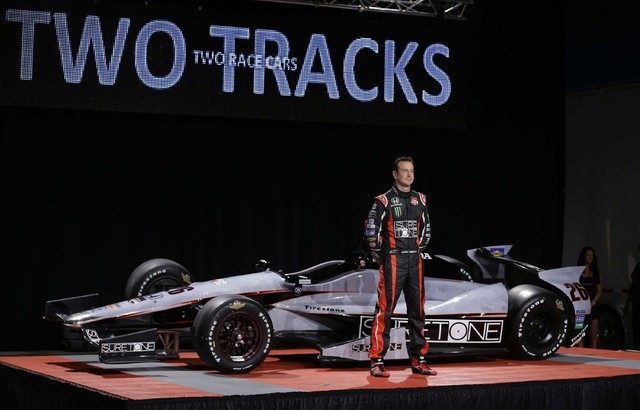 "You got a fast car. Is it fast enough so you can fly away?"
I thought about this lyric from an old Tracy Chapman video Monday when they unveiled the Indianapolis-style racecar that Las Vegas native Kurt Busch will attempt to drive in the Indianapolis 500 on May 25, weather and everything else permitting.
Busch the Elder now has two fast cars.
If weather and everything else permits, he'll drive the No. 26 Indy car during the day at the Brickyard, hop on jets and helicopters, and drive the No. 41 Sprint Cup stock car, under the lights, at the NASCAR Coca-Cola 600 at Charlotte Motor Speedway in North Carolina.
This is the auto racing double.
They're calling Busch's attempt the Double Outlaw, because he's sort of known as the Outlaw, singular, on the Sprint Cup circuit. You could buy a Double Outlaw T-shirt on the Andretti Autosport website at virtually the same moment Busch's Indy car was unveiled.
The auto racing double is so fraught with danger and potential logistical snafus that nobody has tried it in 10 years. It has been attempted several times, but the only driver who has completed all 1,100 miles on the same day was Tony Stewart — Busch's NASCAR co-car owner with Gene Haas.
Stewart's not one to worry about danger and logistical snafus, or even shaving on race day. He finished sixth at Indy and third at Charlotte in 2001.
So now it's Kurt Busch who has two fast cars, one for day and one for night, and the one he'll drive during the day, owned by Michael Andretti, is almost fast enough to fly away, like in that Tracy Chapman song.
It can touch 230 mph diving into narrow Turn 1 at Indy. That's a lot faster than the car he will drive at night, the one Stewart co-owns. And there will be 32 other guys and gals who will be driving 230 mph, too, and a few will be Indianapolis rookies, like him.
That's why the Brickyard part of this will be the daunting part for Busch, weather and everything else permitting. It is estimated he'll make 10 trips between Indianapolis and Charlotte in those planes and copters so that will be difficult, too. I'm sure there will sports drinks on board.
Yes, it's a big deal, this auto racing double, and it's bigger now than it was before owing to Twitter and hashtags. Before the big-buck sponsors became involved, NASCAR stalwarts such as Cale Yarborough would cross over and drive at Indy, and the Allisons, Bobby and Donnie.
Donnie Allison finished fourth one year, sixth in another. There weren't hashtags in those days so you had to watch it on "Wide World of Sports" two weeks later.
Fast forward to Monday, when they had this big shroud over Busch's open-wheel ride before it was unveiled. There was pomp and circumstance, and men wearing expensive suits and women wearing tiny shorts who shared the stage with the Las Vegas leadfoot.
The suits were executives from Suretone Entertainment, the record company that will sponsor Busch's Indy 500 car. Suretone was founded by Jordan Schur, who, according to the announcement, has worked with artists such as Nirvana, Guns N' Roses and Snoop Dogg. And Limp Bizkit. Those guys were outlaws, too.
If memory serves, it wasn't such a production when Stewart did the double, or John Andretti (Michael's cousin) or Robby Gordon tried it.
This sort of looked like that scene in "Driven" where they unveiled Indy cars at a swanky cocktail party, and Sylvester Stallone and the kid who played quarterback in "Remember the Titans" jumped into them and raced through the streets and sucked up manhole covers.
Except Busch did not wriggle into the cockpit of the No. 26 Suretone Honda and suck up manhole covers.
Still, as he said when it was his turn to talk, it was an exciting day.
"Reality is setting in that this is real and it's go time," Busch said.
"For me, it's a dream come true, but the kid-in-a-candy-store moment is all behind me. Now it's the focus of practice time (rookie orientation at Indy is Monday) and settling in with Andretti Autosport and to have Michael himself involved, this is the right way to do things.
"Their team experience will help lead my inexperience."
Busch tested an Andretti car at Indy in 2013. He was fast from the get-go. A.J. Foyt gave Busch the thumbs-up at Daytona when he heard the 2004 Sprint Cup champ was serious about doing the double.
Could Busch win the Indy 500 as a rookie?
It's not as preposterous as it sounds.
Carlos Munoz, a 21-year-old rookie who drove for Andretti in last year's race, finished second and was in position to make a pass for the win when the yellow flag came out, giving veteran Tony Kanaan the victory.
Kurt Busch is 35. He's a racer's racer, a throwback to guys such as Foyt and Stewart and Mario Andretti.
He's got a fast car. Two of 'em. He wants to drive 1,100 miles on May 25. A lot of people will be pulling for him, weather and everything else permitting.
Las Vegas Review-Journal sports columnist Ron Kantowski can be reached at rkantowski@reviewjournal.com or 702-383-0352. Follow him on Twitter: @ronkantowski.