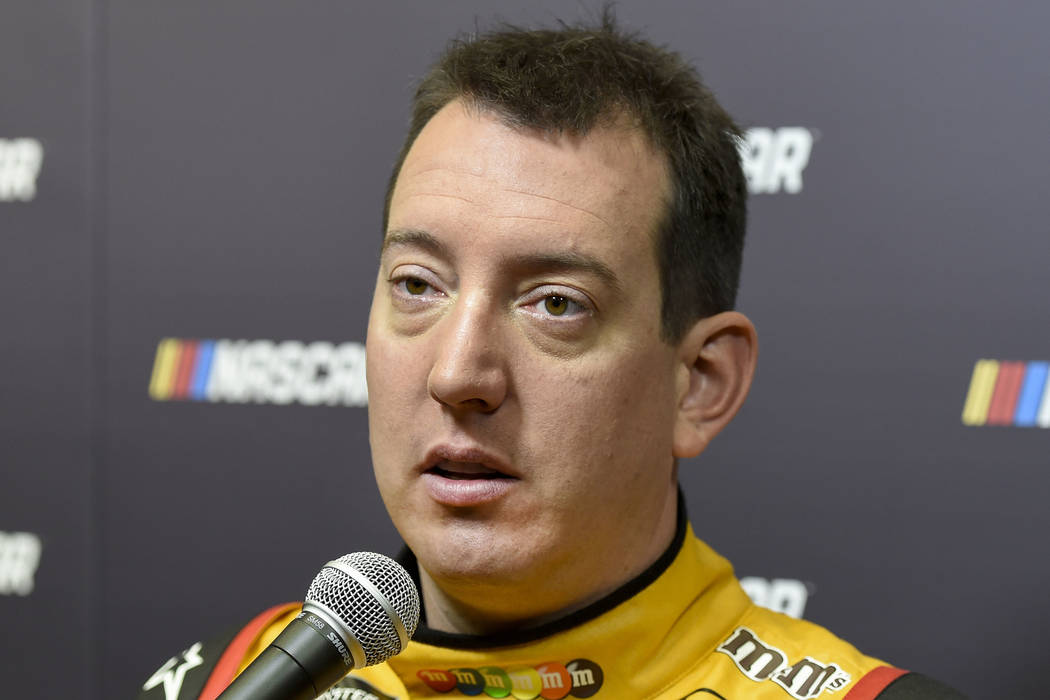 There wasn't supposed to be a lot of news emanating from this week's NASCAR media tour in North Carolina. So Kyle Busch, as he is wont, created some.
When the Las Vegas lead-foot was asked about NASCAR hyping young drivers to replace popular retired ones such as Dale Earnhardt Jr., Jeff Gordon and Tony Stewart, Busch went off like an ill-handling car on worn tires.
"I think it's stupid," Kyle B. said when it was his turn to talk at Charlotte Motor Speedway.
The 2015 Cup Series champion said he didn't much care for NASCAR blowing trumpets to announce the arrival of drivers such as Chase Elliott, Erik Jones, William Byron and Alex Bowman. He wasn't exactly eloquent about it. He used words such as "stupid" and "bullied" and "bothersome."
Naturally, it caused a tweet storm.
And just like that, NASCAR's mundane media tour had a story. It was a slow Tuesday during the off week before the Super Bowl, so there were even some retweets.
"I'm not the marketing genius that's behind this deal," Busch said. "I just do what I can do, and my part of it is what my part is."
What about me?
I think what Busch might have been trying to say is that his part is winning races (43 in Cup, 81 in Xfinity and 49 in trucks) and that he's not that old (32) himself. And that maybe it would be nice if NASCAR promoted him, one of the best stock car drivers to come down the pike in years, instead of a bunch of kids who are wet behind the ears and in other places.
Busch was 19 when he became NASCAR's youngest pole winner in 2005. He had set a record by winning five Xfinity Series races in 2004. In 2006, he became the youngest driver to qualify for the Cup Series playoffs.
NASCAR didn't blow trumpets. Earnhardt Jr., Gordon and Stewart were in their racing primes then.
Until recently when a new driver with a big reputation broke into the Cup series, he often was derided and ridiculed. When Joey Logano broke in, he was nicknamed "Sliced Bread" by veteran Xfinity Series driver Randy LaJoie. As in the greatest thing since sliced bread. It was not meant to be complimentary.
But in 2010 when Danica Patrick switched over from IndyCar, NASCAR blew trumpets and the holy motorized choir sang hosannas. Patrick went 0 for 190 during her NASCAR career with seven top 10s and one pole, at the Daytona 500.
"It is bothersome," Busch said, speaking for himself and other veterans who have proven themselves on the track but haven't received the marketing attention from the sanctioning body.
Fans asked to choose
"We've paid our dues, and our sponsors have and everything else, and all you're doing is advertising all these younger guys for fans to figure out and pick up on and choose as their favorite driver," Busch continued. "Probably the younger guys are bullied into doing more things (to promote NASCAR) than the older guys are because we say no a lot more because we've been there, done that and have families, things like that, and want to spend as much time as we can at home.
"You know, maybe that's some of it. But some of these marketing campaigns and things like that, pushing these younger drivers is I wouldn't say all that fair."
One of the young 'uns had the temerity to push back.
"I don't know if he (Busch) realizes how much of a following he gets," Ty Dillon said Wednesday. "I think it's great for NASCAR to push the younger demo. We need to keep getting those fans. I think if he feels that way, if he's that frustrated, he should use his platform to go after those fans himself."
William Byron, who drove for Busch in the Truck Series, this season will drive the iconic No. 24 car that Jeff Gordon made popular. Byron said this about the influx of young drivers and the attention they've been getting:
"When new guys come in, it's kind of a fresh thing to talk about. We're ultimately going to have to prove ourselves out on the race track and do things that show we are capable of being part of this sport. I think that's going to show over time and hopefully a couple of us young guys can win some more races."
Young Byron took the high road. Hardly anybody in the auto racing media tweeted it out.
One thing that @KyleBusch points out that I agree with 100% is this. When you quit covering drivers in their mid-30s the sponsors lose out and that is the heartbeat of teams. https://t.co/p221eLIKuy

— Kenny Wallace (@Kenny_Wallace) January 23, 2018
So I showed this to the kids this morning, mostly because Bubba is obsessed with Kyle! And my daughter decided that because Dale Jr is retiring, and she needed a new driver, she's gonna cheer for @KyleBusch. All because of this video! This is what brings in the young fans 🏁 https://t.co/Ki6AgCeP1s

— Weslyn ❤️🏁 (@weslynfugate) January 24, 2018
Harvick high on Las Vegas
"Going to Vegas for the first race of the playoffs is a good move from a market standpoint. It's a great racetrack, but the market in itself is something that you have to pay attention to." — Kevin Harvick, 2014 Cup Series champion, on racing twice at Las Vegas Motor Speedway in 2018.
Contact Ron Kantowski at rkantowski@reviewjournal.com or 702-383-0352. Follow @ronkantowski on Twitter.