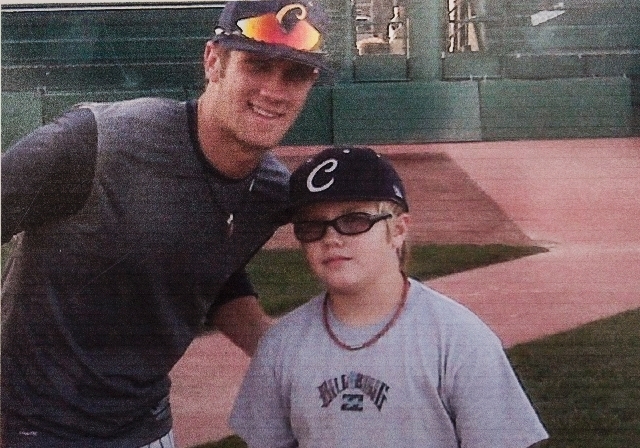 A year ago, Carlos Gonzalez of the Colorado Rockies became the 22nd player in major league baseball history to hit a home run in four consecutive at-bats.
Last week, a big kid with a mop of blond hair named Trace Evans hit a home run in 11 consecutive official at-bats to power the Las Vegas Baseball Academy Lightning to the championship of a 104-team tournament for kids 12 and under at Cooperstown Dreams Park, which is 5.3 miles up scenic State Route 28 from the National Baseball Hall of Fame and Museum in Cooperstown, N.Y.
While most 12-year-old baseball pitchers do not throw nasty sliders, I consider the young Las Vegas slugger's the more impressive feat.
Carlos Gonzalez smacked his four straight homers against the Astros. Big whoop. Most of the Houston pitchers do not throw nasty sliders, either.
Trace Evans belted his 11 in a row (mixed in were a sacrifice fly and a couple of walks) against the likes of the North Valley Ravens, a team from California called Rampage, the Framingham Flyers, Nexxt Level Baseball, the Towsontowne T-Birds, the Katy Gamblers, the East End Pirates, the Ronkonkoma Cardinals, the NJ D12 Stars and the Wakefield Gorillas.
A lot of those teams probably could take the Astros in a best-of-7 series. Especially the Wakefield Gorillas.
While young Trace Evans was blasting pitches into trees and parking lots beyond fences, Mike Martin, the Lightning coach, kept sending text messages.
"In my 46 years of playing at every level and coaching I have never seen anything like this," read one from the former Chicago Cubs catcher.
"The young man has 11 consecutive home runs. It's a new Cooperstown Dreams Park record. The old record was 9," read another.
"This feat needs national attention. How does one see to it that this amazing feat is recognized nationally?" read a third.
Unfortunately, I do not have contact information for Peter Gammons or even John Kruk, though I do follow Fake Peter Gammons on Twitter.
Naturally, the specter of PEDs was raised almost immediately. Glen Evans, Trace's father and the former pitching coach at College of Southern Nevada and Bishop Gorman under Tim Chambers, admitted that his son does indeed owe the record to PEDs.
"Pigs, eggs, dairy," said the elder Evans, who has passed on the stocky gene to his fence-busting son.
The Fake John Kruk, and even the real one, would approve.
On Monday, when I met the Real Trace Evans, he was sitting on a sofa in his dad's apartment. He was wearing a Brooklyn Dodgers cap, a souvenir from the Baseball Hall of Fame. A black baseball bat made of aluminum alloy was resting against the sofa.
This is the bat that Bryce Harper gave him. His dad coached Bryce on the kids' traveling circuit when Bryce was Trace's age.
Trace wasn't big enough to swing that bat when Bryce gave it to him. He almost is big enough now.
The baseballs he hit into the trees and parking lots at Cooperstown were at his mom Nicole's house. Probably on a real long shelf. Nicole was an ace softball player and still plays, so young Trace has the necessary chemistry to become the next John Kruk, or the next Bryce Harper.
Plus, unlike a lot of kids who hit balls into trees and parking lots at a young age, he's pretty bashful. He mostly spoke about his new teammates — young Trace was a late addition to the Lightning roster — and how cool it was to help them win the giant trophy.
"Yes," he said with a sheepish nod when asked if he was amazed by hitting all those taters. "When I hit five in a row I was amazed."
I was amazed that none of the 12-year-old pitchers walked him intentionally, but then most 12-year-old pitchers are like Amanda Whurlitzer in "The Bad News Bears": They think they can get even the big kids out with 56-mph cheese, and they have far much too confidence in the glove work of little Timmy Lupus in right field.
Though the other Bears were delighted when he made that catch, I don't recall anybody asking Timmy Lupus for his autograph. A smaller kid asked Trace Evans for his autograph after the Lightning beat the North Valley Ravens from New Jersey in the championship game.
That was pretty sweet, said Trace, who mostly plays third base and shortstop, and so was seeing the plaques of Hank Aaron and Willie Mays at the Hall of Fame, because those were two guys he had heard of.
"Tell him what you told me," Glen Evans said to his son.
Apparently, there aren't any video games at the Hall of Fame, and no complimentary pouches of Big League Chew. So when Trace called his dad to tell him about the experience, he said it was kind of boring.
"But an old guy like you would love it," Trace said.
Las Vegas Review-Journal sports columnist Ron Kantowski can be reached at rkantowski@reviewjournal.com or 702-383-0352. Follow him on Twitter: @ronkantowski.