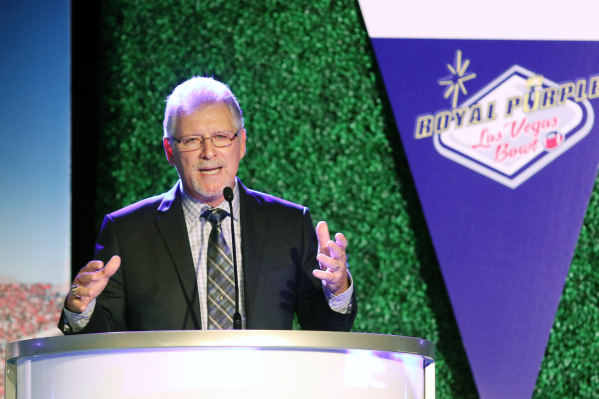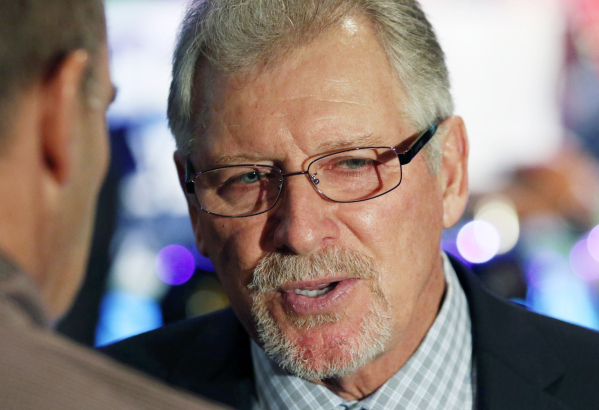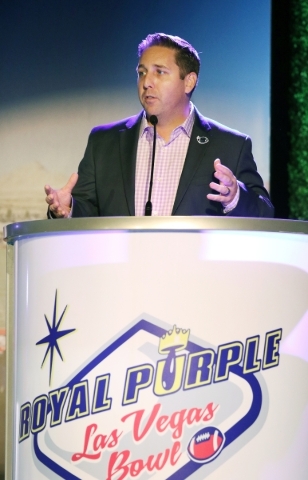 They went all out (or in) at the annual Las Vegas Bowl Ticket Kickoff Luncheon at Vinyl at the Hard Rock on Wednesday.
This year's edition of the corporate ticket drive for the Dec. 19 game pitting a top team from the Mountain West against an underachieving one from the Pac-12 offered a tailgate theme with football-shaped grills as centerpieces and free bottle openers.
The bottle openers had a grilling spatula on the other end. Most people would refer to them as grilling spatulas rather than bottle openers. But most people sitting at Table 4, the media table, commented on how useful they would be in opening free import beer served in bottles, even if the spatula thing would stick way out of your pocket. Beats breaking a tooth.
The room at Vinyl looked festive in an ESPN College GameDay sort of way. When the Coronado High School drumline arrived to pound on skins, it got real loud, too, louder than a Van Halen tribute band, even.
So they went all out this year to entice business leaders wearing tailored blazers — and one bandana-wearing guy sitting among them who appeared to be a member of a motorcycle gang or working on a Vince Neil impression — to write big checks for big blocks of tickets.
This may or may not come as solace to the 200 or 300 people ESPN is laying off (in addition to Bill Simmons) to offset what it will cost to secure a new NBA TV deal. I'm taking the "may not" and laying the points.
The Las Vegas Bowl is owned by ESPN. So are a lot of the other bowl games. At last check there were 11 — Armed Forces, Birmingham, Boca Raton, Camellia, Famous Idaho Potato, Hawaii, Heart of Dallas, Las Vegas, New Mexico, St. Petersburg, Texas.
There probably are two more by now.
The Las Vegas Bowl was the first bowl game purchased by ESPN, in 2001. The game more often than not attracts a big crowd. Thanks, Brigham Young and Bronco Mendenhall.
There is speculation that with parent company Disney-ABC mandating the Worldwide Leader in Sports — and the Worldwide Leader in Showing Football Highlights Featuring Crazy Plays Involving Laterals — trim $100 million from its 2016 budget, and $250 million in 2017, some of these bowl games might be in jeopardy. Especially with the playoff format coming in vogue.
I think these bowl games, along with Chris Berman's hair, will be last to the chopping block.
As a blogger writing on the California football team pointed out, one need only look to last year's Famous Idaho Potato Bowl for the reason why.
It was Air Force vs. Western Michigan, a lousy matchup if there ever was one — especially for the Western Michigan defender assigned to the pitch man in the Falcons' triple-option.
Air Force won, 38-24. Nothing remarkable about that. The crowd was just as unremarkable; only 18,223 showed up to watch the teams throw and pitch the football around the blue carpet at Albertsons Stadium.
But 1.45 million watched on television.
While bowl teams are lucky to break even when they are invited to take part in a pie-eating contest around Christmastime, and a football game that is played a day or two later, people who televise them can make money by selling advertising.
This is why ESPN broadcast 38 of the 39 bowl and postseason games last season.
For those tossing laterals at home, the Sun Bowl in El Paso, Texas, was the only bowl game not carried by ESPN. CBS has shown the Sun Bowl since 1968. This leads one to believe that somebody from the Sun Bowl committee has photos of Verne Lundquist and Todd Blackledge doing something they weren't supposed to be doing across the border in Juarez.
"The teams that come to the game (might) break even," said kickoff luncheon speaker Mike Bellotti, the former Oregon coach and current ESPN analyst, about the future of the bowl system in this new college football playoff environment. "But it's a tremendous boon to college athletics, in my opinion.
"When the playoff system came in, everybody was worried that might do away with the bowl system. It hasn't. The opportunity for 35 teams, or however many there are, to go home as bowl champions I think is the allure. The bowl games provide an opportunity for two more weeks of practice, if you make it, and that is a huge plus for the development of your players."
His employer doesn't care about any of that. ESPN only cares that the Capital One Financial Corp. cares.
Before Mike Bellotti talked about finishing what Rich Brooks had started at Oregon, and the crazy uniforms, and guiding the Ducks to a 1-1 record in past Las Vegas Bowls, business leaders wearing tailored blazers discussed their golf games while standing in a long line, waiting for a complimentary lunch.
After that, checks for Las Vegas Bowl tickets would be written.
Before that, the top 10 plays from last season's Capital One Bowl Week were shown on a big screen. None occurred in the Las Vegas Bowl, but No. 1 was a crazy play involving laterals.
Las Vegas Review-Journal sports columnist Ron Kantowski can be reached at rkantowski@reviewjournal.com or 702-383-0352. Follow him: @ronkantowski