Las Vegas Bowl well-positioned in its 22nd year
September 26, 2013 - 7:34 am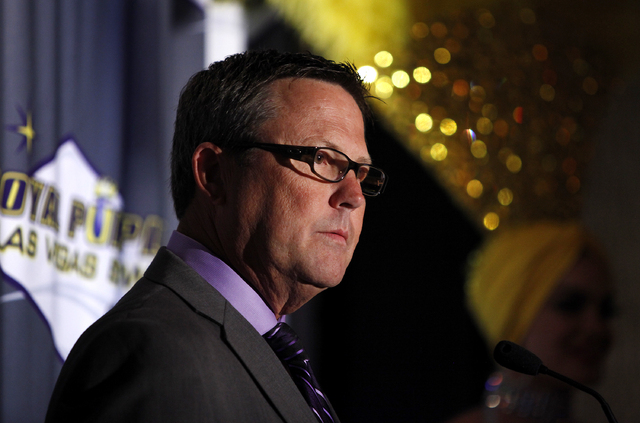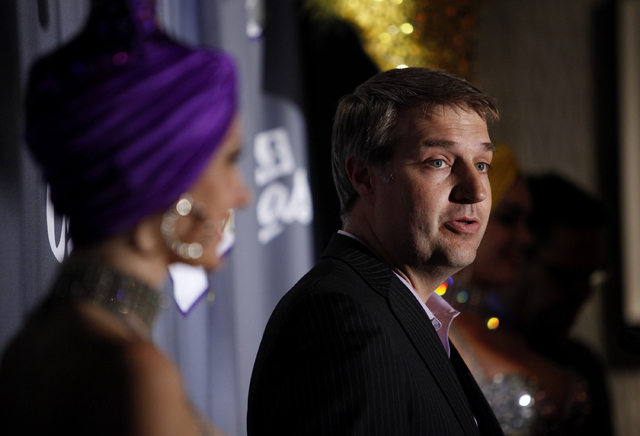 A lot of Las Vegas movers and shakers wearing tailored blazers with open collars attended Wednesday's Las Vegas Bowl kickoff luncheon at the Hard Rock Hotel, at a swanky restaurant called 35 Steaks + Martinis.
There even was a bit of news this time, as a slick new sponsor was announced. Royal Purple, a company in Texas that produces automotive lubricants, has signed on as Las Vegas Bowl title sponsor for the next three years.
That didn't change the reason for having a kickoff luncheon, which is for the movers and the shakers to write checks for ticket packages for the Dec. 21 bowl game at Sam Boyd Stadium that will have the Mountain West champion knocking helmets against, like, the 14th or 15th choice from the Pac-12. Probably one of the Arizona schools again.
There were these cool mini-football helmet desk caddies on each table, with a pen. So the movers and shakers who did not bring a writing instrument could not use that as an excuse.
In the back of the room, next to where a chef was carving beef for mini-sliders, a singer-songwriter type was strumming James Taylor songs on an acoustic guitar. He had one of those voices that blends into the background at events such as these, where nobody notices the singer-songwriter in the back of the room.
I doubt that anybody bumped up their ticket pledge from Touchdown level ($5,000) to Champion ($10,000) because the guy in the back of the room had seen fire and rain.
But this year, instead of bringing in some old football guy to talk to the movers and shakers, they brought in Dana White. Talk about fire and rain.
The bombastic Ultimate Fighting Championship chief was dressed like the media freeloaders in the back of the room — T-shirt, jeans, throwback sneakers. The over-under on Dana White F-bombs was set at a modest 2½ because, as stated, a lot of the movers and shakers were wearing tailored blazers.
The media freeloaders soon were disappointed. Most had the over, and there were more pink taco references (two) than Dana White F-bombs (zero).
The best White could muster was one "sucks" and a scatological reference to Cirque du Soleil — which he tried to walk back. He said that (scatological reference) is OK, but it ain't live sports, and the Las Vegas Bowl is live sports, and that's why it's better than Cirque du Soleil after you've seen Cirque once or twice.
Earlier, one of the organizers reminded the room this was Las Vegas Bowl kickoff luncheon XXII. It then occurred to me that I probably had witnessed them all — and that I don't ever recall a guy singing James Taylor songs in the back of the room.
So it seems the Las Vegas Bowl has grown in stature some — a lot, really — since Bowling Green edged UNR in Las Vegas Bowl I.
It has a new six-year deal with the Pac-12 to take one of its underachieving teams; it has worked its way up the ESPN ladder, and beyond, to where it is now one of only three bowl games shown on network TV; it has the aforementioned new title sponsor.
And Wyoming is on the rebound; it even could win the Mountain West. Wyoming travels well, and it drinks even better.
Of course, it all could come crashing down when The Big Upheaval comes to college football, and talk of a new super league with four 16-team super conferences comes to fruition, as former UNLV athletic director Jim Livengood has been predicting for years.
It's coming, Livengood — and lots of others — have said, and when it comes, you had better be well positioned if you field a college football team or host a bowl game.
UNLV is not well positioned on the football side, because these super-conference proponents can see right through victories over Western Illinois.
But if the bowl system survives, the Las Vegas Bowl, with its slick new sponsor and its slick Pac-12 tie-in and its slick base of operation, seems well positioned to make the cut.
Afterward, after the movers and shakers had pilfered any remaining mini-football helmet desk caddies, I asked Las Vegas Bowl director Dan Hanneke how he thought the bowl system would shake out after The Big Upheaval. He would not offer a prediction. He was being honest, not coy.
But, he said, "You've got to remember this game is owned by ESPN."
ESPN is a beast, Dana White had just finished telling the movers and shakers. Plus, I know for a fact that Brent Musburger and Kirk Herbstreit like coming here.
So when it all shakes out, I expect Alabama will play for the title, and that the guy in the back of the room singing the James Taylor songs still will have a gig.
Las Vegas Review-Journal sports columnist Ron Kantowski can be reached at rkantowski@reviewjournal.com or 702-383-0352. Follow him on Twitter: @ronkantowski.