Las Vegas family experiences NBA resting players on trip to see LeBron James
April 13, 2017 - 10:07 am
Updated April 13, 2017 - 10:29 pm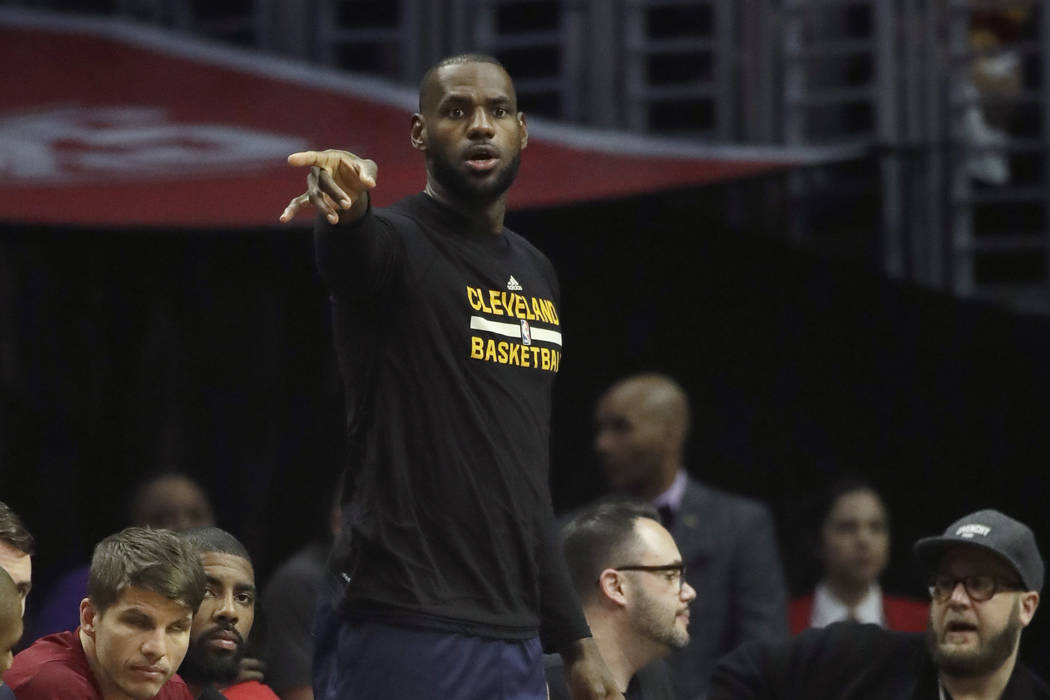 "LeBron: My Grams Says Hi!"
That is what the poster said. A man named Gary Wood was the one who made it. It was a homage to grandparents who had raised him in the Cleveland suburbs and took him to his first Cavaliers game, when Mark Price, Larry Nance and Brad Daugherty were playing.
The Las Vegas man took the poster, along with his wife and kids, to a Cavaliers game against the Clippers in Los Angeles last month.
"My grandma told me that if I meet LeBron, which we both knew wasn't going to happen, to tell him 'hi' and 'thank you.' So I was dead set on making a poster for her," Gary Wood said. "Maybe there was only a 1 percent chance of him seeing it, but it was worth it."
Wood is 35 years old and works in construction sales. He had been planning the trip to see his beloved Cavs play for months. It was all he and 7-year-old son Gavin could talk about.
Then Kyrie Irving, Gavin's favorite player, suffered a muscle strain.
"I explained the whole injury thing to him, and that (Irving) might not play because it will make his injury worse," Gavin's dad said. "He accepted that. He still couldn't wait to see (LeBron)."
Gary Wood and his family were so excited they arrived at Staples Center early to watch the Cavs' shootaround. Kevin Love was on the floor. So was Kyle Korver.
"I looked at my wife and said 'thank you so much' for letting us do this. I looked at my kids, and the excitement on their faces was worth every penny spent," Wood said.
But when the game started, Kevin Love wasn't on the floor. Neither was Kyrie Irving. Nor LeBron.
They were resting, as NBA players are wont during the dog days of a long, 82-game grind.
It will be less of an issue now that the playoffs start Saturday, but commissioner Adam Silver said this was his No. 1 regular-season concern. And ESPN was sure bothered by it when it had two consecutive prime-time Saturday games that had benchwarmers starting instead of stars.
Rest for the weary
It's different now.
When he broke in with the Cavs, Brad Daugherty played in 80, 79 and 78 games his first three seasons. At the end of his career, Larry Nance played in 80, 81 and 77 games. It seemed to Gary Wood that if the players of his youth were tired or had little aches and pains, they just played through it.
Now, he had more explaining to do to his son.
"I start Googling the starting lineup," Wood said, "and sure enough Coach Lue is going to rest the Big Three because they have a back-to-back with the Lakers the next day. I have to explain to my boy that LeBron and company will not be playing.
"Being 7, he doesn't understand why his favorite players are not playing. I will never forget the feeling of disappointment I felt talking to my kids."
Maybe it's not a big deal if one can afford Jack Nicholson or Spike Lee seats and sit courtside every night. But Gary Wood estimates he spent about $1,500 to watch what essentially was the Canton Charge, Cleveland's D-League team, get boat-raced by the Clippers, who played their regulars.
Gary Wood kept reading on Google and kept shaking his head.
"It says Kyrie is still sore, Kevin is still sore and Coach Lue doesn't want LeBron to put the team on his shoulders. I love you, Coach Lue, but LeBron has been putting the team on his shoulders basically every year he has played there," Wood said.
"I know that is the way of the NBA, to sit players. I just never thought they would do it in a prime-time game like that."
Posterized at Clip joint
To repeat what previously was stated, an 82-game NBA schedule is a grind. Guys get tired. Guys get aches and pains.
This explains why little Joey called out co-pilot Roger Murdock/NBA great Kareem Abdul-Jabbar in "Airplane."
Little Joey tells the big guy his dad thinks he doesn't work that hard on defense, and that he doesn't really try, except in the playoffs. Kareem breaks character, and says he has been hearing that since he was at UCLA, that he's out there busting his hump every night, and that little Joey's old man should try dragging Walton and Lanier up and down the court for 48 minutes.
But it is doubtful that little Gavin Wood has seen "Airplane," or would understand the humor of a 19-time All-Star breaking character in the movies.
He and his family left the Clip joint at the start of the fourth quarter, when it was apparent the Canton Charge would not be mounting a comeback.
"I would have rather donated that money to a charity or organization that deserved it," Gary Wood said.
The poster about his Grams saying hello to LeBron never made it out from under his seat, which is where he left it.
Contact Ron Kantowski at rkantowski@reviewjournal.com or 702-383-0352. Follow @ronkantowski on Twitter.
Rest for the weary
Commissioner Adam Silver has said resting players and keeping them healthy was the biggest issue facing the NBA but that it also is a slippery slope, affecting playoff scenarios, future draft picks and TV ratings.
Some of his recent statements:
— "There emerged … a shared view that teams should avoid resting multiple players for national TV games, and to the extent rest is possible, there should be a strong preference for resting players at home."
— "As disappointing as it is for any individual fan on a night where a player is rested, if we all accepted the science (and) the medical data supports genuine resting as improving performance and prolonging careers and reducing injuries, I think we'd all have to agree that it does make sense at certain points in the season to rest players."
— "The question comes up all the time: Would this problem be solved by shortening the season? Putting aside the obvious economic implications of shortening the season, it's not clear at all that it would be."
Ron Kantowski/Review-Journal