Las Vegas hockey icon Clint Malarchuk predicts success for new NHL team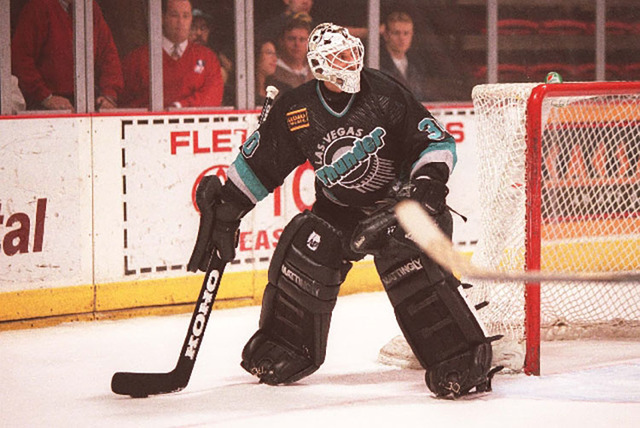 When word leaked that Las Vegas would be getting an NHL expansion franchise — barring the Hanson Brothers driving through next week's meeting of Gary Bettman's governors here on an out-of-control Zamboni — the first person I called was Clint Malarchuk.
For six years during the 1990s, Malarchuk was known as The Cowboy Goalie. He was the starting goaltender for the Las Vegas Thunder of the International Hockey League as well as the face of the franchise. It was he and his teammates who showed there was a thirst and an appetite for pro hockey in the desert.
I called to congratulate him.
If you are one of the 14,000 who plunked down deposits on NHL season tickets, you should thank him, too.
I got Clint Malarchuk's voice mail.
The Cowboy Goalie, who was born on the frontier in Grand Prairie, Alberta, has many irons in many fires. One is equine dentistry. He still lives in Gardnerville, and sometimes when he makes a house call, he is out of cellphone range. The spaces between ponderosas are wide and open up there.
But Malarchuk always calls back. You could tell from his voice that he was in a good place, and also in a place that had a cellphone tower.
He had heard that Las Vegas probably would be getting an NHL team and that Quebec City probably would not — he had played in both locales, one of the few who can say that, and sometimes reporters call for comments and keep him in the loop.
When Malarchuk was making kick saves here, sports commissioners had averse views of legal gambling. Las Vegas did not have a suitable arena with luxury suites and whatnot. Plus, the only coyotes in Phoenix then were the kind that howled at the moon.
The Phoenix Coyotes didn't exist until 1996 — three years after the Thunder debuted. The NHL had yet to drop the puck in the desert. There was no thirst or appetite for it.
The pro hockey team in Phoenix at that time was known as the Roadrunners. They also were in the IHL. The Thunder used to beat the Roadrunners like a rented mule.
The Thunder were like rock stars. They were much bigger than the Village People, who played a raucous postgame concert at the Thomas & Mack Center.
"The first few years, we'd get 5,000 or 6,000 (spectators) on a Tuesday night," said Malarchuk, who spent nine seasons as a starting goalie in the NHL with Quebec, Washington and Buffalo. Though he made a lot of kick saves, he is probably best remembered for having his throat slashed and nearly bleeding to death on the ice in 1989 while with the Sabres.
"On the weekends, we'd get 10,000 or 12,000. It was a party. You could feel the energy."
The Thunder were the hottest ticket in town. Radek Bonk, just 17 and not old enough to skate in the NHL, centered a line that included Ken Quinney, who scored 55 goals (and still is a fireman in town), and little Patrice Lefebvre. Clint Malarchuk made clutch kick saves.
So if you ask me, when owner Bill Foley gets around to putting together his community relations team, there should be a spot for Clint Malarchuk, because A) he would great at it, and B) because hockey fans here remember him.
"I'd be there in a heartbeat," he said.
And he'd probably never leave, because when he had that chance with the Thunder — when he was making clutch kick saves all over the place and the Boston Bruins wanted to bring him back to the NHL — he said he was having too much fun playing hockey in the Las Vegas desert.
The Thunder signed Malarchuk to a multiyear contract. They paid him in quarter horses instead of cash. True story. He was paid in horseflesh.
Clint lived by Ann Road, not far from the Thunder practice rink at the Santa Fe. He also kept emus, which are sort of like ostriches.
He preferred cowboy hats and Wranglers to neckties and sports jackets. The Thunder had a rule that players must wear ties on road trips. Clint always wore this black one with pigs on it.
"I still have it," he said with a hearty chuckle. "I still wear it sometimes, just to get the looks."
A lot of hockey enthusiasts, citing the situation in Arizona and other outposts where teams have struggled at the turnstiles, are skeptical about an NHL team skating a sustained shift in Las Vegas.
Not The Cowboy Goalie, who has written a book called "The Crazy Game" that is available through Amazon. (He also is the subject of a documentary now running on Canadian TV, and continues to speak publicly about overcoming obsessive compulsive disorder, post-traumatic stress and alcoholism.)
"No doubt at all," said Malarchuk, 55, who went on to coach the Thunder and serve as assistant general manager. "Sure, there's competition for the dollar. But when I played there, I always thought it would be a no-brainer. I think it's going to be great."
Before hanging up, I told The Cowboy Goalie that I had recently moved, and the last thing to be put in the U-Haul was a poster tacked to the garage wall with a staple gun. It showed him standing in front of a hockey net.
Malarchuk was wearing Las Vegas Thunder teal-and-white and a black cowboy hat, and he had a lariat around his shoulder. He was cradling a stop sign in one hand, his goalie's stick in the other.
In big, bold letters, it said "THE PUCK STOPS HERE."
Las Vegas Review-Journal sports columnist Ron Kantowski can be reached at rkantowski@reviewjournal.com or 702-383-0352. Follow him on Twitter: @ronkantowski
RELATED
NHL committee picks Las Vegas for expansion
NHL team will take Las Vegas sports to next level
Here's what's next for Las Vegas' NHL team