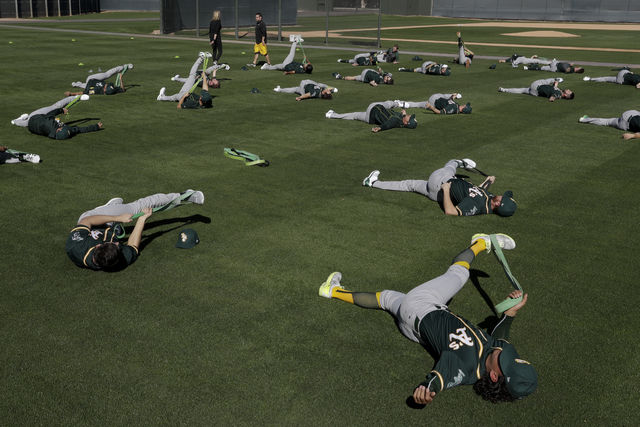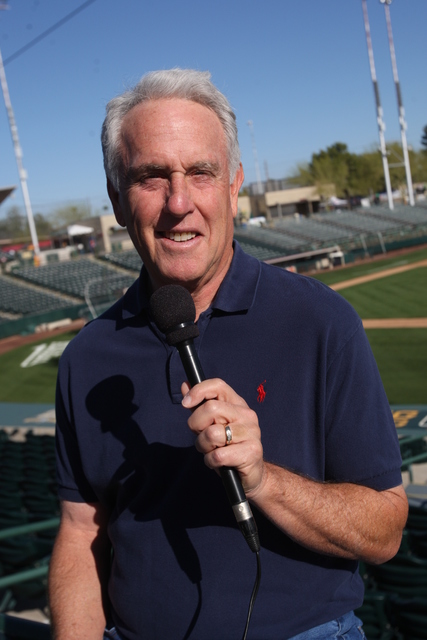 With a Hall of Fame career spanning 23 seasons (and a few more as a pitching coach), Greg Maddux has spent more time in the big leagues than any other guy with Las Vegas roots.
Any guesses about who is second in longevity?
Kris Bryant and Bryce Harper, the modern-day swatting sultans, are just getting started. Matt Williams? The former UNLV stud logged 17 seasons with the Giants, Indians and Diamondbacks. Barry Zito? Though not normally linked with Las Vegas, the former A's stalwart was born here. Zito displayed major league craftiness — he was a left-handed pitcher, after all — for 15 seasons.
Ken Korach is embarking on his 22nd season as a radio broadcaster for those same Athletics of Oakland.
OK, so it is a trick question of sorts — Korach's lifetime batting average remains .000, and if you toss in Matt Williams' stints as a manager and a first- and third-base coach, he probably has Korach beat.
But one needn't call New York to deliberate over a replay to confirm that 22 seasons is a lot of summers away from the putting green.
Ken Korach still makes his home in Las Vegas, and during lunch Tuesday, I asked if he ever caught a foul ball in a net, a la Harry Caray. He said no, but one time in Detroit, Tony Clark smacked one into the booth on the first-base side of old Tiger Stadium that took out some broadcast equipment and nearly knocked him off the air.
He also called Dallas Braden's perfect game against Tampa Bay in 2010 — "The kid from Stockton has done it for the A's!" — which he said was way cooler than catching a foul ball in a net.
When I asked for a list of nine other things he had witnessed during 22 big league seasons, he asked if he could have some time to ponder and wax nostalgic. No hurry, he was told.
I received his list via email at 7 a.m. the following day.
Like Manny Mota coming off the bench in a tie ballgame, Ken Korach always delivers.
He said he's headed down to the Cactus League this week. The first game he'll call: A's against the World Champion Chicago Cubs. He's excited, he said. He's always excited when spring training beckons.
Maybe this will be the season he catches that foul ball in the broadcast booth.
IMPRESSIVE COMPANY
Speaking of Greg Maddux and Kris Bryant, by now you've seen probably the video of the Hall of Famer pranking the reigning National League Most Valuable Player during batting practice at College of Southern Nevada filmed under the pretense it would be used in a Red Bull ad.
Before Bryant gets punked by Maddux in the guise of a wise-cracking, curveball-throwing sound man — "Kris, you need some pine tar? Hand sanitizer?" — the Cubs third baseman talks glowingly about Las Vegas' baseball reputation. Bryant mentions Maddux, fellow National League MVP Bryce Harper and Chasen Shreve in the same sentence.
Shreve, for those who do not collect baseball cards or haven't gotten to the S's in the new edition of "Who's Who in Baseball," is starting his third season as a Yankees relief pitcher. His career record is 8-3 with one save and a 3.47 ERA — decent stats for sure, but perhaps not enough to be mentioned in the same sentence as Maddux and Harper.
Chasen Shreve and Kris Bryant were teammates at Bonanza High. Let the box score show that KB's loyalty, like one of his tape-measure home runs, knows no bounds.
Now pass the hand sanitizer.
YOU GO, CURL!
The headline from north of the border was more ominous than a heads-up about another Loverboy reunion tour:
"Leaving Las Vegas: Curling's Continental Cup moving from desert to London, Ont."
Say it ain't so, Joe, eh?
Well, it is so. But instead of Curling's Continental Cup, Orleans Arena will host the 2018 World Men's Curling Championship from March 31 to April 8.
While the argument can be made that one can never have enough curling in one's backyard, welcoming two major curling championships to town during a 10-week span in an Olympic year might have challenged the notion.
Now curl the rock, and pass the hand sanitizer.
DALLAS BUYERS CLUB REDUX?
On Tuesday, I wrote about Las Vegan Kelly Knievel putting his daredevil father's iconic jumpsuit and walking stick up for action. On Friday, I was forwarded a note from a potential bidder.
"An old friend and hero of mine Evel Knievel's famous cane (which had a secret custom flask always filled with Wild Turkey) just came up for auction … might have to bid," wrote actor Matthew McConaughey on his Twitter account.
How cool would it be to see that walking stick in a Lincoln Town Car commercial?
An old friend and hero of mine Evel Knievel's famous cane (which had a secret custom flask always filled with … https://t.co/YT6t4yh2xo

— Matthew McConaughey (@McConaughey) February 17, 2017
Contact Ron Kantowski at rkantowski@reviewjournal.com or 702-383-0352. Follow @ronkantowski on Twitter.