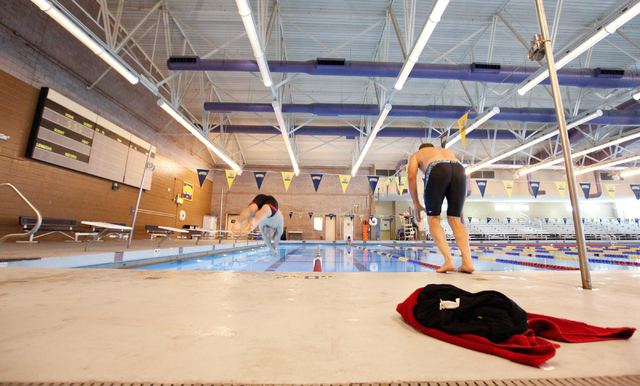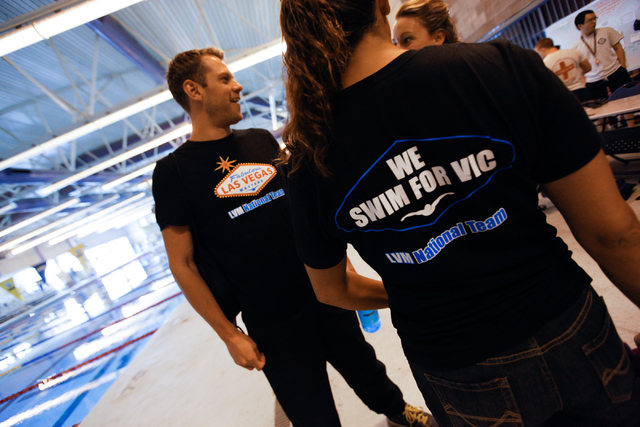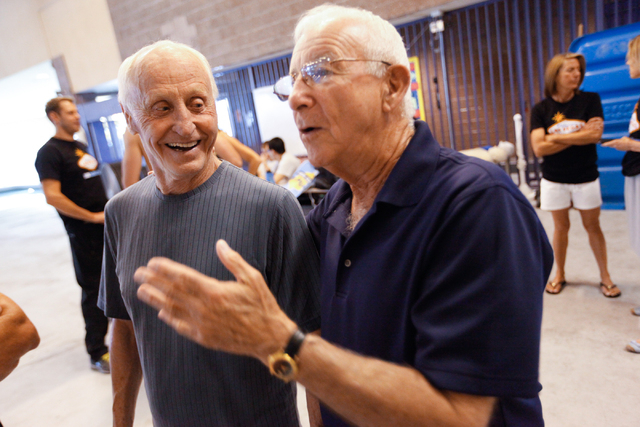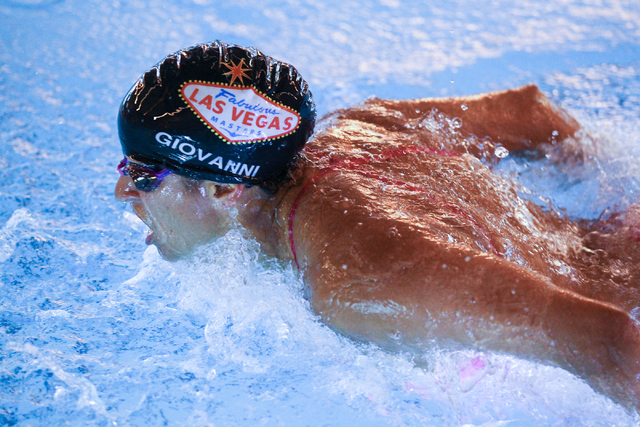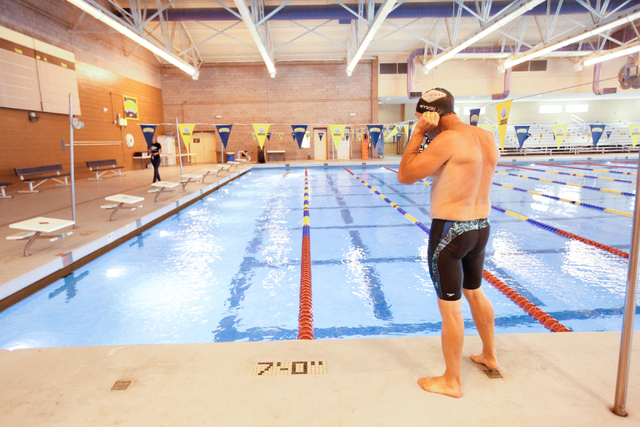 After meeting the nucleus of the Las Vegas Masters swimming team, it becomes apparent that Ponce de Leon was onto something when he sailed to Florida in the 16th century seeking the fountain of youth.
The ancient mariner just didn't sail far enough.
The Desert Breeze indoor and outdoor swimming pools at 8275 Spring Mountain Road must have regenerative powers. Magic elixir, or something like that, emanating from a mythical underground spring. Especially the indoor pool.
The indoor pool is where the Las Vegas Masters train.
There are about 70 altogether. Their combined body-fat percentage must be around 11.
The men mostly look like Neptune, minus the beard and trident. The women mostly look like Esther Williams, when she was making those bathing beauty movies for Metro-Goldwyn-Mayer.
The team's coach is 79-year-old Victor Hecker, UNLV's first swimming coach in 1974. When he started the Masters, the program consisted only of his daughter Lindsay, a golfer who thought she would try out for the swim team at Palo Verde, and a guy named Mark McGee, who swam at UNLV for Jim Reitz.
Now, as mentioned, there's an entire school of Masters swimmers that wakes up to train at 5:30 a.m. at Desert Breeze. Their T-shirts say: "We Swim for Vic." They have wreaked more havoc in the deep end of the pool than a bunch of caddies armed with Baby Ruth candy bars.
In the recent U.S. Masters Swimming Spring Nationals at the George F. Haines International Swim Center in Santa Clara, Calif., they finished fourth among 279 teams.
These national events attract top swimmers. Not all resemble Wilford Brimley and Don Ameche and the cast of "Cocoon." Some still are in their 20s. Some are former Olympic swimmers. One was Matt Biondi, the California Condor, who won five gold medals, one silver and one bronze in the 1988 Olympics.
Ten days ago, as a 48-year-old, Biondi won the 50- and 100-yard men's freestyle at the Masters Spring Nationals. He still pretty much swims like a torpedo.
But when you talk to Victor Hecker, he doesn't mention competing against former Olympians and winning medals until about 45 minutes into the conversation.
"In this valley, we are blessed with talented, talented swimmers," he says about Reitz's UNLV program, and local club teams such as the Sandpipers, Team Rebel, Desert Storm and BCH out of Boulder City. "But the No. 1 reason we swim is to stay young forever. No. 2 is to be healthy forever. No. 3, surprise, is we have the opportunity to compete."
Mostly, he talks about his swimmers, about what productive citizens they are or were, in the case of the retired ones. Doctors, lawyers, airline pilots, professors. Hecker says one of his kids even invented beer pong.
Billy Gaines, 33, who swam for Carnegie Mellon University, said he really didn't invent beer pong. He sort of organized it. He also beat three-time Olympic gold medalist Rowdy Gaines (no relation as far as he knows) in a Masters meet in Virginia after which he boasted, good-naturedly, that he was the fastest Gaines in the pool.
As it states on the website, the Las Vegas Masters include former college stars, Olympians, Olympic Trial qualifiers, Masters record-holders.
They also are mothers and fathers, young and old, singles and couples. They like to socialize. They are dedicated, rising at 5:30 a.m. as they do. Some drive across town to do the butterfly and those other strokes.
One commutes from Chicago. Chris Counts is a pilot for Spirit Airlines based in the Windy City. His brother Glenn, a Southwest Airlines pilot and a former All-American at Stanford, won five events in the men's 35-39 class at the Spring Nationals. Chris Counts mostly finished second.
I met Dan Wegner, who is 42, swam for Texas and Florida State and appears cast from bronze; and Carolyn Battin, a former teacher and coach at Silverado High who is 60 and trim and world-ranked in her age group, "because Victor makes you believe in things you never thought you could do."
But you needn't have competed against Olympians or auditioned for the role of Tarzan to swim for Victor Hecker.
Joe Wyson, 57, swam like a rock until six months ago when he joined the team. Now he swims like a really buoyant rock. He also has lost 20 pounds since he started getting up at 5:30 a.m.
Will Rauch, 79, won the 200 freestyle at the Spring Nationals swimming against 75-year-olds. He is from Austria, and when he was 10, Allied bombers dropped their payloads over his boyhood home. You still can see burn scars on his arms. "Take every first place and outlive everybody," he says about why he swims.
Rauch will be 80 in October. He said were it not for the Las Vegas Masters, for Victor Hecker and all the friends he has met swimming in the early morning hours at the Desert Breeze pool, he'd probably have to get at a job at Walmart.
Las Vegas Review-Journal sports columnist Ron Kantowski can be reached at rkantowski@reviewjournal.com or 702-383-0352. Follow him on Twitter: @ronkantowski.