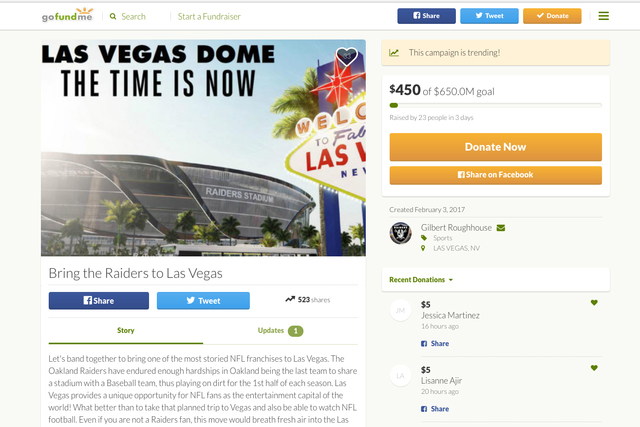 A new revenue stream has been found to offset the $650 million shortfall for an NFL stadium that might bring the Oakland Raiders to town.
Actually, it's more like a tiny revenue trickle.
But at least it's something.
Las Vegas resident James Flynn — aka Gilbert Roughhouse — thought a whimsical GoFundMe account would at least show support for the valley getting its own NFL franchise.
"It was supposed to be satire," Flynn said.
It still is. But when Flynn checked the website and saw somebody had contributed $20, he couldn't believe it.
By Monday morning … roll the timpani … $450 had been contributed toward the stated goal of $650 million. Flynn still was a little short. But what to do with the money that had been pledged? It would be too difficult to track everybody down to return it.
That part was easy, said Flynn, a Rancho High graduate who said he played cornerback for the Rams during their 0-8 season of 1999.
He would give the money to charity.
Flynn, who works in security for an off-Strip major hotel chain, said his company has a relationship with the Children's Miracle Network. He said when the GoFundMe pledges stop trickling in, he would present the money to the local charity.
That should alleviate the concern of one respondent (probably a Chiefs fan), who thought this might be just another cleverly disguised Internet ruse — especially when the name on the account was changed from James Flynn to the aforementioned Gilbert Roughhouse.
So who is Gilbert Roughhouse?
"It's something me and a buddy came up with," Flynn said. "We were sitting around, saying if you had to have an alias, what would it be? He said his would be Kyle. I came up with Gilbert. Roughhouse was something to go with that."
Sure, it may sound a little strange. But trust me when I say a lot of guys have come up with much worse ideas than creating bogus names for themselves while they are sitting around killing time.
Flynn, 35, said he got the idea for the account after having raised money for soccer jerseys for kids from blighted neighborhoods through GoFundMe. As he mentioned, it was only meant as a joke, and to show his passion for the Raiders, and his enthusiasm for the possibility they might relocate to Las Vegas if a new $1.9 billion stadium is built.
When negotiations between the Raiders and Las Vegas Sands Corp. Chairman and CEO Sheldon Adelson broke off last week, and the Adelson family's $650 million pledge to the project was swept off the table, Flynn sprung into action and set up the account.
"I woke up the next day, and there was $20 (pledged). I didn't expect anybody to donate," he said.
I told James Flynn the philanthropic audible — giving the money to charity — would have impressed Tom Brady and the Super Bowl-champion New England Patriots. He said he doesn't much care for the Patriots, and that he was wearing a No. 4 silver and black Derek Carr jersey.
The Review-Journal is owned by the family of Las Vegas Sands Corp. Chairman and CEO Sheldon Adelson.
Contact Ron Kantowski at rkantowski@reviewjournal.com or 702-383-0352. Follow @ronkantowski on Twitter.
RELATED
How much money do Raiders really need to build Las Vegas stadium?
10 key questions answered about proposed Raiders stadium in Las Vegas
Goldman Sachs financing in jeopardy after Adelson exit from Raiders stadium plan
NFL hypocrisy one possible reason for Adelson's exit from Raiders stadium deal
Adelsons withdraw investment from proposed Raiders stadium in Las Vegas