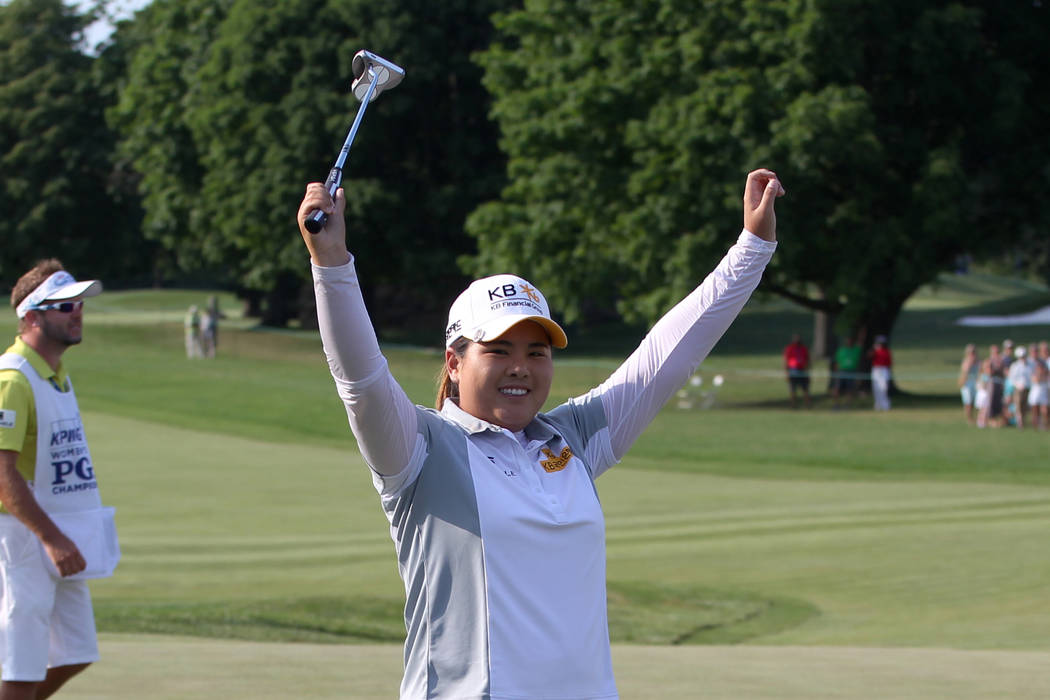 Once the tough questions about playing golf on President Donald Trump's course subside, the best female golfers in the world will tee it up at the U.S. Women's Open in Bedminster, New Jersey, starting Thursday.
Two of the best female golfers to watch will be Danielle Kang and Inbee Park, both of whom make their homes in Las Vegas and sometimes play practice rounds at TPC Summerlin.
You can tell who the golfers to watch are by who is brought into the media tent for questions and answers after the practice rounds.
These were the ones brought in Tuesday: Kang, Park, So Yeon Ryu, Michelle Wie, Lexi Thompson, Lydia Ko. (USGA chief Mike Davis was not brought in, leaving the players to answer the tough questions about President Trump's past comments about women.)
Until two weeks ago, nobody could have imagined asking questions of Danielle Kang in such a setting. The 24-year-old San Francisco Bay native and Pepperdine product had been a Roy "Tin Cup" McAvoy-like 0-for-144 on tour before breaking through for a one-stroke victory at the KMPG Women's PGA Championship at Olympia Fields near Chicago.
Overnight sensation
"It's only been two weeks? It's been the most amazing experience," Kang said during the media scrum. "I've been on cloud nine and I've been trying to come down from it just so I can focus on this week. It's been incredible."
This is how it is in golf. You finally break through and win a big one, and then two weeks later they expect you to do it again. It's almost like horse racing except they feed you better, and you get introduced to a lot of guys who own car dealerships.
When her 30-foot eagle putt on No. 18 at Olympia Fields came up short, she sank a 2-footer to hold off Canadian teenager Brooke Henderson, the 2016 PGA champ. Golf writers had to look her up in the media guide. It had been awhile since they last heard from Danielle Kang.
She had qualified to play in the Open three times as an amateur but had never finished higher than a tie for 14th in any of the women's majors. She had struggled with injuries, and coping with the death of her father, K.S., to cancer four years ago, and with acknowledging that winning golf tournaments on tour is difficult for those not named Annika Sorenstam (10 wins in 2005, 11 in 2002).
"Like everyone knows now with the stories, my dad got ill after 2013. After that I didn't like golf very much," said Kang, who has climbed from 68th to 18th in the world rankings after winning the PGA.
"In the last couple of years, I realized you can't let yourself down. If you want success and you want to see the end of what you wanted to do, you have to keep working hard and keep picking at your game and chipping away at what you need to work on."
Park's place
While Danielle Kang has a bit of an Open legacy thanks to her amateur prowess, Inbee Park, who graduated from Bishop Gorman and turned 29 on Wednesday, has played it 11 times, winning in 2013 and 2008. But after becoming the seventh golfer to notch a women's career Grand Slam in 2015, she missed last year's Open and much of 2016 with a thumb injury and has yielded her world No. 1 ranking to best gal pal So Yeon Ryu.
At @BearsBestLV with @1soyeonryu !
Nice day pic.twitter.com/plqLkOaygS

— Inbee Park (@InbeePark) January 20, 2016
She even missed a couple of short putts in recent weeks, an aberration that one of the golf writers prefaced by mentioning Park's name in context with Halley's Comet.
"I get maybe one good day out of the four days of putting, and the (other) three days are just average or sometimes bad. I'm just trying to average it out a little bit," Park said.
You might say that when it comes to this year's Open, Inbee Park and Danielle Kang are yin and yang, though that is a Chinese proverb and they are of Korean ancestry.
Park is unassuming and doesn't say much about anything, and when she does, you have to ask her to speak up. Kang is outgoing and ate noodles out the PGA cup and counts hockey great Wayne Gretzky and "Saturday Night Live" alum Jon Lovitz among her Twitter pals.
But both have ties to Las Vegas, even if they are loose ties. And when the questions about playing golf on Donald Trump's course finally are put to rest in a water hazard, each is expected to command lots of attention until the Chief Executive shows up to help make women's golf great again, if that's the idea.
As Jon Lovitz might say in 140 characters or fewer: "Yeah … that's the ticket."
Go @daniellekang !!!!!
Cheering for you!!!

— Jon Lovitz (@realjonlovitz) July 2, 2017
Contact Ron Kantowski at rkantowski@reviewjournal.com or 702-383-0352. Follow @ronkantowski on Twitter.
Teeing it up at Trump National
Sports, politics and gender are expected to collide at the U.S. Women's Open golf tournament at Bedminster, N.J., on a course owned by President Donald Trump. Here is what TPC Summerlin members Danielle Kang and Inbee Park said during their news conferences:
— Inbee Park: "Well, I think everybody is just trying to avoid political questions because I don't think they will get any advantage from saying whether they agree or disagree. So we just deal with whatever we have and I think that's pretty much what we can do. This is a great national championship, and I'm sure the USGA worked very hard to pick this golf course and the venue. So yeah, I mean it's a true championship golf course, then we love to play this golf course."
— Danielle Kang: (about having played the course in 2009 as an amateur): "All I remember is getting the Donald Trump dolls. I remember getting Trump water bottles. I haven't thought much about it. We get asked a golf question, we are free to (express) any of our opinions and stuff. We're here to play a golf tournament. We're here to play a major championship hosted by the USGA. We're all just really happy to be playing the U.S. Open."