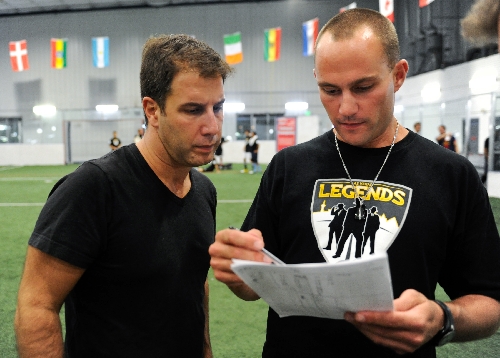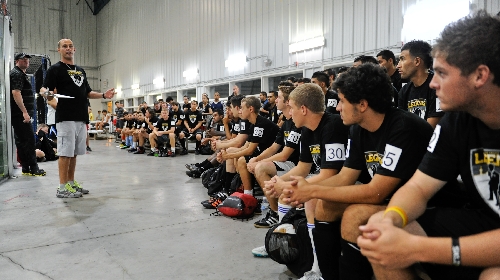 Another new pseudo-professional sports franchise is coming to town, the Las Vegas Legends of the Professional Arena Soccer League, whose jersey badge is patterned after that of Major League Soccer's Columbus Crew, with similar colors.
Both logos depict three guys in silhouette. In the Crew's version, the three guys are wearing hard hats and shown from the waist up; in the Legends' iteration, they are dressed like the pit bosses at the Golden Gate downtown, with fedoras and pocket squares, and shown from head to toe.
(It's actually a pretty cool logo. It would be even cooler if, say, instead of silhouetted faces, the logo featured the faces of Carrot Top, Peter "Big Elvis" Vallee and perhaps Cook E. Jarr, the lounge singer. These are true Las Vegas legends, or at least Las Vegas legends that smack of indoor soccer on a shoestring budget.)   
On Monday at Las Vegas Sports Park in Summerlin, the Legends' logo was everywhere, but most conspicuous on the black T-shirts of the young men – and some not so young – who tried out for the team at the bewitching hour of 9 p.m.
Everybody received a Legends T-shirt and an ID number to pin on his sleeve. The turnout was amazing, more amazing than Tatu and Preki of the old Major Indoor Soccer League. Around 10:30, I nearly got checked into the Plexiglas by No. 103. Even the numbers in baseball spring training don't go that high.
If No. 103 has the stuff of which Legends are made, he will make around $300 per game, tops, per the PASL's $2,650 salary cap. The Legends, who will open regular-season play in November at Orleans Arena, are one of six expansion teams in a 15-team league that has seen 11 teams fold since 2008.
Last season's average attendance was 656, which probably explains why 11 teams have been kicked to the curb and nobody quits their day job in the PASL.
But if it's a love of the game you seek, the guys wearing the black T-shirts with the numbers pinned to their sleeves on Monday night epitomize it.
No. 40, Travis Parnell, is an electrician, a card-carrying member of International Brotherhood of Electrical Workers Local 357. The 28-year-old father of a 7-year-old son who helped bring City Center light, Parnell played sweeper at Eldorado High against the likes of Las Vegas High's (and future U.S. men's national team member) Herculez Gomez. Parnell said he was known for putting strikers on their keister; he admits he did not put Herculez on his.
No. 41, Alesch Pipenbaher, played for Slovenia's Under-17 national side before moving to Zurich, where he worked in a Swiss bank and was responsible for Swiss bank accounts. "This is true," he said, noticing my raised eyebrow. Pipenbaher, 25, recently returned to Las Vegas to be with the Brazilian girl he met at Surrender nightclub at Encore while on holiday. He does not yet have a job in a Las Vegas bank but isn't sweating it, probably because he has a Brazilian girlfriend.
As for No. 73, well, I didn't catch his name. He had spindly legs like toothpicks and wore long orange-red socks that made him look like a stork. But when the gold soccer ball came pinballing off the hockey dasher boards, he made a deft first touch and booted it into the back of the net. Still, I think I'd rather be Alesch Pipenbaher from Slovenia and Switzerland with the Brazilian girlfriend.
Then I met the guy who used to do Leonardo DiCaprio's dry cleaning.
Meir Cohen, the Legends' president, general manager and chief optimist, was born in Tel Aviv and was in the Israeli army and saw action in the Gulf War and in the occupied West Bank territories. "A couple of things in Ramallah, a couple of things in Lebanon; nothing big," he says.
He made his way to America, becoming a partner in his father's West Hollywood dry cleaning business that had most of the major studios as clients. This is how he came to launder the costumes that Leo and Kate Winslet wore in "Titanic" and meet "Dr. Quinn, Medicine Woman." Cohen couldn't remember Jane Seymour's name, only that she was pleasant to be around.
After returning to Tel Aviv and dropping out of law school, Cohen made his way to Las Vegas, where he invested in the Sport Park, eventually obtaining a 50 percent stake. He converted the old hockey rink into an indoor soccer arena and started the semipro Las Vegas Knights, mostly because he missed soccer.
"No dream is too big," said the outgoing 41-year-old father of four, who, it can be assumed, never envisioned he'd be point man for a pseudo-professional soccer team when he was starching Leo DiCaprio's bib shirts and pressing his corduroy britches.
I thought about that a little later, when No. 86 on the tryout sheet came off the field clutching his arm, bent over and gasping for air.
No dream is too big, but sometimes it'll knock the wind right out of you.
Las Vegas Review-Journal sports columnist Ron Kantowski can be reached at rkantowski@reviewjournal.com or 702-383-0352. Follow him on Twitter: @ronkantowski.