Local Indy team owner Schmidt first-rate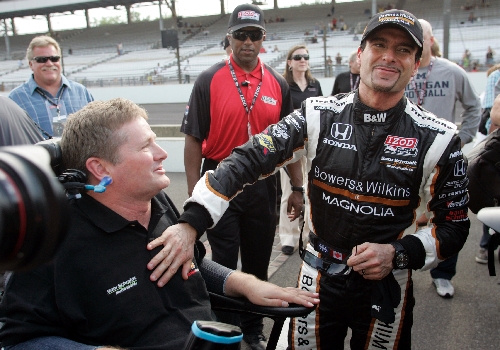 I was introduced to Sam Schmidt, the race car driver, by Paul Page, the old auto racing broadcaster. It wasn't a formal introduction. It was on TV, in 1996.
This guy Schmidt, hometown Henderson, Nev., according to the graphic on the screen, was running in a race at Phoenix, and he was running pretty well. When the checkered flag fell, he was running 10th.
This was in the infancy of the Indy Racing League, a start-up circuit whose drivers were mostly has-beens or never-weres. Guys who would drive into town to talk to reporters at their places of business, if one was interested in their story and the grease under the fingernails and the pack of Camels rolled up in the T-shirt sleeve.
A couple of days later, Schmidt pulled up to the newspaper office in a minivan. Actually, if memory serves, his wife, Sheila, was driving. This is when I became interested in Sam Schmidt's story. Race car drivers are supposed to wheel around in Ferraris and Lamborghinis and Corvettes or some other sports car with a name that suggests speed and a high insurance premium and ends in a vowel. They are not supposed to drive vans preceded by a "mini." This guy Schmidt was like me, only with a better haircut and a heavier right foot.
I think I might have said that in the first column I wrote about him.
There have been other columns, lots of others.
I remember talking to an anxious Schmidt on the eve of qualifying for his first Indianapolis 500, not knowing whether his engine would arrive in time. I remember writing about the times he crashed in the 500; when he signed on as Arie Luyendyk's teammate and began to run near the front; when he won his hometown race at Las Vegas Motor Speedway, in 1999 from the pole position, and what a special day that was.
I remember his big accident at Walt Disney World in 2000, when he broke his neck.
Sam Schmidt knew the risk and damn near suffered the ultimate consequence. I wrote about that, too. With a pen like an anvil.
I must have written two dozen columns about this guy Schmidt, who has continued to pursue the big carrot at the holy grail of speed as an Indy 500 car owner with limited resources. There are shoestring budgets, and there is Schmidt's, which sort of resembles the laces on a baby booty minus the little bell things at the end that keep them from unraveling.
Thus, I never thought I would be writing this particular column. I never thought I would write about a day when Sam Schmidt and his driver, Alex Tagliani, beat Roger Penske and Chip Ganassi and all the other barons of high-finance motor sports to win the pole position for the Indianapolis 500 — on its 100-year anniversary, no less.
It happened Saturday, when this guy Schmidt, 46, quadriplegic and confined to a wheelchair, couldn't hold back the tears as part-time Las Vegas resident Tagliani completed a qualifying run so blindingly fast, so frighteningly frenetic, that if one sneezed, one had to catch it on "SportsCenter." The stopwatch said 227.472 mph.
Schmidt's voice mail is a recording of "I Can't Drive 55." The difference between his voice mail and Tagliani's pole speed is 172.472 mph. Perhaps they'll let Sammy Hagar drive the pace car when A.J. Foyt is finished banging on it.
There was an hour or so Saturday when Schmidt's drivers were listed 1-2-3 on the big scoring pylon. They will start the race 1-4-6. Schmidt's part-time drivers, Townsend Bell and Dan Wheldon, also drove likes bats out of h-e-double hockey sticks.
"There are so many levels of sheer unbelievability, whether it's the 100-year anniversary, or that we beat Chip and Roger and Andretti and all the other big-money teams, whether it's the adversity this team has overcome, whatever," Schmidt said Monday from Gasoline Alley, where he was still floating around on Clouds 10 through 12.
"To have three qualify in the top six, and Penske gets one? It's all very satisfying."
Next to his kids being born, he said, it might have been the greatest day of his life.
"The thing that made getting up every morning worthwhile, beyond my faith and my family pushing me, was the ability to come out here and compete," Schmidt said. "I make no bones about it; I'd much rather be in the driving seat than in the owning seat, but this is definitely the second-best thing."
It was the first-best thing to happen Saturday at the venerable Brickyard. Sorry, Danica.
"At the end of the day, it would have been hard to find anybody at that whole speedway who wasn't happy for Sam," said Bell, who was in Las Vegas on Monday to bang drums for the season-ending race at Las Vegas Motor Speedway and to say nice things about his boss. "The guy's got a remarkable story. But you put his story aside, and you can (still) put him up against any owner in that paddock in terms of work ethic, professionalism and commitment to excellence, if I can borrow from Al Davis. He's as good as it gets as a team owner."
On Saturday, the sport that took so much from this guy Schmidt gave a little bit back.
On Sunday, a full century after the gentlemen started their engines for the first time, maybe it'll give back a little more.
Las Vegas Review-Journal columnist Ron Kantowski can be reached at rkantowski@reviewjournal.com or 702-383-0352. Follow him on Twitter: @ronkantowski.