More failing than passing
December 16, 2010 - 12:00 am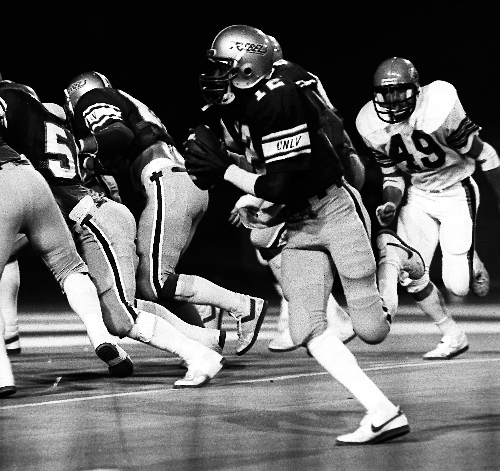 With respect to the egos of Chad Ochocinco and Terrell Owens, the quarterback is still the most important man on a football field. This is why in those old electric football games some of us played as kids, the quarterback was three times larger than the other players.
There are exceptions. Until they acquired Jay Cutler, the Chicago Bears never thought the quarterback was important. Woody Hayes never thought the quarterback was important, at least as a passer. His quarterbacks were running backs in thin disguise. In an effort to illustrate the effectiveness of a well-timed forward pass, Cornelius Greene completed 6 of 8 for 129 yards in Ohio State's 42-21 victory over Southern California in the 1974 Rose Bowl when Woody was huddled with the defense.
When it comes to quarterbacks, UNLV reminds me of an old Supertramp song. "Take a look at my girlfriend, she's the only one I got. Not much of a girlfriend, never seem to get a lot."
Substitute "quarterback" for "girlfriend" and it pretty much describes the Rebels I have known since 1987.
Two years after the Eagles drafted Randall Cunningham and 10 years after the Cowboys selected Glenn Carano, both in the second round, Scott Sims led the Rebels by completing 76 of 180 passes for a paltry percentage of 42.2 with 809 yards, six touchdowns and 14 interceptions, thereby preparing me for nearly a quarter century of errant passes and widely scattered ineptitude under center.
Again, there have been exceptions. You can count them on one hand. Mordecai "Three Finger" Brown's hand:
■ Charles Price (1988): Threw four touchdowns and eight interceptions a year after Ickey Woods shuffled off to the pros.
■ Derek Stott (1989-91): Surfer dude with a spiky haircut who got the most of his ability. Unfortunately, his ability was rather limited.
■ John Ma'ae (1992): What I remember most about him is that by practice time he had five o'clock shadow. And by the fourth or fifth game he became a wide receiver.
■ Bobby Stockham (1993): Threw a school-record 26 interceptions while becoming the first Rebels quarterback to pass for more than 2,000 yards in a season since Cunningham. Still lives in Las Vegas, having married one of super booster Tom Wiesner's daughters.
■ Jason Davis (1994): Did not pass for 2,000 yards, might have married someone's daughter.
■ Jared Brown (1995): Statistics were nearly identical to those of Davis. Their first names and last names each have five letters. Now that I think of it, they might have been the same guy.
■ Jon Denton (1996-97): It was 1997, but he partied like it was 1999. Denton's free spirit might have precluded him from being the next great UNLV quarterback. Instead of the NFL, he wound up at Eastern Kentucky.
■ Kevin Crook (1998): His 688 passing yards were the second fewest by any UNLV starting quarterback.
■ Jason Vaughan (1999): John Robinson's first UNLV quarterback. Robinson liked to run the ball a lot.
■ Jason Thomas (2000-02): John Robinson's second quarterback. Robinson liked to let Thomas, a USC transfer, run the ball a lot. He had one spectacular season, then he got hurt.
■ Kurt Nantkes (2003): Former pro baseball pitcher whose control problems continued on the football field.
■ Shane Steichen (2004): Tough guy who was always playing hurt or with some protective device that resembled a jai alai cesta on his wrist.
■ Rocky Hinds (2006): Another USC transfer who was supposed to save the program but turned out to be damaged goods.
■ Travis Dixon (2007): The Travis Dixon Line — eight interceptions, eight touchdowns — divided mediocrity from more mediocrity.
■ Omar Clayton (2008-10): Kept the job for three years despite being a walk-on. Walk-ons usually don't turn around football programs.
Twenty-three years of quarterbacks. Three winning seasons. Lots of errant passes. Lots of widely scattered ineptitude under center.
So now it is Sean Reilly's turn. At least you hope it's going to be his turn, because if a junior college quarterback with gaudy statistics can't beat out the guys who couldn't beat out Omar Clayton, coach Bobby Hauck might never get this thing turned around.
Reilly supposedly chose UNLV over Kansas, North Texas State and Louisiana Tech, which would sound more impressive if this were 1970 and Louisiana Tech were looking to replace Terry Bradshaw. But if Hauck didn't think Reilly could play, he wouldn't have recruited him, and Hauck is supposed to be an excellent recruiter.
Reilly stands 6 feet 4 inches tall and weighs 210 pounds. Unlike the quarterback in my old electric football game, he's not three times larger than the other players.
The expectations put on his shoulders when his letter of intent came in are another matter.
Las Vegas Review-Journal columnist Ron Kantowski can be reached at rkantowski@reviewjournal.com or 702-383-0352.