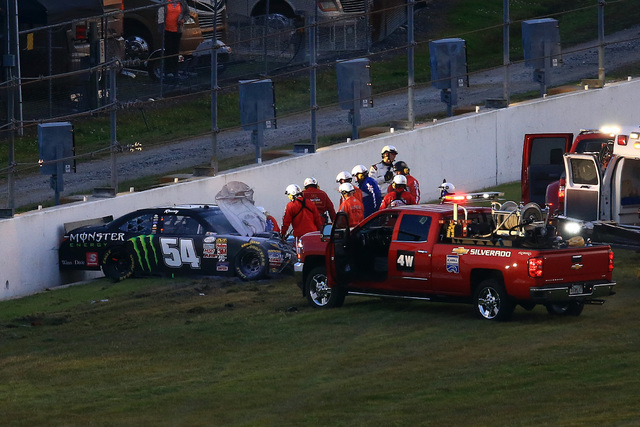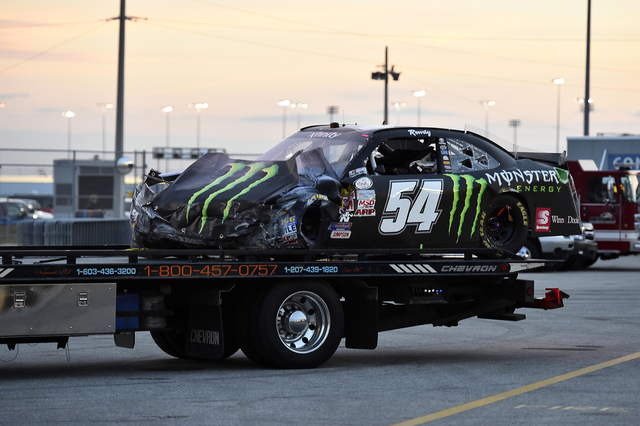 When Kyle Busch, a Las Vegas native with a heavy right foot, slammed his racecar into a retaining wall on the day before the Daytona 500 and broke his right leg and left foot, it touched off another debate about driver safety in NASCAR. At least somebody didn't have to get killed this time.
Maybe that's progress.
Or maybe that's just luck.
When the other drivers saw Busch being hauled away on a gurney with a bone sticking out of his leg above the heavy right foot, they were none too pleased, judging from their quotes and Twitter accounts.
Where the hell was the SAFER barrier, anyway?
SAFER stands for Steel And Foam Energy Reduction. In auto racing, it's commonly referred to as a soft wall. It was developed by engineers at the University of Nebraska and first installed at Indianapolis Motor Speedway in 2002.
That was a year after Dale Earnhardt died in a wreck on the final lap at Daytona.
The living legend's death touched off the first big debate about driver safety in NASCAR. It wasn't long before all the major tracks installed SAFER barriers, at least on the outside walls, because that's the first thing a crashing racecar is likely to hit.
Apparently, the auto racing sanctioning bodies and track owners have not seen the replays in which a crashing racecar caroms off the outside wall and crashes into an inside wall, or slides across the grass and crashes into an inside wall, which is what Busch's car did.
Weren't they watching when Kevin Harvick crashed at Daytona last year?
Harvick was among the first to speak out after Busch's harrowing wreck.
"Unfortunately, I was just a dot on the chart," said Harvick, the 2014 Sprint Cup Series champion.
Which, one supposes, is better than being a bug on a windshield, which basically is what Busch was.
"Kyle Busch is one of our sport's biggest stars who's not able to race because of the lack of attention to safety on superspeedways," said Harvick, not letting off the gas.
"Instead of being proactive, the track is reactive. You feel bad for the sport in general, the fans, Kyle himself more than anything. Hopefully, there is a lesson learned. We know what fixes these walls."
Steel and foam energy on the walls is what fixes them. But SAFER barriers cost $500 per foot. Multiply that by 2.66 miles, which is one lap of Talladega Superspeedway in Alabama, and then start charging extra for a pit pass, because retrofitting one of these tracks for safety isn't cheap.
Daytona International Speedway is in the midst of a $400 million renovation project that will make the old speed plant more fan friendly. When it's complete, there will be nice restrooms and wide concourses and luxury suites. Lots of revenue-producing luxury suites.
I'm sure they'll start charging more for pit passes.
There was nothing in the announcement about adding steel and foam energy to the walls where Busch and Harvick hit.
This is why Harvick and the other drivers have their coveralls in a bunch.
"The tracks, for the most part, don't listen to anything unless it's profitable for their shareholders," Harvick told the auto racing reporters.
"When you see somebody spending $400 million and they don't have soft walls around the inside, maybe they can spend $403 million to finish the inside of the superspeedway there at Daytona."
It should be noted that Harvick said these last two things in February 2014, almost a year before Busch smacked into the inside of the superspeedway at Daytona at an alarming rate of speed.
I don't have an engineering degree from Nebraska, but I have mowed a lot of grass. If they mowed all the grass on the tri-oval at Daytona and replaced it with asphalt, perhaps Busch could have slammed on the brakes, gained traction and kept from hitting the inside wall.
So when one of the NASCAR suits gets behind a microphone and says "there's no greater priority" for the sanctioning body and its tracks than adding steel and foam energy to those inside barriers, you might be inclined to raise an eyebrow — if for no other reason this SAFER technology has existed since 2002, and it's now 2015, and the inside walls at most NASCAR tracks still don't have steel and foam energy to reduce the impact of big hits.
Eventually, it will happen. But it won't happen overnight, and it won't happen at Las Vegas Motor Speedway before the cars start lapping the track at breakneck speed — hopefully not literally — on Friday for NASCAR Weekend.
"We worked with NASCAR to conduct a thorough inspection and review of the existing barriers here at Las Vegas Motor Speedway," LVMS president Chris Powell said in a statement. "Following those discussions, we began work to make modifications to the barriers at openings on pit road as well as a cutout area near Turn 3 of the speedway.
"At the conclusion of this weekend's Kobalt 400 and Boyd Gaming 300, we will collaborate further to review the facility and make the best safety solutions available for Las Vegas Motor Speedway. We remain committed to providing the safest racing conditions possible."
Meanwhile, Kyle Busch is back in North Carolina being fitted for a cane.
Las Vegas Review-Journal sports columnist Ron Kantowski can be reached at rkantowski@reviewjournal.com or 702-383-0352. Follow him on Twitter: @ronkantowski.