NBC broadcast crew: Storylines abound in Capitals-Knights final
Updated May 26, 2018 - 7:56 pm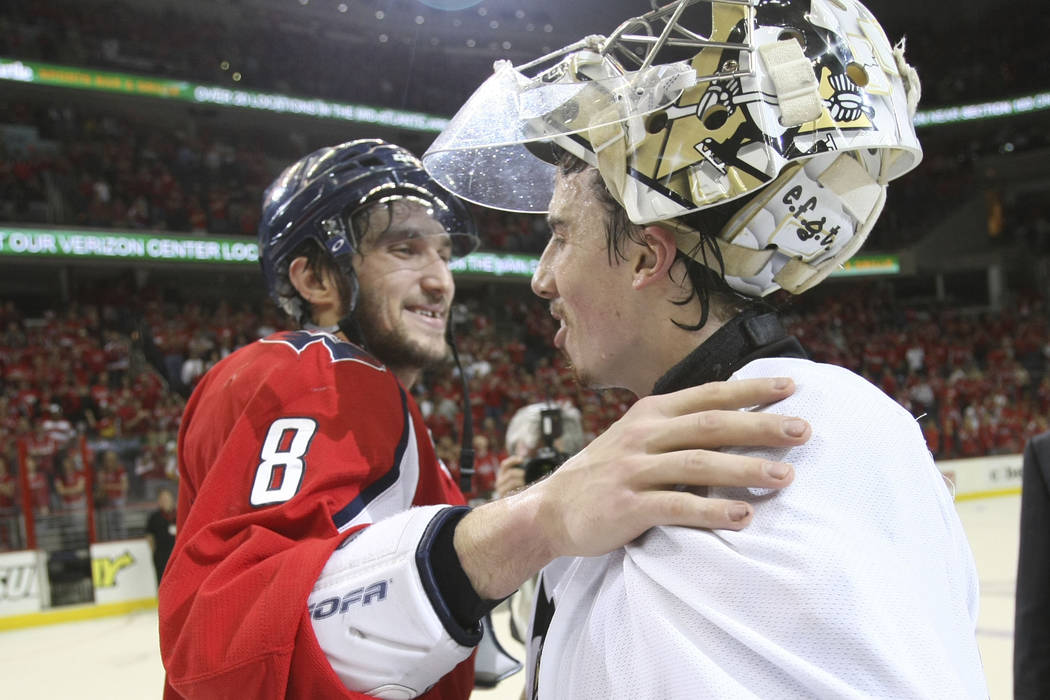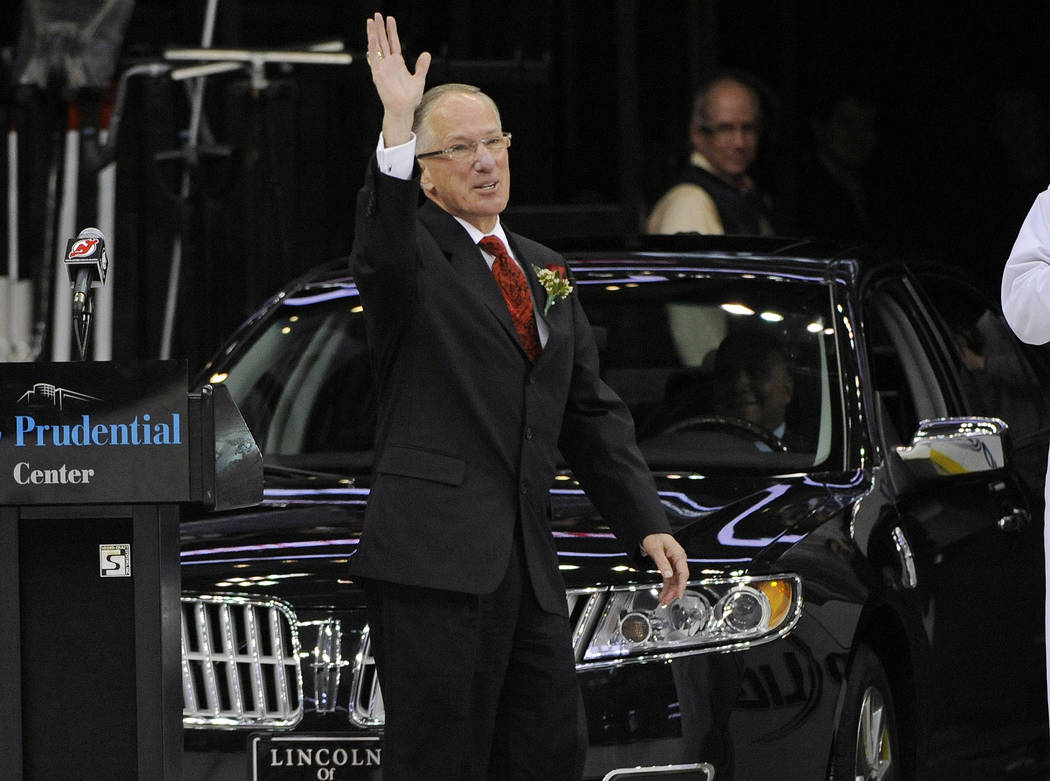 During a conference call to promote a Stanley Cup Final that nobody could have envisioned in October — or even as recently as the first round of the playoffs, given how Washington started out against Columbus — NBC hockey broadcaster nonpareil Mike "Doc" Emrick mentioned a couple of numbers directly, and alluded to a third.
They were 8, 29 and 18,697, or however many the fire marshal will allow into T-Mobile Arena for Game 1 on Monday before calling a penalty for too many men near the ice.
The 8 and 29 are jersey numbers worn by Washington's Alex Ovechkin and the yin to his attacking zone yang, Vegas goalie Marc-Andre Fleury. Emrick said he was looking forward to the thrust and parry they will provide, as well as who will make the first forecheck, who will deliver the first big hit, who will do all the other things that are magnified in Hubble Space Telescope fashion during this time of year.
"I'm just looking forward to listening to the crowd," Emrick said of a roar that, to use his parlance, is not easily waffleboarded away.
Emrick is an East Coast hockey guy, so this will be the first time he has ventured to the desert to call a Golden Knights game. He said in most finals, there is one storyline that dominates most conversation before the first puck is dropped. But however delectable that 8-vs.-29 matchup appears, it's only a starting point for what to watch for in Capitals vs. Knights.
Storylines galore
"In current memory, you always have a situation where you have a fading star trying for one last Cup," Emrick said, noting off the top of his head Ray Bourque's quest with the 2001 Colorado Avalanche against the New Jersey Devils. "That's the main story, but you didn't have so many sidebar stories.
"People don't buy tickets to watch general managers, but George McPhee really crafted both of these teams," Emrick said of the Knights' GM extraordinaire, who also assembled the nucleus of players Vegas will oppose when he held the same post in D.C.
"You also have two teams that are far different in size. The (NHL) average is 6-1, 201 pounds, and you only have six Golden Knights that are that size. So how will that work? I know this isn't the line of scrimmage like in football, but it's another thing to consider."
Emrick said there are so many storylines to this series that those on the conference call might have to pick and choose when writing their stories.
"You might want to do a top 10 things to consider going into this final series because I think we're loaded with them," he said.
Incredible Knights
Sidekick Eddie Olczyk, who before these playoffs even began called the Knights winning the Pacific Division in their debut season "the greatest performance of any professional sports team in any professional sport," doubled down on that claim.
"It's an incredible story, and if the Vegas Golden Knights aren't the sports team of the year or the decade, there should be an investigation," said the former goal achiever who lit the red light 342 times during 1,031 NHL games. Swooping in for Emrick's rebound, Olczyk also raved about McPhee's wheeling and dealing during the expansion draft and in making side deals leading up to it.
"He played poker, and he dominated. There's no other way to put it because look where they are," Olczyk said.
Fellow analyst Pierre McGuire said the Knights were built on "competent coaching, speed and character."
He said the characteristic that most comes to mind when discussing the Capitals is "resilient." That's because after opening the playoffs with successive home losses to Columbus, we wouldn't be discussing Barry Trotz's team were it not for an abundance of that trait.
Mike Milbury brought it back full circle, to No. 8 vs. No. 29. He said it will be interesting to see if Ovechkin continues mastering a language that once was foreign to him. And the former Bruins defenseman wasn't talking about English.
'Alex the Great'
"He's a different player than he once was, but it took him a while to figure it out," Milbury said. "He's blocking shots, getting in the shooting lanes, and that's a new language for him. It's a wonder to see it."
And the Knights? "They go four lines and three defensive pairs and they are backed up by a goaltender who is always smiling and has never played better than he's playing right now. It's gonna be a very interesting series and I think highly entertaining."
Olczyk, a horse racing enthusiast who has spent much more time in Las Vegas than his NBC colleagues — he considers Jason McCormick, race and sports book director at Red Rock Resort, a friend and most gracious host — gets the last word.
"I can't wait to see Game 1 for any number of reasons, one of which is the 5 p.m. local start," he said.
More Golden Knights: Follow all of our Golden Knights coverage online at reviewjournal.com/GoldenKnights and @HockeyinVegas on Twitter.
Contact Ron Kantowski at rkantowski@reviewjournal.com or 702-383-0352. Follow @ronkantowski on Twitter.