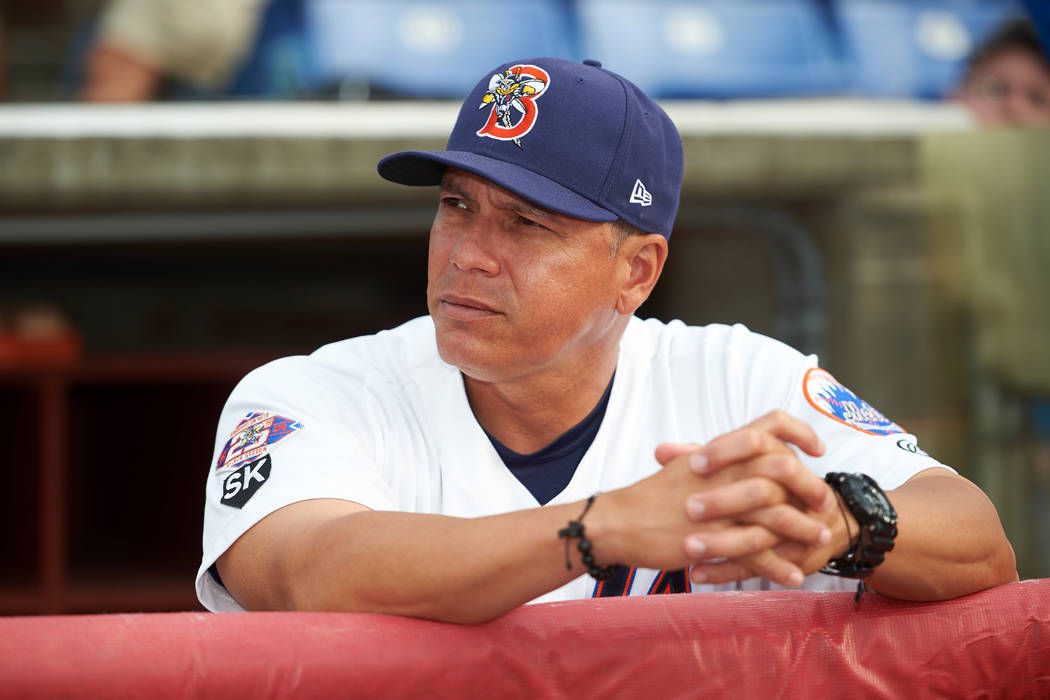 Will the real Pedro Lopez please stand up?
There are two baseball Pedro Lopezes — the 51s' new manager, and a utility infielder who had cups of major league coffee with the White Sox and Reds.
Wikipedia has morphed their biographies into one, creating a super Pedro Lopez — or at least one that has a career .192 batting average and is 2-3 as a Triple-A manager heading into Tuesday's home opener against the Fresno Grizzlies at Cashman Field.
To tell the truth, the 51s' Pedro Lopez says he often is confused with the other baseball Pedro Lopez.
"The latest was in spring training. A lady came up and said 'Can you sign this for me?' and I said 'Sure.' The next thing I know, it's (about) the infielder," Lopez said during 51s media day. "He's Dominican; I'm Puerto Rican. He's much younger than I am."
But the 51s' Pedro Lopez is much better looking, correct?
"I'm not going to say that," the team's new skipper said with a smile that could light up a Class A ballpark.
The 51s' Pedro Lopez, 48, never played in the big leagues. A former 21st-round draft pick of the Padres out of Arizona Western Junior College in Yuma, he kicked around the minors for 13 seasons, and played in 17 games for the old Las Vegas Stars in 1994.
He says it could be worse than being mistaken for the other baseball Pedro Lopez, who is 32 and played in 14 games for the Reds and two for the White Sox: When ones does a Google search for "Pedro Lopez," the first name that pops up is that of Pedro Lopez, a Colombian serial killer who was released from a psychiatric hospital in 1998. And whose present whereabouts are unknown.
"Oh, no," Lopez said. "I told my wife we're going to have the FBI knocking on our door."
The only crime Lopez has been linked with recently is the 51s inability to produce a base hit with ducks on the pond. Heading into Monday's game at El Paso, Las Vegas was 2-for-33 with runners in scoring position.
Once the 51s start driving home those ducks, Lopez sees his primary responsibility being more mental than fundamental.
Everybody at the Triple-A level knows how to play baseball. A few even know how to lay down a sacrifice bunt. Everybody does not know how to stay on an even keel in the clubhouse, when the parent club is the one deciding how the boat floats.
"It's a challenge to keep everybody going in the right direction for five months," Lopez said. "It's really hard when you get to the Triple-A level. You're talking about keeping a guy's mindset going in the right direction when there are so many guys getting called up and getting sent down from the big league level.
"I've always said the one thing I bring to the table is trying to make a good environment for these guys, where they can come in every day, and it's a relaxed environment, but at the same time it's fun."
Take 1994 for instance, the first time he was through Las Vegas, with the old Stars. The thing he remembers most is that Henderson wasn't as sprawling as it is now. And that the old Stars had a lousy clubhouse environment.
That was one of the seasons there was a labor dispute, and Lopez said a lot of the old Stars thought they should have been enjoying major league cups of coffee instead of beating the bushes on Triple-A per diem.
"That was what my meeting was about with the players," said Lopez, who compiled a 809-740 minor league managerial record in the Texas and Mets organizations before being named Wally Backman's successor in Las Vegas. "My time with the Stars in 1994, it was tough. Guys being mad about not being in the big leagues, guys being mad about somebody being called up instead of them. I don't want guys here to go through that."
If the 51s don't start producing some timely hitting, he may not have to worry about guys being called up and getting sent down.
As for being confused with the notorious Pedro Lopez, the 51s manager wants the authorities to know he has an alibi:
He was the Pedro Lopez down in El Paso, saying prayers to the baseball gods, hoping that one of the 51s would finally bloop a Texas Leaguer over the infield with ducks on the pond.
Contact Ron Kantowski at rkantowski@reviewjournal.com or 702-383-0352. Follow @ronkantowski on Twitter.
Will the real Pedro Lopez …
A look at three Pedro Lopezes, two of whom played pro baseball. And one whom did not.
— Pedro Lopez, 48, born in Puerto Rico. Las Vegas 51s manager. Spent 13 seasons in the minor leagues. Has compiled a 890-740 managerial record in the Texas and Mets organizations prior to 2017.
— Pedro Lopez, 32, born in the Dominican Republic. Utility infielder. Played briefly for the White Sox and Reds.
— Pedro Lopez, 68, born in Colombia. Convicted serial killer. The "Monster of the Andes" was sentenced for killing 80 girls and claims to have killed many more.