O'Bannon still firing; NCAA is his target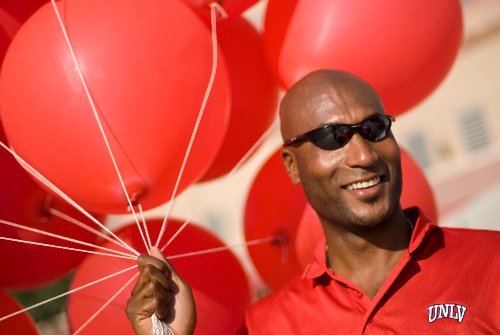 Being a fan of life's peculiarities, happenstances and quirks of fate both big and small, I find it fanciful that Ed O'Bannon, the man who could ultimately change the way college sports are played and for how much, would like nothing better than to put me in a Toyota 4Runner with all the options and a low, low, low monthly payment.
And that if Missouri played better full-court defense, perhaps UCLA's Tyus Edney wouldn't have been able to dribble the length of the court and sink the winning basket during the second round of the 1995 NCAA Tournament. And that if Edney doesn't sink that basket, UCLA probably does not go on to win the NCAA championship, and isn't included in a popular video game.
If Arkansas or North Carolina or Big Country Reeves and Oklahoma State wins the championship that year, then O'Bannon, the star of the 1995 UCLA championship team, doesn't see his image in pixels on the friend of a friend's kids' video game after playing golf one day. And he probably forgets all about the idea of suing the NCAA for antitrust, for using his likeness in video games and championship DVDs and other materials without receiving, in the immortal words of "Caddyshack" greenskeeper Carl Spackler, "a little something for the effort."
"It's just funny how life turns out," O'Bannon said Monday from behind his spotless desk at Findlay Toyota (and Scion), where he is marketing director and occasionally gets interrupted by that John Barr guy who will do anything to sell you a car. That happened Monday. I am happy to report that Barr did not try to sell me a 4Runner with all the options or even a preowned Camry with a dinged fender, and O'Bannon was able to continue his thought about happenstance and quirks of fate both big and small.
How he had called for the ball against Mizzou, and how Edney just kept going, dribbling behind his back and so forth.
"If Tyus gave me the ball, I might not have made the shot, and we wouldn't be sitting here," O'Bannon said. "But my wife says this all the time: Things happen for a reason."
It has been nearly two years since O'Bannon and his legal team filed their class-action lawsuit, arousing the wrath of the great and powerful Oz — er, NCAA. It may be many more years before the case is settled as attorneys from both sides continue to joust and jostle like power forwards in the low post. Those NCAA attorneys tend to have sharp elbows, and they'll step on you like Christian Laettner against Kentucky, if you let them.
There are 800-pound gorillas, and there is King Kong. The NCAA is Kong. The players who help the NCAA make all that money during March Madness and Capitol One Bowl Week? Well, they are like Fay Wray, helplessly flailing about in King Kong's giant hand, hoping they are good enough to be drafted into the pros before they blow out a knee.
Former UNLV coach Jerry Tarkanian, who recruited O'Bannon out of high school but advised him not to sign with the Rebels when his legal battles with the NCAA intensified — happenstance knows no bounds — ultimately won a $2.5 million settlement after he countersued the Big Ape.
O'Bannon, like Tark, plans to keep firing bullets from little airplanes as Kong beats his chest atop the Empire State Building and looks the other way while Auburn and UConn cheat their way to national championships.
"It's still strong on my end," O'Bannon said of his resolve to see the case through. "A lot of people want me to comment on whether players should get paid when they are in school. That's not my fight."
His fight is with the NCAA for continuing to make money on college players 10, 20, 30 or in the case of the great Oscar Robertson, who recently added his name to the lawsuit, more than 50 years after their college eligibility has run out. 
"It wasn't for anything except to right a wrong," O'Bannon said. "Nothing more than that. If guys get compensated, well, that was my goal."
He said it's mostly in the hands of the lawyers now, but if somebody needs a soundbite about truth, injustice and the NCAA's way, he's still their go-to guy. He gets called a lot during the NCAA Tournament, and a segment on the March edition of HBO's "Real Sports" briefly shone a spotlight on the case. He received a few more calls from former college players, thanking him for trying to right the wrong, for continuing to fight the fight, for having the guts to take King Kong to the hoop with the game on the line.
It's those days when Ed O'Bannon is the most happy that Tyus Edney didn't pass the ball.
Las Vegas Review-Journal columnist Ron Kantowski can be reached at rkantowski@reviewjournal.com or 702-383-0352. Follow him on Twitter: @ronkantowski.