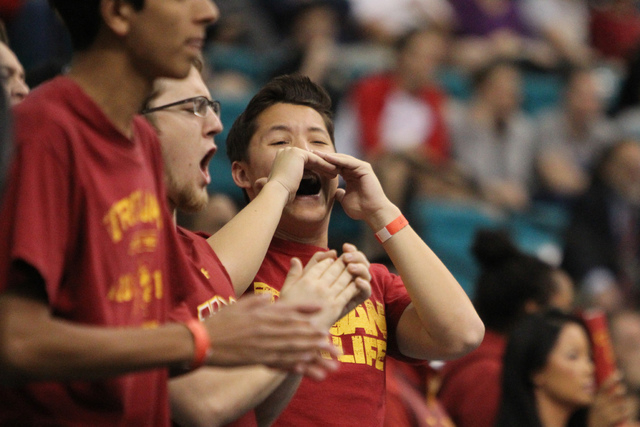 Three years ago you could fire a cannon inside Staples Center in Los Angeles during the Pac-12 men's basketball tournament and not hit anybody.
Maybe you could hit a Washington State fan, provided you fired the cannon on Wednesday. Wazzu is a hard place to recruit to, and by the quarterfinal round, WSU usually is on its way back to the rolling landscape of the Palouse.
Tickets that cost $115 were being discounted to $20. The scalpers took a bath. Figuratively, anyway.
So the Pac-12 decided a change of scenery would do its postseason tournament some good. They loaded up the truck and moved right out of Beverly Hills, to Las Vegas.
Where there were empty seats and disinterest in LA, there were big crowds and electricity you could cut with a knife in LV — provided it was one of Crocodile Dundee's knives, because the electricity was pretty thick.
And if you couldn't find a ticket, you could hear Bill Walton go on and on on TV about how the Pac-12 tourney and the MGM Grand Garden were made for each other, and how the MGM pool before tipoff was the perfect place to lose one's warm-up jacket for a couple of hours.
The Grand Garden, with its seating capacity of 12,916 for basketball, is much more quaint than Staples Center, which sits 18,118.
Quaintness creates atmosphere.
Atmosphere — and hot babes at the pool, and all the other things Las Vegas has to offer — has made the Pac-12 hoopfest the hottest ticket in town. At least until Manny Pacquiao and Floyd Mayweather put on the gloves.
By halftime of Wednesday's second first-rounder pitting UNLV castoff Katin Reinhardt and Southern Cal against UNLV castoff Savon Goodman and Arizona State, the Pac-12 announced the Wednesday evening session — Oregon State vs. Colorado; Stanford vs. Washington — was sold out.
As are Thursday's quarterfinals, as are Friday's semifinals, as is Saturday afternoon's championship game.
The man in the courtside tunnel with the big smile on his face was Pac-12 commissioner Larry Scott. He had pulled the handle on the slot machine and lined up Pac-12 logos on every payline.
"Yes, it has exceeded our expectations," Scott said of Las Vegas as a self-contained basketball tournament host.
At the MGM, everything is under one roof. Basketball, lodging, wining, dining. On Wednesday, I saw four Utah fans sipping Jack Daniel's from the single barrel at Whiskey Down. I told them I wouldn't name names.
The first accomplishment mentioned on Larry Scott's official bio is adding Utah and Colorado to the conference membership. The next two, listed in the same sentence, are creating a conference championship football game and creating interest in a conference championship basketball tournament where there was none, or very little.
Location, location, location. It's as fundamental as a bounce pass when it comes to these postseason shindigs.
"We knew from talking to our fans that they would be excited about coming to Las Vegas," Scott said. "But just to see the excitement, the energy that has translated into the arena here, that's been very gratifying.
"Having sold-out sessions, having an intimate atmosphere and a lot of energy has translated well on TV, which has created a sense of momentum."
That momentum almost certainly will result in the Pac-12 and the MGM agreeing to an extension when the current contract expires after Arizona or Utah one of the Pac-12 upstarts (Oregon comes to mind, for the Ducks have gotten hot down the stretch) cuts down the nets Saturday.
That's where it might get tricky: Does the Pac-12 stay in the Grand Garden, or does it call dibs on the new NBA-sized (or NHL-sized) arena the MGM and Anschutz Entertainment Group is putting up across the street?
"We're talking about extending it at least another year here, to give us a bridge until the (new) arena is built," Scott said. "Then we can decide do we like it here, do we like it there — assuming we're staying in Las Vegas.
(That's a pretty safe assumption.)
"I tend to be a fan of the smaller, sold-out arenas with an intimate atmosphere."
Bill Walton, on the other hand, tends to be a fan of the MGM Grand swimming pool when the women of the Pac-12 are putting a full-court press on the Coppertone.
The sun is supposed to be back today and stay through the weekend. It just keeps getting better for the Pac-12, and for its fans. And for those who admire them.
Las Vegas Review-Journal sports columnist Ron Kantowski can be reached at rkantowski@reviewjournal.com or 702-383-0352. Follow him on Twitter: @ronkantowski.