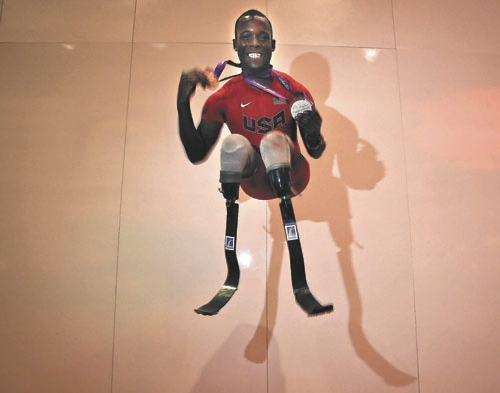 Of all the gadgets and gizmos and doohickeys I saw Tuesday at the International Consumer Electronics Show, the ones I liked most were latched to Blake Leeper's knee sockets – prosthetic limbs, made of carbon fiber and space-age polymers, with kinetic energy storing springs and whatnot.
These are high-tech appliances that cost $30,000. Lee Majors, "Six Million Dollar Man" stuff. Made in Iceland. You can't back order them from Best Buy, like one of those ultra-thin laptops.
These are instruments of speed that will help Leeper, a Tennessee college student, challenge South Africa's Oscar Pistorius' claim as "The Fastest Man on No Legs."
Blake Leeper is a blade runner, but Oscar Pistorius is the Blade Runner, at least for now, at least until Leeper takes receipt of lower limbs that are even newer, fancier, state-of-the-artier. At least until he has had more training, under the esteemed and watchful eye of Al Joyner, at the U.S. Olympic and Paralympic Training Site near San Diego, in Chula Vista, Calif.
"You can see Tijuana from my balcony," says the extroverted Leeper, sounding a bit like Sarah Palin.
But he can see Maracana Stadium in Rio de Janeiro from there, too. That's where the track and field events will be at the 2016 Olympic and Paralympic Games. That's where Pistorius, 26, will be. So that's where Leeper, 23, who recently equaled the Blade Runner's time in the 100 meters (10.91 seconds) and won a Paralympic silver medal in the 400 meters and bronze in the 200, will be.
Other fast runners will be there: Team USA's Jerome Singleton, British teenager Jonnie Peacock, who took the gold in the 100 meters at the London Paralympics. But Pistorius still is king among blade runners, the Michael Jordan of the sport. He's the one who sued to compete against able-bodied athletes; he's the one everybody still wants to beat.
"Oscar Pistorius was cool, he's great, one of the best," Leeper said, sitting still for once, as the boundless throng of convention-goers passed us by on their way to Starbucks, or to check out the latest iPad or garage door opener. "When you see him, you think 'there's no way I can touch him.'
"But standing there next to him, I realized the only difference between me and him is time. I'm more talented, faster, have better athletic skills (Leeper was the backup point guard for his able-bodied high school team) … and more humble than him, too."
He was chuckling when he added that last part.
But he said 2016 is going to be his moment, his time, his year – Leeper's Year. And then he grinned again, and then he boasted some more, only in a mirthful, not braggadocious, sort of way. "If I would have had these legs when I was in middle school, I could have whipped Usain Bolt."
He did not have prosthetic legs from Iceland when he was in middle school. He didn't get them until he was 19 and studying applied physics at the University of Tennessee. He was born in Kingsport, Tenn., without legs from below the knees, but his mother, Edith, wouldn't let him apply for a handicap placard until he started classes in Knoxville.
Leeper confirmed that this placard is useful when one is parking at Volunteers football games, especially when Alabama comes to town. And then he grinned some more.
He believes that one day soon the fastest man in the world will be a man without legs, because technology plus desire equals a formidable force. And when it happens, and should they place an asterisk alongside this man's name, Leeper says it will be wrong and misguided – you try pushing out of the starting blocks with no calf muscles, no feet.
"They should walk a mile in my shoes – walk a mile in my legs," Leeper said of the men in the suits in charge of the asterisks.
On Tuesday, the sprinter and his pseudo-agent and traveling partner, a stubble-on-the-chin Oscar-nominated documentary filmmaker named Steven C. Barber, walked miles and miles around the convention floor – or so it seemed – looking for sponsors.
They were photographed with Paul Allen, co-founder of Microsoft. They met the chairman of DISH Network, who thought Leeper, dressed as he was – red form-fitting Team USA track leotard, spring-loaded prosthetic legs – was part of his company's promotion for the Hopper, a set-top box that can tape six TV shows at once.
Later, Leeper met Curtis James Jackson III, aka 50 Cent. Barber, who is 52 and whose company, Vanilla Fire, is making a movie about Leeper (and other Paralympians) called "Invincibles," was not terribly impressed.
"Maybe had it been Mick Jagger," he sniffed.
At 5:15 p.m., they were to appear "on the Panasonic world feed," which was beaming to Neptune or somewhere, and then it was to the airport, to catch a plane to San Diego, to pick up those new legs from Iceland.
"These legs are gonna put me over the top, get me ready for able-bodied athletes," said Blake Leeper, whose very name conjures an image of a superhero, of changing the course of mighty rivers and people's perceptions of handicapped athletes.
"I'm gonna be floatin' on air out there," he said. "It's gonna be awesome."
Las Vegas Review-Journal sports columnist Ron Kantowski can be reached at rkantowski@reviewjournal.com or 702-383-0352. Follow him on Twitter: @ronkantowski.