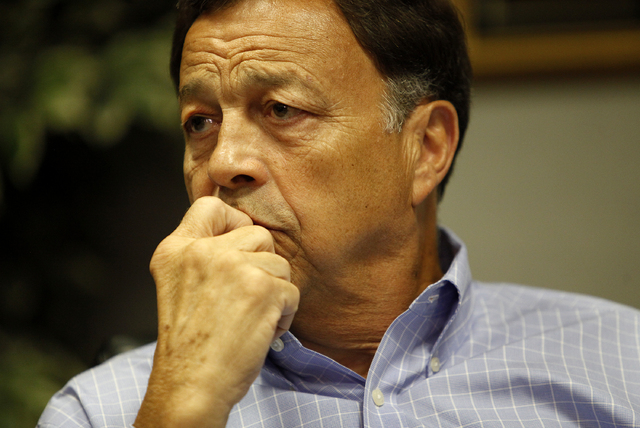 When NCAA schools were jumping conferences almost daily for a little wider sliver of NCAA pie a couple of years ago, I recall speaking to then-UNLV athletic director Jim Livengood about it.
It seemed the rampant pie eating was threatening the integrity of college sports. The Rebels would not be playing Brigham Young any more. And I was not pleased, for that was an excellent rivalry, even if Lee Cummard had exhausted his eligibility and his lovely wife, Sarah, would not be around to shout obscenities at the Thomas & Mack Center red coats.
Livengood suggested conference realignment was only a precursor of even more drastic changes. It was inevitable, he said, that the power conferences of college football would attempt to form their own league — a super 64-team conference, or something like that. And when it happened, college sports would get shaken up like a snow globe at Christmas.
The sabers have begun to rattle. The power brokers of the power conferences are now talking about forming NCAA Division IV.
Let it snow, let it snow, let it snow.
Mike Slive, the grand poobah of the Southeastern Conference, is on record saying the power conferences want to make their own rules. The SEC wants to pay players a stipend, to provide them with medical insurance, to bestow upon them other stuff, no doubt, that only the power conferences can afford. Such as iPads and those personal speakers shaped like a cold pill.
If the SEC and the others are not allowed to provide and bestow, they say they will consider forming NCAA Division IV. Slive said those things at the SEC's annual spring meeting. And here you thought spring meetings were mostly for playing golf and shaming the departing Florida president into picking up the check after dinner.
"It's not something we want to do," said the Slive devil. "We want the ability to have autonomy in areas that has a nexus to the well-being of student-athletes. I am somewhat optimistic it will pass, but if it doesn't, our league would certainly want to move to a Division IV."
Usually, the only time the poobahs share information like this with reporters is when they are using reporters to negotiate or sway public opinion.
Yes, it's possible Mike Slive is only bluffing about Division IV. At the same time, he used the word "nexus." So perhaps he does mean business.
If Slive and his pals in the Atlantic Coast Conference, the Big 10, the Big 12 and the Pac-12 are given permission to make their own rules — NCAA members will vote on this in August — it's going to create an even bigger gap between the haves and have-nots.
That said, I saw a quote from the Southern Mississippi athletic director saying he's in favor of the SEC and the others being given a big power-up.
Bill McGillis called autonomy for the power conferences "the reality of the situation." But the real reality of the situation is this: Some of the money generated by the big boy football conferences eventually trickles down to the little boy conferences, such as Conference USA, whose members then use it to keep from dropping volleyball or swimming or to buy out coaches.
To use a political analogy, the trickle-down mostly insures the have-nots will vote for Mayor Daley when he demands it. It would appear, however, that Jim Livengood's successor is not as well-versed in the heavy hand of Chicago politics.
"College football holds a special place in our country and it would be a shame if students, athletes, alums and fans saw this experience change, or diminish, because of a disagreement over governance and money," UNLV athletic director Tina Kunzer-Murphy said on Monday.
"Let this be that rare moment when common sense and reason prevail and we do what's right for the many, not just the few."
She's not alone in her opposition to the big boy conferences. This is what George O'Leary, coach of the Central Florida Fighting Have-nots, told the Orlando Sentinel: "They sound like the South during the Civil War. If they don't get their way, they're going to secede and start their own country. … I think college football is in real trouble."
As I told Kunzer-Murphy, she makes an elegant argument, certainly way more eloquent than George O'Leary's. Perhaps her colleagues in the Mountain West should remember her words the next time Boise State starts squawking about TV money. That way, Boise wouldn't have received a $1.6 million bonus for playing football on ESPN in 2013, while UNLV (and Hawaii and Colorado State) received $0.0 million.
But if I were Tina Kunzer-Murphy, I'd still promise the outgoing president at Florida, a "yes" vote when it comes to this autonomy thing. I'd shame Bernie Machen into picking up the check after dinner.
Or maybe I'd just ask him to leave the tip. Then when nobody was looking, I'd take it off the table so UNLV could pay off what it cost the football team to travel to the Heart of Dallas Bowl.
Las Vegas Review-Journal sports columnist Ron Kantowski can be reached at rkantowski@reviewjournal.com or 702-383-0352. Follow him on Twitter: @ronkantowski