QB Andre Ware led the revolution at Houston
September 19, 2014 - 7:26 am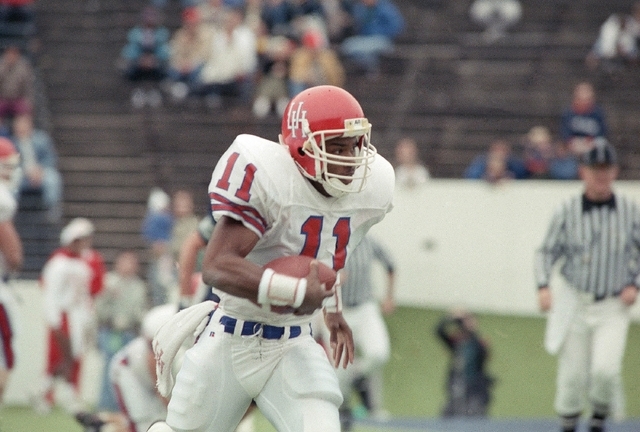 The date was Sept. 2, 1989; it was just a little over a quarter-century as the pigskin flies. And, boy, how the pigskin flew that night when the University of Houston had it.
I was sitting in the old press box at Sam Boyd Silver Bowl, which is what the little football stadium on the edge of town was called in those days, when what appeared to be a fire drill in shoulder pads broke out.
This was no ordinary fire drill. It was like the fire drill before "The Towering Inferno." One of those 10-alarm deals.
It was the season opener, and Houston showed up with this formation that seemed to consist of nothing but wide receivers and a quarterback, and all of those wideouts went out for a pass. On every play. Like in the sandlot, when the neighborhood kids chose up sides.
I don't recall the names of the Houston wide receivers. The name of the quarterback was Andre Ware. I remember the halftime score was 56-0, Houston, and that Ware didn't play much in the second half.
Houston won 69-0.
The teams will play again Saturday, in the steam pit that is Houston. The Cougars are a heavy favorite, albeit not a 10-touchdown favorite, so who says the Rebels haven't made strides?
Before the season, ESPN did a piece on Andre Ware and that 1989 Houston team, and how that 69-0 game and the Houston games that followed that year revolutionized college football.
During 1989, Ware completed 365 of 578 passes (63.1 percent), accumulated 4,699 yards, threw for 46 touchdowns. He set or tied 27 NCAA records. Sound the fire alarm.
Run 'N' Shoot, that's what they called that offense. Jack Pardee, the Houston coach, got it from a guy named Mouse Davis, who ran it at Portland State. They used it with the Houston Gamblers of the old USFL when Jim Kelly was quarterback.
Nobody really noticed it at the college level until that sultry night in Las Vegas.
Wrote Sam Kahn Jr. for ESPN.com: "In the season opener, Houston hammered UNLV 69-0. Ware was 30-for-46 passing with 390 yards and five touchdowns. The Cougars led 56-0 at halftime and Ware didn't play the final 10:10 of that game, another theme that recurred throughout the 1989 season …"
Houston was on probation, because it seemed as if Houston always was on probation. The Cougars would lose two games in 1989, to Texas A&M and Arkansas, by a total of 10 points. But that didn't preclude Ware from becoming the first African-American quarterback to win the Heisman Trophy.
Now there have been six.
Run 'N' Shoot had social implications, too.
Former UNLV quarterback Sam King also was in the press box that night, doing radio work as an analyst. A decade before, Slingin' Sam had set a bunch of records himself while quarterbacking Tony Knap's high-octane offense, but he had never seen a scheme in which everybody went out for a pass and the quarterback had so much freedom.
"It was beautiful thing," said King, speaking from an old quarterback's perspective.
"I don't remember the specifics; I just remember the Houston offense was so wide open and advanced. Short game, intermediate game, long game. Make the quick read. It's something that was way ahead of its time."
As a black quarterback himself, King had to overcome some of the same issues that Ware did, stereotypical but mostly unstated views that black quarterbacks weren't mentally suited to take charge of an offense, especially one as sophisticated as Houston's.
When Ware showed that was balderdash, that was a beautiful thing, too, King said.
The Rebels and Cougars would meet again the next season, but what went around in 1989 didn't come around again in 1990. Although it could have. Houston won 37-9 in the Astrodome.
John Jenkins, Pardee's offensive coordinator with the Gamblers and then again at Houston, had taken over as Cougars coach with David Klingler as quarterback. During that offseason, he had interviewed for the head coaching vacancy at UNLV that he had helped create with that 69-0 blowout. That was Wayne Nunnely's last year as Rebels coach.
Jenkins was considered something of an evil genius when it came to the Run 'N' Shoot. He even looked like one.
He had a shock of bright yellow hair, wore these big glasses that resembled barnstormers goggles and was known to put on white shoes for job interviews.
He reminded me of "Dr. Detroit," Dan Aykroyd's alter ego in the old movie of the same name.
When Jenkins interviewed for the UNLV job, I'm told he rarely spoke of academics. Jim Strong, who came from Notre Dame, got the job.
That was 25 years ago, but it's still the other side that lights up the scoreboard on most nights during football season.
Las Vegas Review-Journal sports columnist Ron Kantowski can be reached at rkantowski@reviewjournal.com or 702-383-0352. Follow him on Twitter: @ronkantowski.
Check our GameDay page for all the news leading up to the UNLV-Houston game.