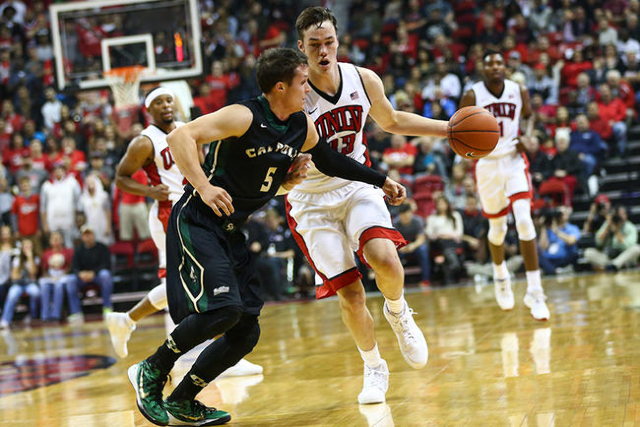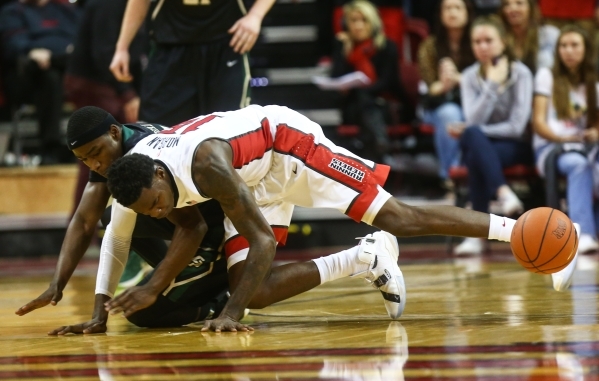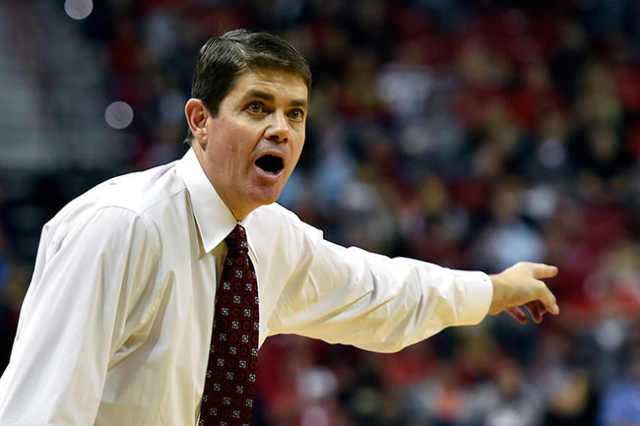 These college basketball lid-lifters and early-season games against teams supposedly easily vanquished have not always gone well for Dave Rice's UNLV teams. The words "gasoline" and "fire" immediately come to mind.
For instance, there was last season, when the Rebels defeated Morehead State of the Ohio Valley Conference 60-59. Two nights later, Rice's guys edged Sam Houston State of the Southland Conference 59-57. The Rebels nearly forgot to Remember the Alamo. They should have double-teamed Santa Anna.
Other disasters averted have included Portland (75-73 in overtime last season) and Omaha (73-70 in 2013). Two years ago, the Rebels survived against Division II Adams State in an official exhibition. Last week, they didn't look sharp against a team called the Poets (Whittier) in another official exhibition.
So it probably should come as no surprise that UNLV struggled to beat Cal Poly of the Big West 74-72 Friday night at the Thomas & Mack Center.
"That was absolutely not the game you would choose for an opener," Rice said in deference to a veteran Mustangs team that went to the NCAA Tournament two years ago, albeit with a losing record.
"We don't want to be judged on one game whether it was a win or a loss. We want to be judged on how we respond."
The Rebels struggled, but at least they won. The gasoline was placed in its usual spot next to the fire. After committing a bunch of turnovers and missing a ton of free throws, Jerome Seagears finally made two with 14 seconds to play to preserve the victory.
As for the other storylines, this is supposed to be the season the Rebels will run and gun like yesteryear. They will play 10 players, they will apply full-court pressure, they will make the other team turn the ball over. They will dunk all over place and make the rims rattle, like Stacey Augmon.
Well, the Rebels did play 10 men Friday.
Cal Poly had 14 turnovers. Only one came in the backcourt as a result of UNLV pressure. The Rebels had seven fast-break points. So did Poly, which also said it would run out of the starting gate. Not exactly Loyola Marymount stuff.
These new NCAA rules that were supposed to eliminate hand-checking, and reduce free throws, and put flow back in the game? Still a work in progress. Supposedly there's an official DVD about the evils of hand-checking and other points of emphasis, as the NCAA likes to call its rules changes, that was shown to the teams.
The Rebels and Mustangs must have been watching one of those "Hangover" movies instead. They combined for 54 fouls and 56 free throws. The game flowed in the manner of a dry river bed in Tombstone, Ariz. Both teams were in the double bonus during the pregame fireworks.
As for other stats worth a mention, Stephen Zimmerman, UNLV's freshman center with the tremendous NBA upside, finished with 12 points, nine rebounds, three turnovers, three blocked shots, three fouls and one nice pass on a pick-and-roll play. He looked active out there — er, down there.
(The media row at the T&M has been moved from courtside to the upper reaches of Section 105. UNLV sold the old media seats at a premium, and about five minutes into the game, many of the people who had bought them appeared to be sitting in them. Most left early.)
Also worth noting: With 3:58 remaining in the first half, a cannon was wheeled onto the middle of the court to launch free T-shirts into the upper reaches of Section 105, and beyond. It started to smoke. The cannon would not fire. People booed, but the guy manning the cannon improvised and started flinging T-shirts into the crowd by hand, the old-fashioned way.
Which was sort of how the Rebels won the game. The old-fashioned way. By turning up the heat on defense — half-court defense.
After trailing 40-37 at halftime they took charge with a 12-0 run right after the break. UNLV had the better players, and after missing a lot of 3-pointers and a lot free throws, they made a few. They pulled down a few more rebounds than the visitors. Game, set, match, right?
Well, not exactly. Just when it appeared the Rebels would win going away, they would commit a silly turnover or a silly foul when one of Poly players was shooting a layup. When the Cal Poly in San Luis Obispo tied it up at 67, UNLV had to hang on again.
Gasoline and fire.
So it was a win. Nothing more. Nothing less. Fast-break points and full-court pressure had little to do with it. UNLV was outscored from the field. The Rebels, who shot 40 free throws to Poly's 16, were lucky the zebras called all the hand-checks.
But at least when they rolled out the T-shirt cannon with 3:28 to play after repairs were made, it fired on all cylinders.
Las Vegas Review-Journal sports columnist Ron Kantowski can be reached at rkantowski@reviewjournal.com or 702-383-0352. Follow him on Twitter: @ronkantowski
Check our GameDay page for full coverage of the UNLV-Cal Poly game.