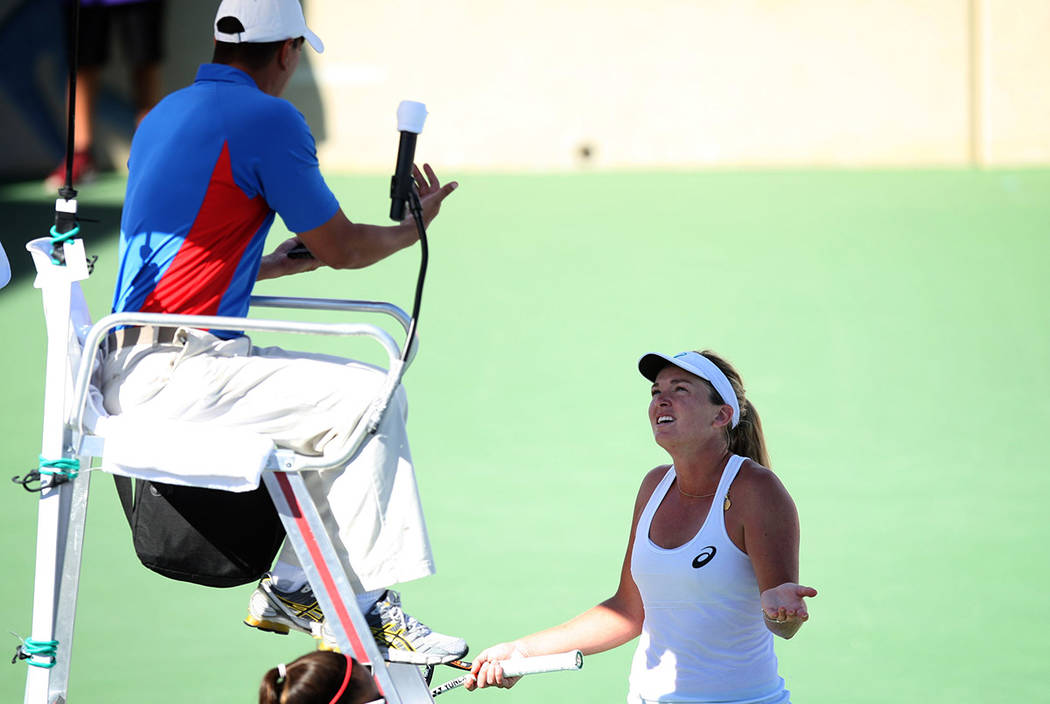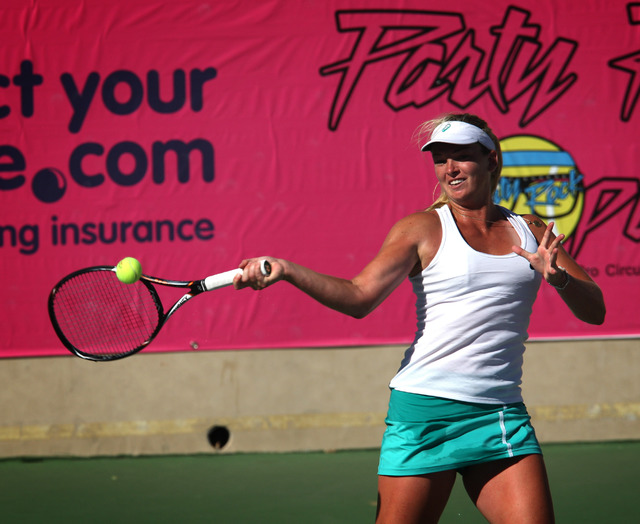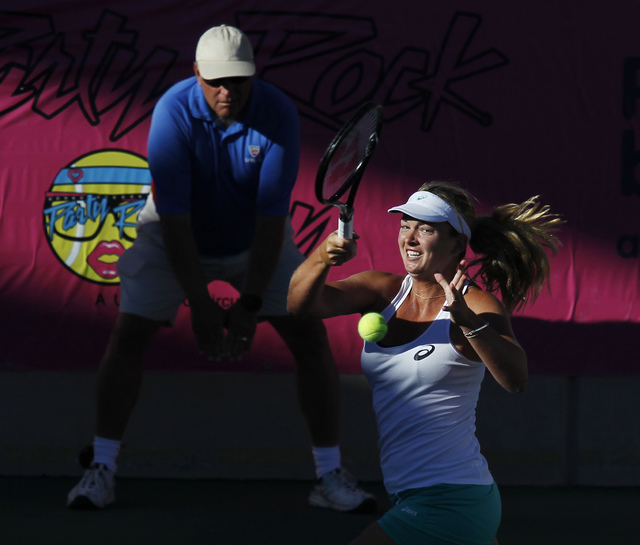 A cursory check of the box scores showed that 14 of 20 New York Mets who got into Thursday night's game at the Cubs, including Bishop Gorman product Paul Sewald, had Las Vegas 51s' pedigrees.
The percentage was just as impressive Wednesday when Henderson's Chasen Bradford pitched in relief for the Metropolitans.
It would have cost around $100 to sit in the Budweiser Bleachers to watch those guys play in Chicago.
One could have seen them play 11 times in Cashman Field for $99.
It's much the same deal at the Red Rock Pro Open, an International Tennis Federation tournament that concludes at 11 a.m Sunday at Red Rock Country Club.
The ITF is to women's tennis what the Pacific Coast League is to major league baseball, minus the peanuts and Cracker Jack. See tomorrow's stars today. For a fraction of the cost. (Tickets are $20 for today's singles and doubles finals; it was only $5 to witness the early rounds.)
In 2007, before the wild-haired rapper Redfoo became a benefactor of the Red Rock Open, Caroline Wozniacki of Denmark won. By 2010, Wozniacki was the world's No. 1 ranked player.
In 2013, Kiki Vandeweghe's niece, CoCo, had a minor meltdown at center court in the Red Rock finals. Nine days ago, CoCo Vandeweghe was a semifinalist at the U.S. Open. She also made the semis at this year's Australian Open. Her center court meltdowns have become much less frequent.
The top seed at this year's Red Rock Open was 21-year-old Louisa Chirico of Westchester, N.Y. You probably haven't heard of her. In time, you probably will. She already has played in each of the four Grand Slam events, and in the quarterfinals of the 2015 Citi Open, Chirico lost 6-4, 6-4 to fellow American Sloane Stephens.
Last Saturday, Sloane Stephens won the U.S. Open.
Redfoo, who used to date former world No. 1 Victoria Azarenka, sponsored the Red Rock Open when it was called the Party Rock Open. He no longer is involved.
The quality of the tennis is still pretty good.
Hailey gets Series nod
Hailey Dawson, who with apologies to the Colorado Rockies' Tyler Anderson has become my new favorite major league baseball starting pitcher from Las Vegas, will throw out the ceremonial first pitch before Game 4 of this year's World Series on Oct. 28.
The 7-year-old was born with Poland Syndrome and is missing three fingers on her pitching hand. She uses a robotic 3-D printed hand designed by UNLV engineers to throw a baseball. She has thrown out the first pitch for the Orioles and the Nationals, as well as her hometown Las Vegas 51s, and hopes to make her pitch at all 30 major league ballparks.
Yong Dawson's, Hailey's mom, wrote in an email that her precocious right-hander will display a special World Series theme on her pitching hand when she takes the mound on baseball's biggest stage.
7-year-old Hailey Dawson wants to throw out the first pitch at every MLB ballpark with her 3-D printed hand pic.twitter.com/onStqhEzyB

— Bleacher Report (@BleacherReport) September 7, 2017
Tall Sequoia
Sequoia Holmes, the former Mojave High and UNLV basketball star, is still hooping as a 31-year-old pro — or at least was, before the San Antonio Stars were eliminated from WNBA playoff contention.
Holmes appeared in 27 of 34 games for the last-place Stars, who finished 8-26. Her averages: 11.3 minutes, 3.3 points, 0.9 rebounds. This was her third WNBA season but first since 2010 after which she went overseas to play for G.D. Interclube in Angola and won multiple African League championships.
Sequoia Holmes gets the swat with authority! pic.twitter.com/rLiIdVDwPV

— WNBA (@WNBA) August 11, 2017
NFR's brand new bag
In keeping with the NFL and the security edicts of other pro and college sports, the National Finals Rodeo at the Thomas & Mack Center will adopt a clear-bag policy at the turnstiles beginning in December.
Small sandwich-type bags, gallon-sized Ziploc bags and hand-sized clutch bags will be allowed. Everything else is verboten. If you want to bring binoculars, you can, provided they will fit in a small, clear bag. Don't even think of a fanny pack — not that most cowboys would.
The prediction here is that a few cowboys will still try to smuggle in a flask of Jack Daniel's in the hip pocket of their Wranglers, or in Little Hoss' diaper bag. Diaper bags are an exception to the new clear-bag policy.
Something you may (definitely) wanna click on if you plan on being at the Thomas & Mack in December https://t.co/h6jrKZDoPi

— PRCA ProRodeo (@ThePRCA) September 13, 2017
Contact Ron Kantowski at rkantowski@reviewjournal.com or 702-383-0352. Follow @ronkantowski on Twitter.
NFR's brand new bag
Fans are encouraged not to bring bags inside the Thomas & Mack Center under the National Finals Rodeo's new clear-bag security policy. Only the following will be allowed:
— Bags that are clear plastic, vinyl or PVC and do not exceed 12 by 6 by 12 inches.
— One-gallon clear plastic freezer bags (Ziploc or similar).
— Small clutch bags that do not exceed 4.5 by 6.5 inches (about the size of a hand).
— Exceptions will be made for diaper bags and medically necessary items after proper inspection at a gate designated for this purpose.