Regents treatment of Chris Beard showed lack of respect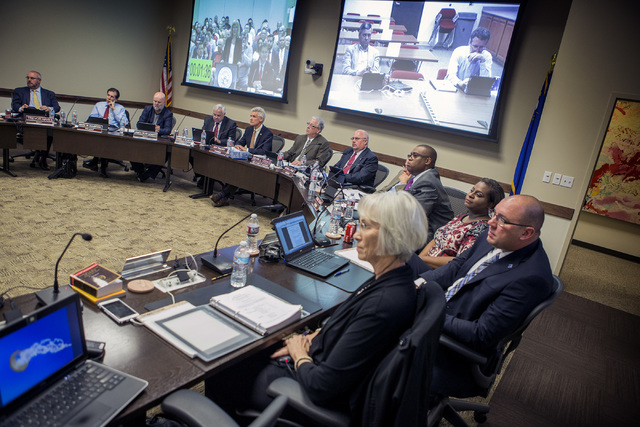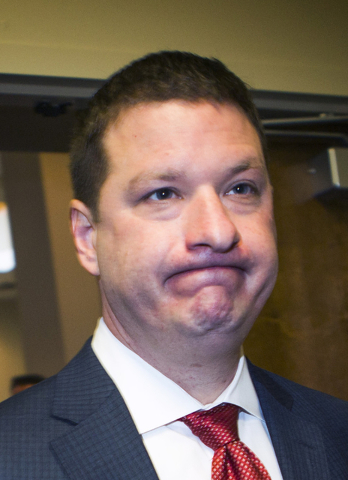 It must have been a couple of years ago when James Dean Leavitt, a member of the University of Nevada Board of Regents, invited me to lunch.
It was the only time I remember breaking bread with a regent, unless you count the (late) night in St. Louis during March Madness when Mark Alden jumped in the backseat when he overheard that Matt Youmans, Ed Graney and I were headed out for White Castle.
James Dean Leavitt seemed like a nice guy who was passionate about UNLV sports. Even football.
On Friday, he was sort of front and center at the Ad Hoc Committee on Athletics during which Chris Beard's contract to coach basketball here was approved at long last by a 9-4 vote.
Leavitt was the one not wearing a tie who began speaking after a long procession of public commenters that included the aforementioned Mark Alden.
"This was a fantastic day," Leavitt, who voted for the contract, would say after the Tribunal of the Holy Office of the Inquisition cast their votes. (Ferdinand and Isabella were not accounted for — something about a faulty Wi-Fi connection up in Elko.)
"I think all of the concerns of the board were addressed. I hope now that the public that watched this understands a little bit more and respect the process."
With all respect due James Dean Leavitt, I watched the process via the Internet and I do not respect it one little bit.
They made Beard sit there for more than two hours while they discussed whether he was worthy of making $900,000 next season for drawing up X's and O's on his now famous dry eraser board, and $1.4 million a couple of seasons down the road, provided he is as successful here as he was at Arkansas-Little Rock last season.
It almost seemed like an inquisition. As if Beard was on trial for something.
There absolutely has to be a better way.
The only good part of this was the way Beard handled it, and his glib remarks at the end of a tortuous two-plus hours.
"I'm not sure what the vote was but I think we won," he said.
Chris Beard said that was the longest he had ever sat still but that he had better get going, because he had just missed out on another two hours of recruiting.
MASTERS HIS DOMAIN
Jack Sheehan, the local author and golf enthusiast, told a story this week about experiencing his two biggest sporting thrills during the same week in 1990.
On the same night UNLV beat Duke to win the NCAA basketball title, Sheehan took a red-eye flight to Atlanta and, eventually, Augusta, Georgia, upon receiving an invitation to watch the Masters.
Peter Jacobsen, who he helped recruit to the University of Oregon golf team and would write two books with (the first was called "Buried Lies," the second "Embedded Balls") and Tommy Armour, whom Sheehan chased around with between marriages, were the ones who invited him.
There are twists and turns to the story that involve a taxi driver and a side entrance to Augusta National. But Sheehan ultimately wound up inside the ropes, walking the hallowed course during a practice round after Jacobsen had called him onto it — Jacobsen told the marshals Sheehan was his golf psychologist.
So Sheehan walked Augusta National, at least holes 11 through 18, with his old pal Jacobsen and Tom Kite and Payne Stewart. It was a good walk not spoiled, and when it was over, people thrust programs and visors at him to sign, thinking Sheehan was a real golfer — which he is, though not a Masters quality golfer.
Jacobsen told him to sign. So Sheehan signed "Manuel Noriega" mostly because the Panamanian dictator had been detained as a prisoner of war a few months prior to the Masters and had been in the news.
"I thought it would be fun for people to see his name on a program next to Arnold Palmer and Payne Stewart and wonder how the hell he had escaped," Sheehan said.
TAYLOR-MADE SUSPENSION
Taylor Teagarden has been suspended 80 days by Major League Baseball for using performance enhancing drugs, the first athlete mentioned in that Al-Jazeera report to be penalized.
Ryan Zimmerman, Ryan Howard and Peyton Manning also were mentioned, so maybe they are innocent, or maybe they just busted the guy who batted .202 over parts of eight big league seasons because nobody had ever heard of him.
Or it could be that of the four, Teagarden is the only one who has talked openly about using PEDs, because when you're hitting only .202, you've gotta try something to hang on.
Taylor Teagarden once played for the 51s, and last year he was with the Cubs. He got a hit off bullet-throwing Aroldis Chapman when he was hitting .154 and Chapman was throwing 101 mph with two outs in the ninth inning. It led to Chicago winning a big game against the Reds.
The Cubs announcers seemed stunned that Taylor Teagarden could get a hit off Aroldis Chapman in such a situation.
At least now there may be an explanation for it.
DUTCH TREAT
In the bottom of the eighth inning on 51s Opening Night, Rogearvin Argelo Bernadina hit a wicked live drive that curved inside the left field foul pole for a home run, tying the 51s' game against Fresno. It was like seeing my World Baseball League trading cards coming to life.
Now, in all honesty, I don't know for sure if the Topps people, or the Fleer people, or the Donruss people, even make World Baseball Classic trading cards. But I do remember Roger Bernadina playing for the Netherlands.
Bernardina was born in Willemstad, Curacao, Netherlands Antilles. He has played for four major league clubs — Nationals, Phillies, Reds, Dodgers. At age 31, it would be cool to see him make it back to the bigs with the Mets.
I'm certain Hensley Meulens — the former Yankees outfielder and manager of the Dutch WBC team — also will be pulling for him.
POURING IT ON
Mercy, mercy me. Things ain't what they used to be. At least not in local high school sports.
Having once sat at the far end of a bench, I'm not a big proponent of these mercy rules in football and boys and girls basketball.
Switching to a running clock with my team far ahead or far behind — usually far behind — would have greatly cut into my playing time. And then what happens if somebody throws a bad pass and the ball goes under the bleachers and it takes a couple of minutes to retrieve it?
Might was well not even take off the warm-up jacket.
While I understand the logic and hearts being in right places and all of that, I must say I am a contrarian when it comes to mercy rules, and 10-run rules in softball tournaments, and missing free throws on purpose so as not to run up the score.
A good thumping prepares one for life after high school sports, when there will be all kinds of good thumpings, especially when the IRS gets involved.
Plus, good thumpings are another reason not to like Geno Auriemma.
Las Vegas Review-Journal sports columnist Ron Kantowski can be reached at rkantowski@reviewjournal.com or 702-383-0352. Follow on Twitter: @ronkantowski