Roach well worth watching
January 19, 2012 - 2:02 am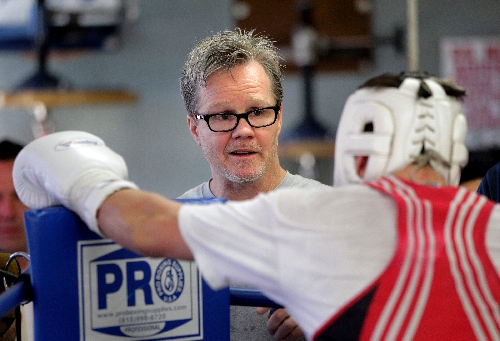 I remember watching Freddie Roach fight. Must've been in the early 1980s. In the formative years of ESPN, when its simplistic logo resembled a track diagram of Lowe's Motor Speedway, Roach fought every week on "ESPN's Top Rank Boxing," or so it seemed.
The record shows that on April 2, 1980, Freddie knocked out Billy Martinez at the old Silver Slipper in Las Vegas. And it shows that on April 16, Freddie was back at the Silver Slipper, turning out the lights of Lionel Harney.
OK, so it was every other week.
In the 1980s, I had this pal, Flip, who drove one of those vans you could chase girls in. I remember Flip saying we couldn't chase girls on this one particular night, because Freddie Roach was fighting on TV.
Flip and I liked watching Freddie fight. He was pasty white; we were pasty white. He was tough; sometimes, when tooling around in the van in a strange neighborhood, we tried to act tough.
As I recall, Freddie occasionally would knock out somebody sporting a porn star mustache. And when he did, he usually would be bleeding from a nasty cut above his eye.
Freddie had 53 professional fights and a lot more in alleys for which he didn't get paid. He won 40. He lost 13. He drew none. He never fought for one of the major boxing titles. Guys with double-digit losses seldom do.
True, Rocky Balboa was 57-22-0, but that was in the movies.
Freddie Roach never stood toe to toe with the real-life equivalents of Apollo Creed or Clubber Lang or Ivan Drago. He did get to fight Tyson. Darryl Tyson. Freddie lost a 12-round decision for the Continental Americas lightweight title.
I once found a Continental Americas lightweight title belt in a box of Cocoa Krispies.
The loss to Tyson was the third of four in a row for Freddie. The first two were against Greg Haugen and Hector Camacho, who once were champions. The fourth was to Andy Nance, who once was from England.
By 1986, Flip and I were through chasing girls, and Freddie Roach was through as a boxer.
"Late in his career, Roach, who was known for being able to take on a barrage of punches, began showing early signs of Parkinson's disease."
That's what it says on Freddie's Wikipedia page. Some of what is written on Wikipedia turns out to be false. The part about Freddie's Parkinson's was accurate.
Boxing takes a lot from its practitioners; only every now and then does it give something back. It gave those grills to Big George Foreman. And it has given something back to 51-year-old Freddie Roach, who has trained 27 world champions, including Manny Pacquiao.
Roach is to boxing what Charley Lau was to baseball.
In 11 big league seasons, Lau batted .255 with totals of 16 home runs and 140 RBIs. Modest statistics did not preclude him from becoming one of the game's foremost hitting instructors with the Kansas City Royals, when the Royals were good.
But as far as I know, shapely women never came up to Charley Lau after a game and flashed their breasts.
There's a scene in "On Freddie Roach," HBO's new six-episode documentary that debuts Friday, where that happens to the title character. It's offset by a scene in which Pepper Roach, Freddie's brother, suffers a stroke and is driven away from the Wild Card Gym in an ambulance.
Pepper Roach was a fighter, too. Boxing takes more, much more, than it gives back.
The series is unscripted, and unlike those absorbing "24/7" productions HBO uses to promote pay-per-view fights, it does not benefit from Liev Schreiber's dramatic narration. Nor does it require it.
In the manner of the sport that spawned it, "On Freddie Roach" is stark, gritty and unapologetic. It does not pull punches. It should have been filmed in black and white, and packaged with a fat cigar.
If you think you already know Freddie Roach, you are going to know him better. You are going to watch him take his medication and use the F-word and make his assistant cry and take more medication and use the F-word again, when the parking spot reserved for him at the Wild Card Gym is strewn with cans, and he has to pick them up.
This is what reality TV should look like.
This is well worth watching, even if you have a pal with a van and there are girls to be chased.
Las Vegas Review-Journal sports columnist Ron Kantowski can be reached at rkantowski@reviewjournal.com or 702-383-0352. Follow him on Twitter: @ronkantowski.