Russian youth team finds baseball glasnost in Henderson
November 25, 2017 - 3:30 pm
Updated November 25, 2017 - 3:30 pm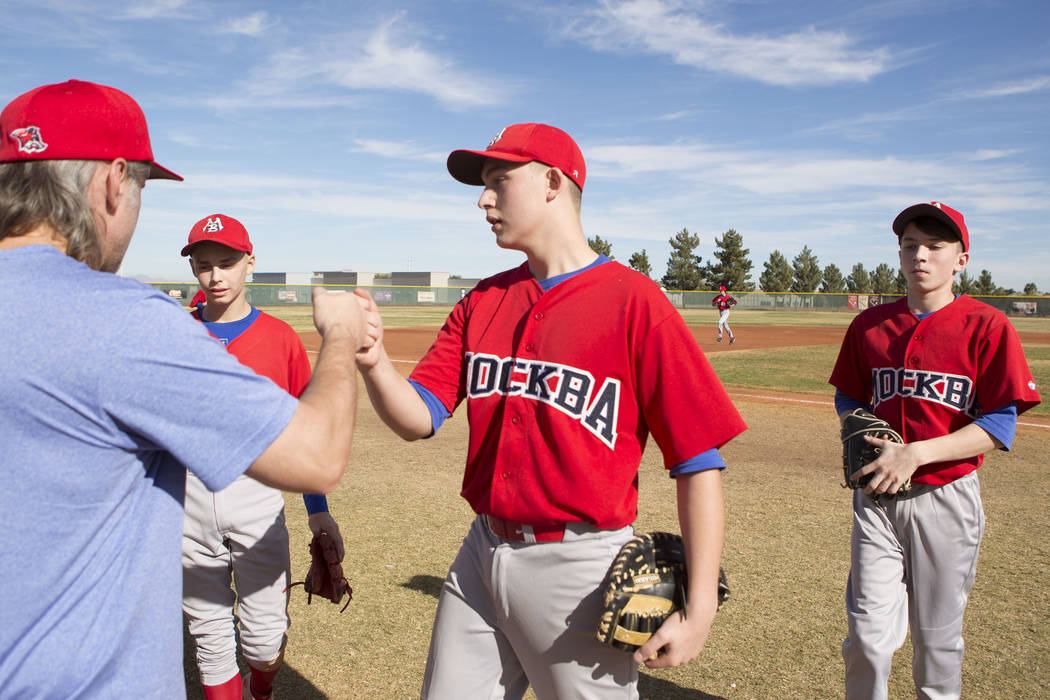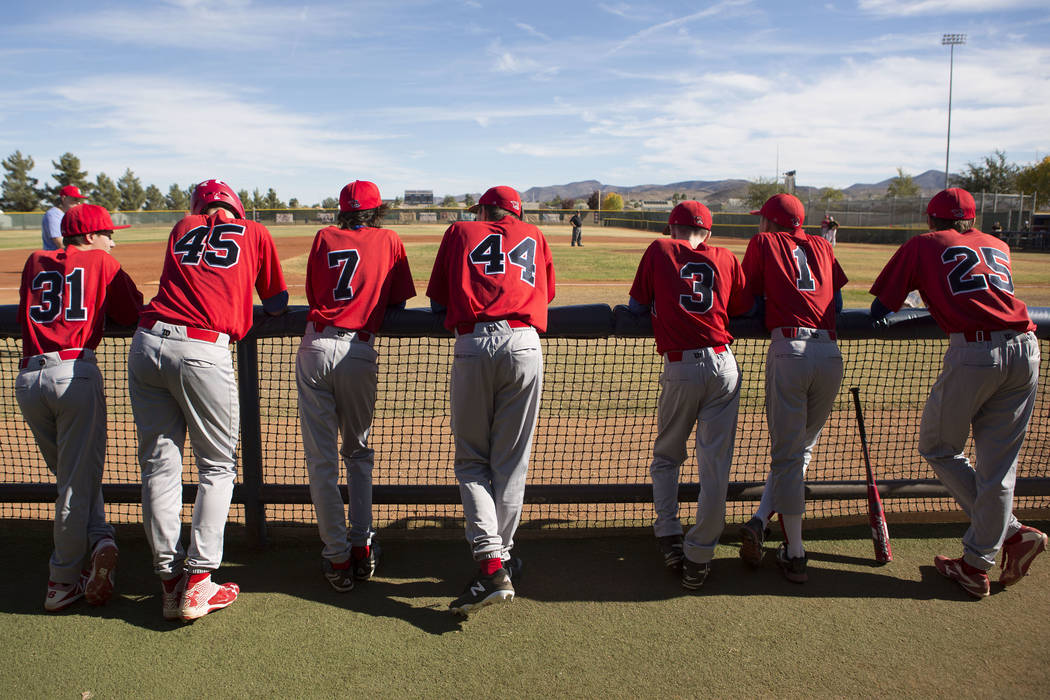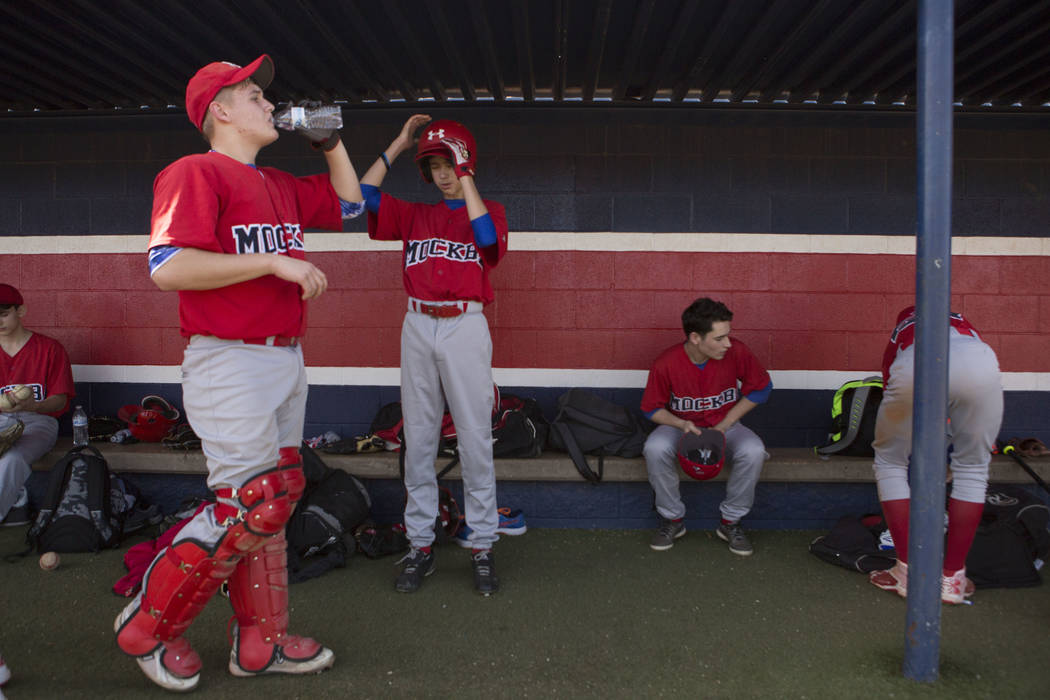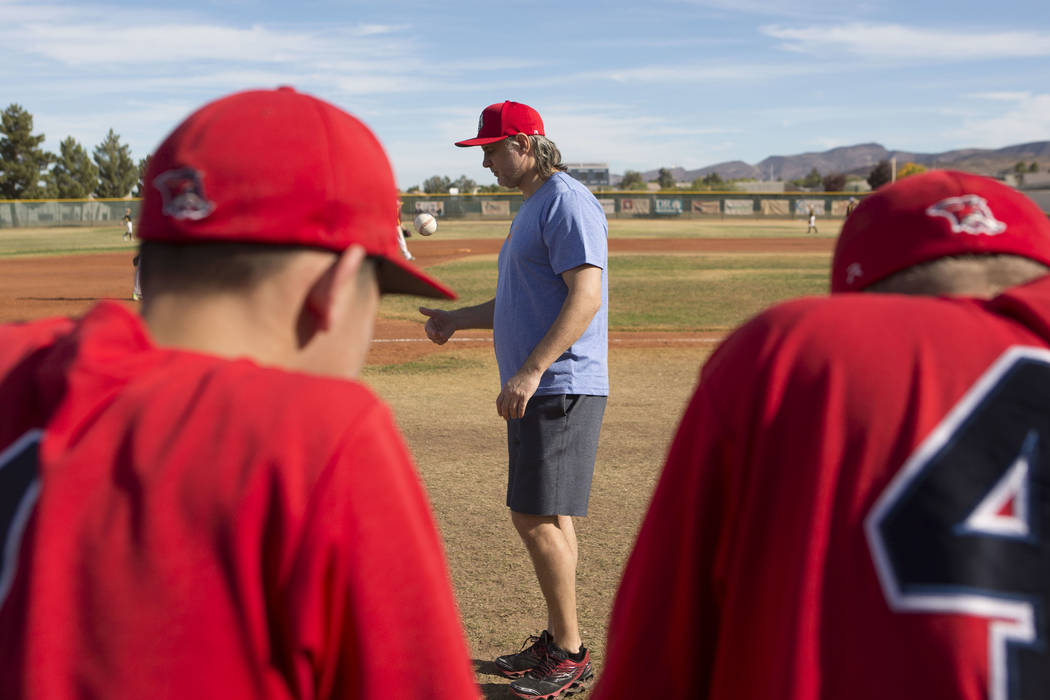 At 10:45 a.m Friday, it was 72 degrees and sunny in Henderson. It was -5 Celsius, 23 Fahrenheit in Moscow, where light snow was falling.
Alexander "Sasha" Volkov was coaching third base in shorts at Coronado High School.
As his countryman the comedian Yakov Smirnoff might have put it: "What a country!"
The Russian Wolves — it said only "MOCKBA" in bold blue and white letters across the front of their red jerseys, which is how one born there spells the Russian capital — were matched against RBI Baseball from Regina, Saskatchewan, Canada, in the 14-year-old division at the Cranberry Classic.
It was a balmy 37.4 degrees in Regina.
Had this been hockey, it probably would have been a heck of a game.
The Russian kids won 9-3. They made American baseball plays look routine.
"In Russia right now, so-so. Not very popular," Sasha Volkov said of the state of baseball in Red Square after the teams exchanged caps and posed for photos at home plate after the game. "Very popular Russian sports: Soccer, hockey, basketball, volleyball. Baseball maybe after."
Volkov's English was passable at best, but he still communicated better than former White Sox manager Ozzie Guillen.
If baseball were still an Olympic sport, the American pastime would be more popular in Russia, Volkov said. The Kremlin loves to compete on a world stage, in case you didn't notice what was happening between the faceoff circles or in outer space during the Kennedy administration.
Volkov said he has a friend with the sports ministry. He suggested baseball could grow again with proper funding.
He did not think the Wolves played well against the Canadian kids, who looked like Little Leaguers by comparison. Natalie Kornienko, one of the Russian moms, said her son, Lev, was "One meter, 83." A little over 6 feet. Other Russian 14-year-olds were taller and broader.
If the sports minister with the rubles comes through, the Phillies had better watch out.
I had read that sales of baseball bats were way up in Russia, that as many as 500,000 were purchased in 2015. Sasha Volkov said it's basically true — motorists are now using 34-inch Eastons and Louisville Sluggers to inflict punishment or defend against it during incidents of road rage.
He smiled and said our countries are much the same in that regard.
Victoria Zaliznyak, whose parents immigrated to the U.S. 20 years ago, traveled with the Russian youngsters from Los Angeles as they were introduced to another American pastime: Getting stuck in traffic near Barstow. She said her kids were big Dodgers fans but that she still doesn't understand baseball.
By the top of the third, she was gone. Her kids said she went shopping at Costco.
0:03
■ The acorn doesn't fall from the tree, and apparently neither does the Brunswick bowling ball. Johnny Petraglia Jr., son of bowling Hall of Famer Johnny Petraglia, rolled three sanctioned 300 games during the past week during scratch league competition at the South Point. Petraglia Jr. is general manager of the Bowlersmart Proshop at Sunset Station's Strike Zone Lanes.
BowlersMart Henderson Pro Shop Inside Sunset Station Strike Zone's very own Johnny Petraglia bowling 300 with… https://t.co/thoJBALu44

— BowlersMart.com (@BowlersMart) November 1, 2017
■ Former Lady Rebels coach Jim Bolla is resting at home after having had eight bypasses, a valve change and a hole in his heart fixed. He texted from home Friday after Pittsburgh upset Miami on the football field and said Saturday he was doing about as well as could be expected after the grueling 8½-hour procedure. "The biggest problem is they didn't have a bed big enough for me," said the former Pitt center who stands 6 feet 8 inches tall.
Hail to Pitt

— Jim Bolla (@coachbolla52) November 24, 2017
■ The Fremont Cannon has been named the second-best college football rivalry trophy by NCAA.com behind the Cal-Stanford Axe. Rounding out the top five: the Paul Bunyan Trophy (Michigan-Michigan State), the Old Oaken Bucket (Indiana-Purdue) and the Wagon Wheel (Kent State-Akron). Merlin's Cleat (Chaparral High-Eldorado) was not considered, but I'm giving Merlin Olsen's old bronzed football shoe an honorable mention anyway.
"Merlin's Cleat" is safe from the weather in Eldorado's press box. Tbd if it'll be awarded tonight #NVPrepsFB pic.twitter.com/u2PW2MheXX

— Ben Gotz (@BenSGotz) September 9, 2017
Contact Ron Kantowski at rkantowski@reviewjournal.com or 702-383-0352. Follow @ronkantowski on Twitter.
Comrades of baseball
Russia has appeared in the Little League World Series five times, posting a 1-14 record. Here is a list of top international baseball-playing countries based on number of Little League World Series appearances:
— Canada 61 (48-124)
— Mexico 30 (72-54)
— Taiwan/Chinese Tapai 28 (82-19)
— Japan 28 (81-28)
— Saudi Arabia 22 (20-49)