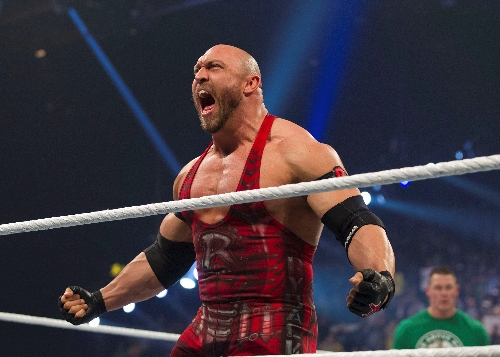 There's this guy who writes about pro wrestling for Grantland.com who calls himself "The Masked Man" – what else would he call himself? This might come as a surprise, but The Masked Man is a pretty good writer. He is said to have graduated with honors from Parts Unknown Grammar School.
Anyway, this is what The Masked Man said about Ryback, the pro wrassler from Las Vegas who is coming on stronger than a release powerbomb and will appear on tonight's WWE Raw Road to Wrestlemania card at the Thomas & Mack Center:
(I believe the Road to Wrestlemania is similar to the Road to the Final Four, with the exception that Butler isn't standing in the way, though I hear Big Show is more formidable than Gonzaga at home.)
"Skip Sheffield (one of the aka's under which Ryback wrestled before he became Ryback), now sporting a shaved head, cut a slightly bipolar figure, equal parts musclebound badass and cartoony hayseed, the sort of guy who'd be a demigod at an Ole Miss tailgate party …"
And, "Despite a laughable character and middling ring skills, there was something about this guy that hit a certain swath of the wrestling fan base in the sweet spot: It's the Pavlovian call of the steroidal physique …"
And, "He was all muscle and thunder and antic twitchiness in an airbrushed singlet … a throwback to an era when simplicity was resonant, antiheroes were rare, and Zubaz and Gold's Gym tank tops were backstage fashion staples …"
And, "Moreover, though, he appeals to a naive part of all wrestling fans – the part that once screamed indignity when Hulk Hogan was wronged and swooned for the Ultimate Warrior …"
So though I don't follow pro wrestling as closely as I did when I was 11, when Dick the Bruiser and his "cousin," The Crusher, were terrorizing the Road Between Chicago and Milwaukee, I think I have figured out why Ryback – whose ring name is an amalgamation of his real first name, Ryan, and a real silverback gorilla – has become popular: He's old school, like a relief pitcher who works more than one inning.
Which is what his uncle, Randy St. Claire, was for the Expos, Reds, Twins, Braves, Reds and Blue Jays.
Ryback told me this on Friday, when he was tooling around Phoenix chatting up Saturday's Royal Rumble. He also told me he decided to become a pro wrestler after he won a contest to ring the bell at a WWF show at the T&M. (This was before he began pumping iron and drinking three times the daily recommended requirement of wheatgrass.) But I found his connection to baseball slightly more fascinating.
A couple of weeks ago, Randy St. Claire was named the new pitching coach of the Las Vegas 51s.
So if I'm the 51s' marketing person, I'm having a Ryback Bobblehead Night, and I'm letting Ryback – who as Ryan Reeves once played third base for Western High and Palo Verde – take batting practice against Uncle Randy. Because Ryback now stands 6 feet 3 inches and weighs 291 pounds, all of it muscle, and if he ever got a hold of one, look out.
THREE UP
■ In addition to covering the Super Bowl for "Inside Edition," Miss Alabama Katherine Webb – the girlfriend of Crimson Tide quarterback A.J. McCarron – has been named one of the contestants in a new reality series called "Celebrity Diving." Brent Musburger doesn't owe her an apology. She owes him a date.
■ The fake-to-third, throw-to-first move is now a balk in major league baseball. "It's about time," said Gary Lee Cavagnaro, who played Englebert in "The Bad News Bears" in 1976 and is believed to be the only baserunner in modern baseball history to have been picked off that way.
■ Bryce Harper rules: On Friday, "That's a Clown Question, Bro" was one of the categories on "Jeopardy."
THREE DOWN
■ This just in: The peach baskets at both ends of the Convocation Center at Eastern Michigan actually were nectarine baskets, which partially explains Eastern's 42-25 victory over Northern Illinois on Saturday. But only partially.
■ The coolest thing about the Pro Bowl for the players is you can be injured in a brawl – as Trent Williams of the Redskins was early on Friday – and nobody really cares. Asked if Williams, who received seven stitches during a fight that sent two men to the hospital, was being investigated for assault, a spokeswoman for Honolulu police said no, not really, and would you care for a chocolate-covered macadamia nut?
■ Hold on a sec: There's actually going to be a TV show called "Celebrity Diving" during which Keisha Knight Pulliam and Louie Anderson will be doing forward dives with somersaults from the pike position?
Las Vegas Review-Journal sports columnist Ron Kantowski can be reached at rkantowski@reviewjournal.com or 702-383-0352. Follow him on Twitter: @ronkantowski.