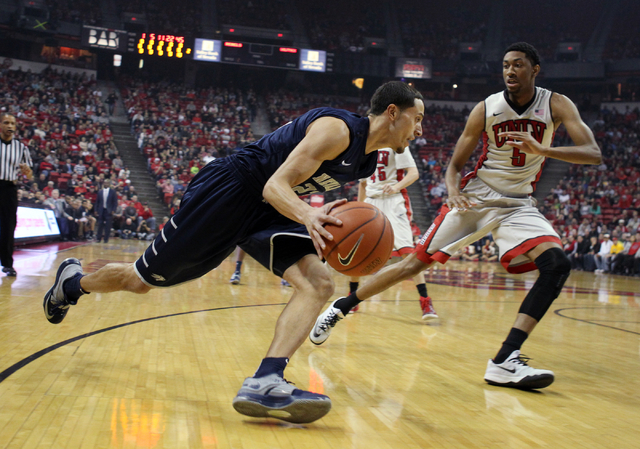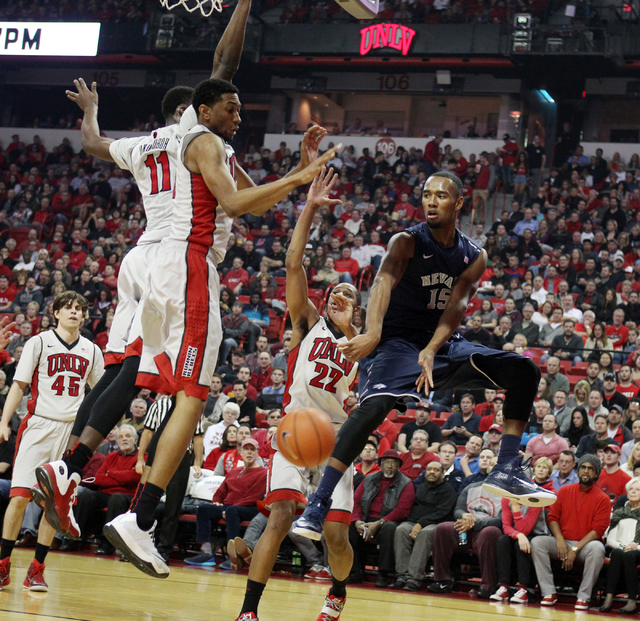 UNLV lost to UNR in basketball again on Wednesday night, and that was a bad thing if you were Rebels coach Dave Rice, who takes a ration of grief — or something like it — whenever the Rebels stub a toe against the lesser squads of the Mountain West Conference.
It also was a bad result if you're among those/the few who get excited about the Governor's Series.
A couple of years ago it was decided there should be an annual competition between UNR and UNLV in sports across the board, and even among the athlete-students in the classroom. And then at the end of the year, Gov. Brian Sandoval would present a trophy to the winning school during a Board of Regents meeting or whatever.
UNLV has fallen behind UNR, 4.5 points to 7.5 points, in this year's Governor's Series. So, if you are one — the only one? — who gets excited about UNLV vs. UNR in sports when a cannon isn't involved, it was important UNLV not lose at home to middling UNR.
Uh-oh.
So you might want to mark April 3 on your calendar. That's the day the Rebels and Wolf Pack will meet on the tennis court.
Recent defeats at Wyoming and No. 13 Kansas notwithstanding — those are tough places to play when the weather turns cold — UNLV has been on an uptick. Beating No. 3 Arizona at the T&M on Dec. 23 was a Christmas gift that will keep on giving in terms of RPI, strength of schedule and Jay Bilas' mindset.
Plus, when you don't defend the perimeter against Kansas, and you're just 11 days removed from knocking off No. 3 Arizona, the message board enthusiasts will let you slide a little bit.
Not any more.
At least the Rebels guarded the perimeter a little better, for what that's worth. But only a little better. And they couldn't keep UNR off the offensive boards.
UNR, an offensively challenged bunch that had made only 27 percent of its 3-pointers coming in, hit 5 of 14 for 36 percent. Eric Cooper Jr., a 6-foot-3-inch freshman reserve, hit 3 of 3 in the first half, and that was the biggest reason the Wolf Pack led by as much as seven, and by 35-30 at the break.
Through 14 games, UNLV's 3-point percentage defense was .321, a couple of points better than the national average. But the eyes don't lie, and the eyes tell you this UNLV team has defensive shortcomings that sometimes get exposed, especially by perimeter jump shooters.
They got exposed in the last minute against the Wolf Pack.
Remember a few seasons back when Curtis Terry would hike up his socks, scrunch down low in a defensive stance, and slap the floor with both palms when the other team was bringing the ball up the court? And the crowd would go ballistic, because Terry was about to climb directly into somebody's athletic supporter?
Well, UNLV doesn't have any guards who defend like that. They could have used one down the stretch against UNR.
Rashad Vaughn is an outstanding offensive player and that's where he expends most of his energy. Mop-topped Cody Doolin directs the offense with a steady hand. He appears to try hard on defense. He even had eight rebounds against UNR. But he does not slap both palms on the court. So Patrick McCaw has been getting more minutes off the bench.
McCaw will get after you a little with those long arms of his, and that headband of his.
It still wasn't enough when push came to shove. Wasn't enough at either end of the court, actually. That's what happens when you let one of the lesser squads hang around much too long on your home court.
So the Rebels guarded the perimeter better in the second half, until Cooper hit another 3 with 1:01 to play, and Marqueze Coleman hit a deuce from the left elbow with four seconds left.
Ballgame.
It was a bad loss, worse than most, because it was a loss to one of the lesser MWC teams, one that recently lost eight games in a row and was 5-8 coming in. Plus, it was a loss to UNR. Perhaps UNLV should start caring as much about this game as they do up there.
There will be a similar contest here Saturday against San Jose State, another chance for UNLV to work on its perimeter defense, and anything else it needs work on, such as keeping the other team's big guy off the boards — UNR's A.J. West had 15 points and rebounds — before traveling to Boise State and defensive-minded San Diego State next week.
I imagine palms will be slapping the court at Viejas Arena, at least when the Rebels possess the ball.
As for the Governor's Series, UNLV fell a little farther behind. The Lady Rebels also lost at UNR. The pressure is squarely on the tennis team, now.
Las Vegas Review-Journal sports columnist Ron Kantowski can be reached at rkantowski@reviewjournal.com or 702-383-0352. Follow him on Twitter: @ronkantowski.