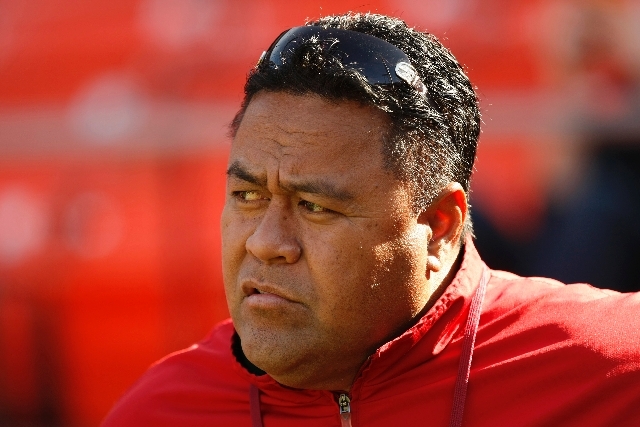 In a couple of weeks it'll be football season again, and then Friday night at high school games it'll be the three P's again: pork, poi, pineapple.
It seems every time you go to a local prep game, big Polynesian men wearing floral print shirts and flip-flops are barbecuing and tailgating in the parking lot, and it smells fantastic, and if the wind is right, you still can smell a luau after halftime. And then you just won't settle for a hot dog.
Clark County has the United States' sixth-largest Polynesian community, the third-largest outside of Hawaii. A lot of Polynesian kids play high school football. Then they go on to play college football. Brigham Young and Utah recruit a lot of Polynesian kids, and this explains how BYU and Utah got pretty good in football over the past 25 years.
Now the Polynesian kids have even more than a cold day in Utah for which to aspire.
Plans were announced Wednesday for the establishment of a Polynesian Football Hall of Fame. I'm assuming the home of the shrine will be somewhere in Honolulu. It should be in Provo, Utah, in LaVell Edwards' backyard.
The former BYU coach is on the selection committee. So is Ron McBride, a former Utah coach. And the guy who has been broadcasting Hawaii football games since before Steve McGarrett told Danno to book 'em. I believe his name is Robert Kekaula. If there's anybody who knows Polynesian football, it's that guy.
Jesse Sapolu, who has four Super Bowl rings from his days with the San Francisco 49ers, was on hand to make the announcement. The first class of Polynesian guys that will hit you hard — and maybe one or two who played on offense — will be honored on the Thursday before the Pro Bowl in January.
In keeping with the spirit of the Pro Bowl, blocking or tackling will not be allowed at the induction ceremony.
"The unveiling of the Polynesian Football Hall of Fame will honor those who paved the way, whose shoulders I stood on, and our present and future stars of Polynesian descent," Sapolu wrote on his Facebook page. "It has been a long time coming. Proud day for all of us."
The news release said 60 Polynesians are playing in the NFL; 61, if you count Troy Polamalu's hair. Polamalu, of the Pittsburgh Steelers, probably is the most famous of the hard-hitting Polynesians, though Junior Seau was pretty good, too.
However, if you grew up in the 1970s watching the college football highlights from Saturday on Sunday morning after hurrying home from church, then the first footballer of Polynesian persuasion you might remember is the "Throwin' Samoan."
That's what they called Jack Thompson, who was the most prolific passer in NCAA history when his career at Washington State ended. He still has the coolest nickname ever. (Apollo Creed, "The Master of Disaster" — also sometimes called "The Count of Monte Fisto" — is second.)
I also recall a guy from that era named Joe Paopao, who played quarterback at Long Beach State; this might have been because one of the Chicago UHF channels showed Canadian football games late at night, and Paopao was a star up there.
Also, it wouldn't surprise me to learn that Vai Sikahema of Tonga still is returning punts for touchdowns in some faraway tropical paradise where the sun always shines.
UNLV's ties to the football-playing islands and archipelagos of the South Pacific are considerable. Seventeen players on the Rebels' training camp roster are Polynesians, and several former Rebels from the sugarcane and grass skirt nations have played in the NFL.
The first I remember was Lonnie Palelei, who played in the interior line when Jim Strong was coach and always had a huge smile on his face, despite having played for Jim Strong.
Palelei played six seasons in the NFL and one with the Las Vegas Outlaws of the XFL. More recently, former Rebels Frank "The Tank" Summers and his cousin, Martin Tevaseu, have gone from here to play on Sunday.
People forget that Navy coach Ken Niumatalolo, who led Hawaii to its first bowl game as its quarterback in 1989, served a three-year coaching apprenticeship at UNLV under John Robinson; Evan Palelei, Lonnie's son who starred at Bishop Gorman, is a senior starting defensive end for Nieumatalolo's Midshipmen.
Jimmy Morimoto coached 15 years at H.P. Baldwin High School in Wailuku, Hawaii, and is starting his seventh season on the UNLV coaching staff — he's also on the staff of Polamalu's summertime camp in American Samoa. Morimoto says playing football is consistent with the warrior mindset prevalent among Polynesian people.
"It's aggressive; it fits right in," Morimoto says. "It's a way to get after people in a legal format. You can't just walk down the street and tackle somebody."
If you could, BYU probably would offer those kids scholarships when they were 11, and then they'd have to erect a new wing at the Hall of Fame for Polynesian football players before it even opens.
Las Vegas Review-Journal sports columnist Ron Kantowski can be reached at rkantowski@reviewjournal.com or 702-383-0352. Follow him on Twitter: @ronkantowski.