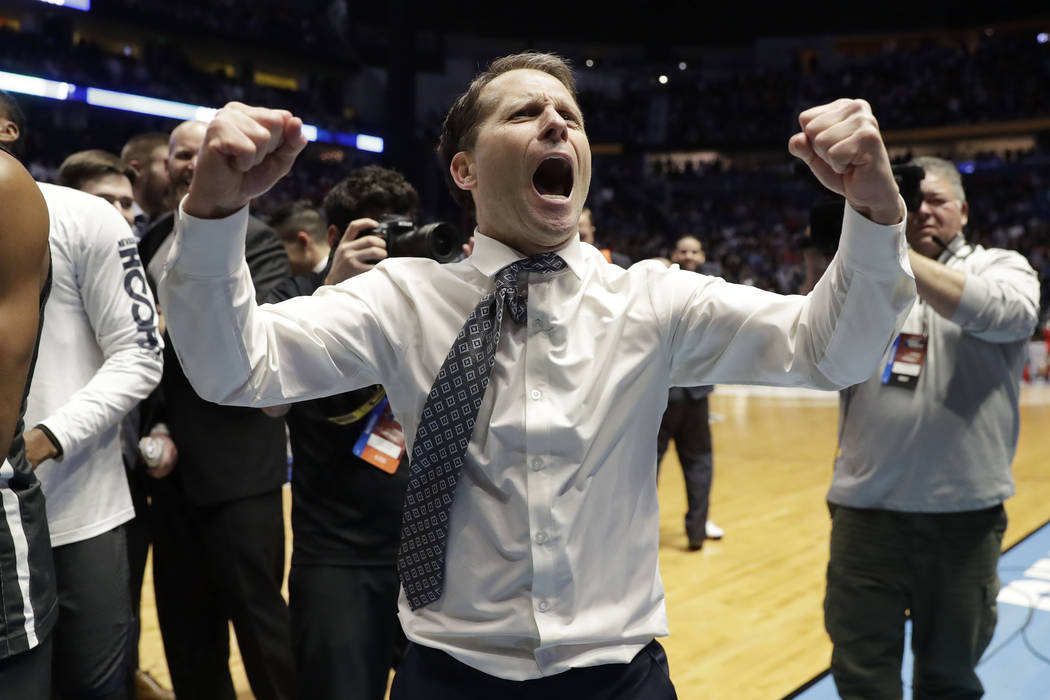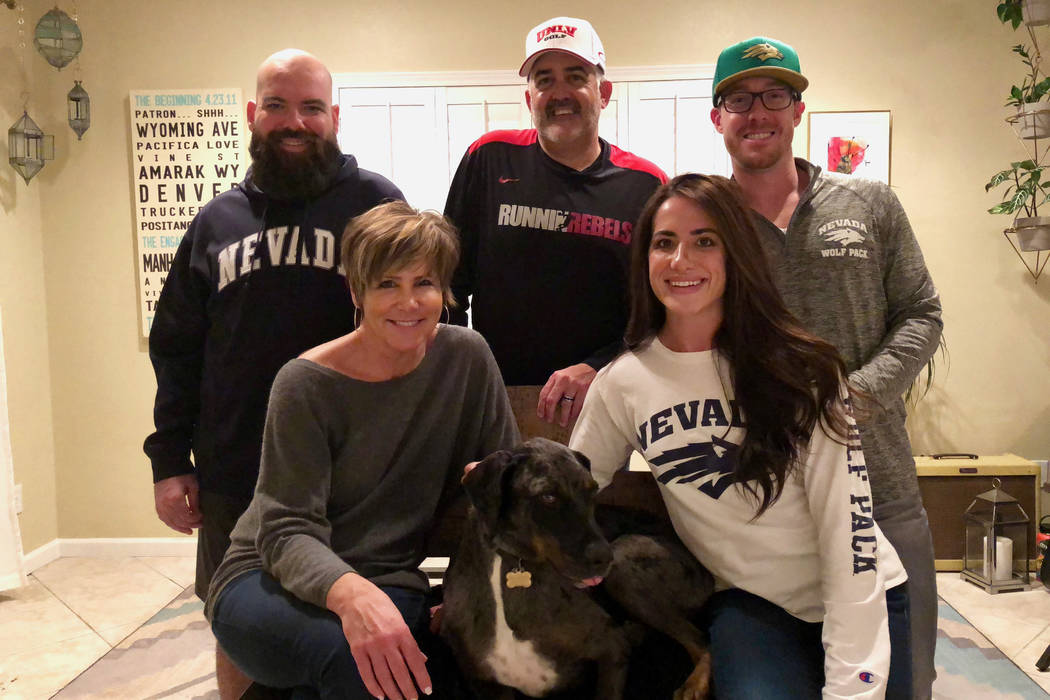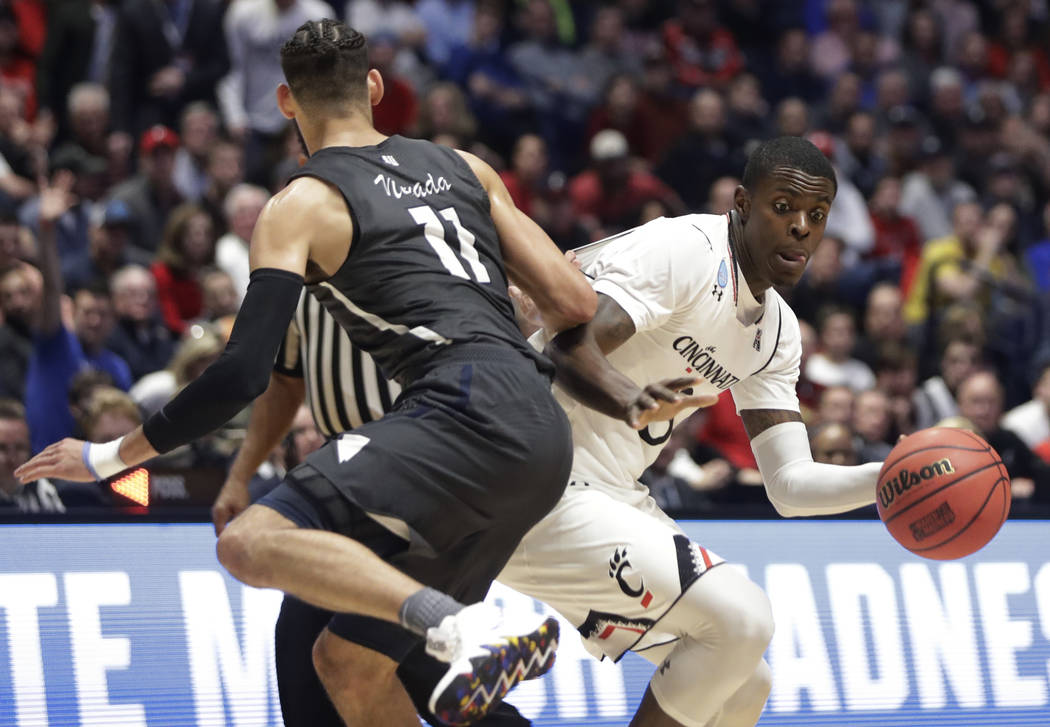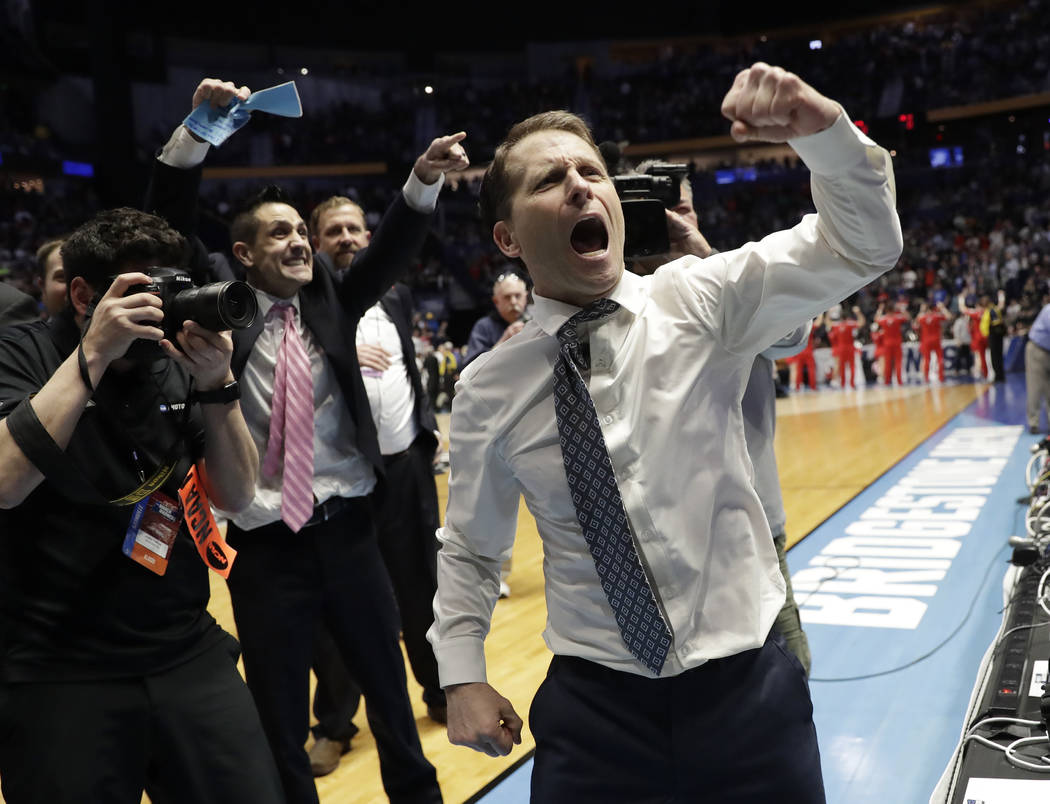 When it comes to the UNLV vs. UNR rivalry, and the disparity it may cause among Nevadans, the Jingoli family of Las Vegas can identify with TV's "The Brady Bunch."
There's Tom and his wife, Shawn, and Shawn's children by her previous marriage, Gillian and Anthony Griffith. And Gillian's husband, Matt McKissick.
Tom received his master's degree from UNLV's William F. Harrah College of Hotel Administration in 1996. He's on the UNLV Foundation Board of Trustees. Tom Jingoli is an unabashed Rebels fan.
Gillian, Anthony and Matt graduated from UNR. Tom says Anthony enjoyed the campus up there so much he stayed six years. Gillian, Anthony and Matt are rabid Wolf Pack supporters.
In the middle square of the opening credits, where you would have Ann B. Davis as Alice, you have Gillian and Matt's dog, Truckee. Truckee is a Catahoula Cur — a Louisiana leopard dog. With a name like Truckee, one can assume he's also partial to the Wolf Pack, though if dogs could talk, Truckee would probably say he also pulls for Louisiana State during football season.
I'm told Shawn, like Carol Brady, tries to stay neutral.
"But if I had to guess, she leans toward Nevada," Gillian Griffith said of her mom.
Says Tom Jingoli: "It's five against one."
He says he still is (sort of) enjoying March Madness.
Great for the state
As a Chicagoan who once secretly cheered for the White Sox when they played the Astros in the World Series (don't tell my brother), I asked Tom Jingoli were it possible to cheer for the Hatfields during the NCAA Tournament while the McCoys stayed home.
"It is," he said. "I'm rooting for them — not because the kids went there and graduated from there and had a great time there, but because it's great for the state. I'm happy for them, I'm happy for their fans, I'm happy for their university."
Notice he didn't mention the Wolf Pack by name. These things take time for a Rebels supporter. It's like Fonzie admitting he was wrong, like Raiders coach Jon Gruden not being able to say "Las Vegas" until the team officially moves here.
At least Jingoli didn't refer to the Wolf Pack as the "Team Up North," a la former UNLV football coach Mike Sanford. One wonders if that's how Sanford and Son — Mike and Mike Jr., assistant and head football coaches at Western Kentucky — still refer to UNR on their brackets.
But if you are a UNLV basketball fan and aren't cheering for UNR in the Sweet 16, you should be.
UNR wins, UNLV benefits
As colleague Mark Anderson pointed out in Tuesday's sports section, almost $100,000 already has trickled down to UNLV as a result of the Wolf Pack's run in the NCAA Tournament, and San Diego State's shorter run, via the NCAA's "basketball fund." A portion of that money will go into the pocket of Rebels basketball coach Marvin Menzies per the Mountain West's distribution policy. Maybe he can use it to recruit some players who will block out for rebounds.
This is the biggest reason that Rebels fans should be cheering for the Wolf Pack against Sister Jean and Loyola of Chicago, as hard as it might be to root against an endearing 98-year-old nun in a wheelchair.
While Sister Jean Dolores-Schmidt would not have approved of UNR coach Eric Musselman's salty locker room language after the Pack battled back from 14 points down to beat Texas in the first round, she also knows the Lord and the Martin twins work in mysterious ways.
"This guy is a real coach, and as a UNR alumni during the Chris Ault (football) era, I am very proud of this coach and I hope he stays," said Mark Alden, who served on the Nevada Board of Regents for 18 years, which wasn't nearly as long as Chris Ault served as UNR football coach.
Alden also urged fellow Las Vegans to jump on the Wolf Pack bandwagon, adding that "either you are a Nevadan or you're not."
Exactly, said Tom Jingoli, who said he will be rooting for UNR on Thursday but agreed that if he and Shawn ever got a dog, Henderson would be a better name than Truckee.
Contact Ron Kantowski at rkantowski@reviewjournal.com or 702-383-0352. Follow @ronkantowski on Twitter.