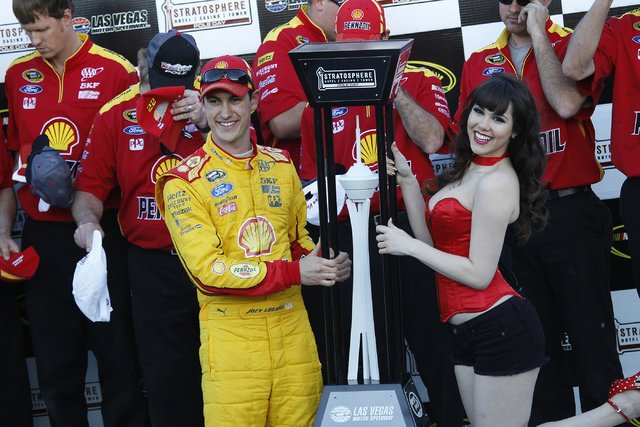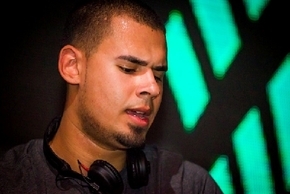 I read recently where the Electric Daisy Carnival, which arrives at Las Vegas Motor Speedway tonight with a pulsating beat, generated $278 million in economic impact for our city in 2013.
That's more than the $240 million NASCAR Weekend — the other major pulsating event at LVMS — generated in 2012, the last time an economic impact news release was put out.
Is it likewise possible the EDC disc jockeys have become bigger stars than their NASCAR counterparts?
According to Forbes magazine, a guy named Calvin Harris from Scotland, who spins records at Hakkasan nightclub at the MGM Grand, is the world's top DJ with $46 million in earnings in 2013. That's nearly double what Dale Earnhardt Jr. ($25.9 million in salary, winnings and endorsements) makes.
However, although I have seen Calvin Harris' face on a billboard by the airport, I have rarely seen his name among those Trending Now on Yahoo. Dale Jr.'s on there all the time.
But that's Dale Jr.
What if you were to match, say, Afrojack vs. Joey Logano?
You might have to throw it down to Dr. Jerry Punch on the pit road for a closer look.
▶ Rankings: Afrojack was rated No. 9 by DJ Magazine at the end of 2013 and was No. 7 on the Forbes DJ money list with $18 million. Joey Logano finished eighth in Sprint Cup points last year; he's seventh this year. His total net worth is $18 million, which is what Afrojack makes in one year. But the last time I was at Wal-Mart, I saw a guy wearing a No. 22 Joey Logano T-shirt. I did not see any guys wearing Afrojack shirts. Advantage: Push
▶ Nickname: Afrojack's real name is Nick van de Wall. He's from the Netherlands. Afrojack is his stage name. It's a very cool stage name; it also would have been a cool way to describe a home run by Oscar Gamble, if you can remember how big the former ballplayer's Afro hairstyle was during the 1970s. Joey Logano's real name is Joseph Thomas Logano. He's from Connecticut. His nickname is "Sliced Bread," as in he's the greatest thing to hit NASCAR since sliced bread. Randy LaJoie, the two-time Busch Series champ, gave Logano that name, but I think it was meant to be negative. Advantage: Afrojack
▶ Upcoming schedule: Afrojack: Today, Electric Daisy Carnival Megastructure; Sunday, Intervention Sunday at the Hard Rock Hotel in San Diego; June 27, "Good Morning America's" Summer Concert Series. Joey Logano: Sunday, Toyota-Save Mart 350, Sonoma Raceway; June 28, Quaker State 400 presented by Advance Auto Parts, Kentucky Speedway; July 5, Coke Zero 400 powered by Coca-Cola, Daytona International Speedway. Edge: Afrojack, mainly for those bikinis at the Hard Rock pool
▶ Personal life: Afrojack has a daughter named Vegas with a former girlfriend. He also has been linked to Anouk, a Dutch singer-songwriter, who is pregnant. Joey Logano is engaged to his childhood sweetheart, Brittany Baca. Edge: Logano
▶ Wikipedia footnote: "Afrojack is exceptionally tall, standing 206 cm (6 feet 9 inches)." "In 2009, Joey Logano co-hosted an episode of "WWE Raw" with Kyle Busch." Edge: Logano
▶ Did you know: Afrojack was featured on Pitbull's hit record "Give Me Everything" with Ne-Yo and Nayer. Joey Logano once got into a fight after a race at Fontana, Calif., with a pitbull named Tony Stewart. Edge: Push
▶ Wheels: Afrojack bought a Ferrari 458, wrecked it an hour later, bought a new one the next day. Joey Logano drives a Ford Fusion. Not as cool as a Ferrari 458, perhaps, but when Logano wrecks the No. 22 NASCAR Ford Fusion, he doesn't have to buy a new one the next day. Roger Penske buys it for him. Edge: Logano
Based on these criteria, I give Joey Logano the slightest of edges over Afrojack in a popularity contest. But I don't pulsate to the beat like I used to. So as they say at the bottom of the TV screen, your mileage may vary.
People sometimes forget, however, that long before there were Electric Daisies at Las Vegas Motor Speedway, there was California Jam at Ontario Motor Speedway. This would have been in California around 1974. You should have seen people my age pulsate to Emerson, Lake &Palmer.
The Goodyear blimp was there. So were Rare Earth, Earth Wind &Fire, Eagles, Seals &Crofts, Black Sabbath, Deep Purple and Black Oak Arkansas.
Ontario Motor Speedway no longer exists. Black Oak Arkansas is still at it, though it has had 61 members.
California Jam ended with Keith Emerson playing a grand piano while spinning 50 feet in the air. Before that, Deep Purple's amplifiers exploded when a pyrotechnic went awry, briefly setting the stage on fire.
That should give Afrojack and his pals something to shoot for at the track starting tonight.
Gentlemen, start your laser beams.
Las Vegas Review-Journal sports columnist Ron Kantowski can be reached at rkantowski@reviewjournal.com or 702-383-0352. Follow him on Twitter: @ronkantowski.