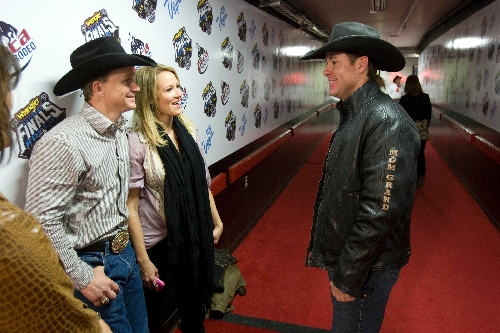 On Friday night, Jimmie Johnson was the man of the hour at Wynn Las Vegas during an awards banquet celebrating his unprecedented fifth consecutive NASCAR Cup Series championship. It was such a grand affair that Tony Stewart shaved.
While this was happening, Trevor Brazile was clinching his unprecedented fifth consecutive all-around cowboy championship on the pro rodeo circuit just a couple of miles down the road, at the Thomas & Mack Center.
This could only happen in Las Vegas, right?
Not quite. Let the record book show it would take a pretty big ballroom to fete those who have won five championships in a row:
■ UCLA, by which all dynasties are measured, won seven consecutive NCAA men's basketball titles from 1967 to 1973.
■ The Edmonton Eskimos won five consecutive Canadian Football League Grey Cup titles from 1978 to 1982.
■ Iowa won nine consecutive NCAA wrestling championships from 1978 to 1986.
■ Lance Armstrong won the Tour de France seven consecutive times from 1999 to 2005.
■ Sebastien Loeb won five consecutive World Rally Championships from 2004 to 2008. (You'll have to take my word for this one.)
■ Real Madrid won five consecutive European Cups in soccer from 1956 to 1960.
■ The Montreal Canadiens won five consecutive Stanley Cups, also from 1956 to 1960.
■ Maryland won seven consecutive NCAA women's lacrosse crowns from 1995 ti 2001.
■ California won 12 consecutive collegiate rugby championships from 1991 to 2002 — and then five more from 2004 to 2008.
Take that, Lew Alcindor. I've got your dynasty right here, John Forsythe.
Somebody should set up a rugby pitch in front of Slots-A-Fun and hold a Golden Bears reunion. It is a known fact that rugby players can't resist Heineken at $2 a pop, and the local economy could use a shot in the arm.
So as far as I can tell, only 11 teams or individuals in the annals of organized sport have earned one for the thumb in consecutive seasons. What are the odds that two would do it, or at least be honored for doing it, in the same city, on the same day?
I wonder if Josh Groban even has a song for that.
The coincidence of Johnson and Brazile being toasted — er, honored — here might raise the question of which is the greater accomplishment. I suppose it all depends on whether you grew up on a tobacco farm in North Carolina or a dude ranch in Montana. Or how many $2 Heinekens you've had at Slots-A-Fun.
The purpose here is not to resolve that issue, but to point out that Johnson and Brazile have more in common than the size of their trophy cases, talent, dedication, discipline, professionalism and bank accounts.
For starters, each comes from a sport based on horsepower. Johnson's is under the hood, Brazile's under the saddle. They excel in dangerous pastimes in which success is often measured in fractions of seconds and failure is often measured in hospital bills.
Johnson is 35, Brazile is 34. Both are in their professional primes.
Brazile has won three more all-arounds in addition to his five in a row. Johnson only has the five. But Brazile has indicated he might rope steers and calves for only three more years. In NASCAR, guys can make left-hand turns until they are 50. Three more championships (or more) are certainly within Johnson's reach.
Rival Jeff Burton, on Johnson: "If you're going to run as well as he does, you're going to have to work your ass off, and I'm sure Jimmie does that."
Rival Tuf Cooper, on Brazile: "Everything he does, everyone else in the rodeo business is not willing to do. He studies it more than anybody, knows more about it than anybody and he's worked harder at it than anybody."
Johnson shies away from the limelight and has been called a dullard. Brazile lists one of his hobbies as going to church.
Both have started a family and prefer the comforts of home to life on the road. Johnson's wife, Chandra, is a fashion model from Oklahoma. Brazile's wife, Shada, is a fashion model from Texas. (Maybe that's why they prefer the comforts of home.)
Brazile paid his dues by riding colts for $50 a week, and cleaning up after them. Johnson has cleaned up messes he claims Kurt Busch caused, although that's not exactly the same.
Johnson has invoked comparisons to Dale Earnhardt and Richard Petty and the other legends of stock-car racing. With Brazile, it's Jim Shoulders and Larry Mahan and Tom Ferguson and Ty Murray.
In closing, I will point out that all greatness aside, Johnson and Brazile both put their pants on one leg at time.
Those who must compete against them reserve the right to disagree.
Las Vegas Review-Journal columnist Ron Kantowski can be reached at rkantowski@reviewjournal.com or 702-383-0352.
2010 National Finals Rodeo Round 5