Stuntman finishes what Evel Knievel started at Snake Canyon
September 21, 2016 - 2:09 pm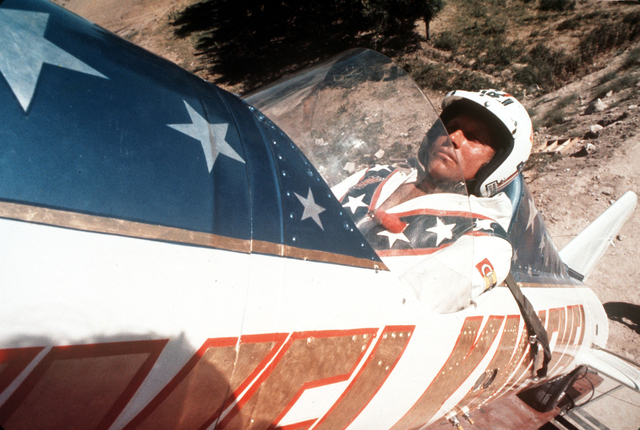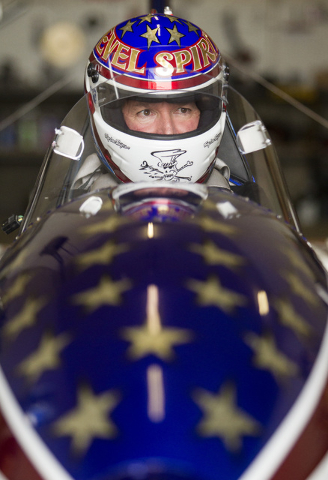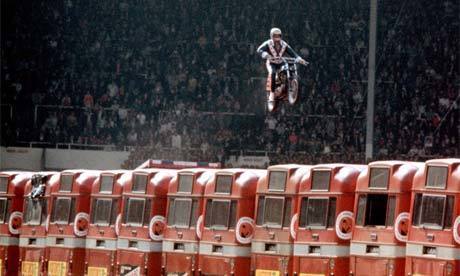 On Friday, a guy jumped from one side of the Snake River Canyon in Idaho to the other side while strapped to a sky cycle.
I heard about it on Monday.
When Evel Knievel first attempted this death-defying stunt, everybody knew about it as it was happening. You didn't have to wait until Monday to read about it.
It was 1974, when white leather daredevil jumpsuits with bell bottoms and larger-than-life personalities were in vogue.
Bachman-Turner Overdrive also was in vogue.
You ain't see n-n-othin' yet, and that's why all eyes were glued to "Wide World of Sports." Because though men had been to the moon and back seven times by then, a man had never jumped from one side of a canyon in Idaho to the other side while strapped to a sky cycle.
It sounded dangerous and preposterous. It had to be those things, or Even Knievel would not be the one attempting it.
It was as simple as that — as simple as the Evel Knievel stunt cycle with the rip cord or the gyro launcher that little brothers played with on the linoleum floor while the grown-ups played bridge.
After he became too old or too busted up from jumping over Greyhound buses and Mack trucks on "Wide World of Sports," Evel Knievel lived in Las Vegas. Sometimes he would call the sports department looking for the score of a football game he had wagered on the night before. I thought it was some guy pulling my leg.
I met his oldest son a few years ago on the golf course.
Kelly Knievel also had been a daredevil in the family business for a little while; it had nothing to do with him having played golf at New Mexico Highlands in the other Las Vegas, the one in the badlands of New Mexico. Kelly Knievel still plays in Southern Nevada Golf Association tournaments, and a couple of years ago he talked about his dad trying to jump over the Snake River Canyon on a sky cycle.
"My dad was one tough (SOB)," he said for a short film that can be accessed on EvelKnievel.com. "He wasn't a fatalist. He never had a death wish. He never wanted to die; he never thought he was going to die."
Well, almost never, said Kelly Knievel.
"I would say only at the Snake River Canyon. Because he really didn't know if he was going to come back from that jump or not."
Evel Knievel had bought the land on both sides of the canyon so the authorities couldn't stop him from killing himself, or at least trying.
"The only way they'll be able to get me out of the air is to shoot me out, with an antiaircraft gun," he said with typical Evel Knievel bravado.
Both unmanned test sky cycles that went up crashed into the rapids.
The third one, with Evel Knievel inside, didn't make it, either.
The parachute malfunctioned and opened prematurely; the sky cycle stalled in a brisk breeze and nosedived into the canyon, crashing onto the rocks a few feet from the water. People have speculated that Evel would have drowned had the sky cycle plummeted into the Snake River.
He escaped with minor injuries, a broken nose and scratches. Eight months later he was back on "Wide World of Sports" trying to jump 13 double-decker buses at Wembley Stadium in London. He crashed that time, too. He broke his pelvis, a hand, sustained a concussion.
It wasn't quite as bad as when he biffed it trying to jump the Caesars Palace fountains. That time he was in the hospital 29 days, with Humpty-Dumpty symptoms: broken ribs, broken hip, crushed pelvis.
Nearly four decades later, I was there when a radical dude named Mike Metzger jumped over those fountains on a tricked-out dirt bike. Instead of a walking stick and a pompadour, Metzger sported massive tattoos and massive Monster Energy.
Metzger made it look so easy he put in a backflip.
The guy who finally jumped from one side of Snake Canyon to the other was named Eddie Braun. He's a 54-year-old Hollywood stuntman. Eddie Braun also made it look easy.
He said the jump was a tribute to Evel Knievel, his hero.
Braun called his sky cycle Evel Spirit, apparently with Kelly Knievel's blessing.
According to Brian Smith, a reporter in Idaho's Magic Valley near the Twin Falls, the two met, and Braun said he wanted to call the sky cycle the Evel Spirit, but whether it was Evel with an 'e' or Evil with an 'i' was up to Kelly.
Eddie Braun put $5,000 in $100 bills on the table and said he wanted to buy a vowel.
Las Vegas Review-Journal sports columnist Ron Kantowski can be reached at rkantowski@reviewjournal.com or 702-383-0352. Follow him on Twitter: @ronkantowski.