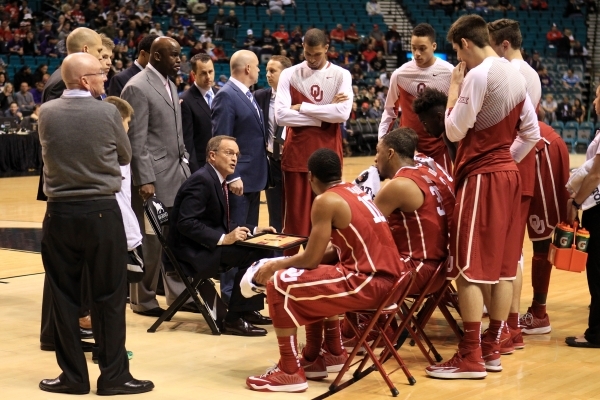 There was an Instant Classic on ESPN on Monday night, and then on Wednesday morning, there was this, in bold, black letters, on the University of Oklahoma athletic website:
WEST VIRGINIA, KANSAS MBB GAMES SOLD OUT.
MBB stands for "men's basketball." You probably knew that. But Oklahoma is known as a football school. So when another sport wrests the biggest, boldest headline away from Bob Stoops, sometimes you still have to use the abbreviation.
MBB is the sport that Lon Kruger coaches at Oklahoma. It was the sport he coached at UNLV for seven seasons — that was the last time the Rebels made a deep run in the NCAA Tournament. After Monday's breathtaking game against Kansas, it should be clear the deep run into the Madness of March when Kruger was here was no coincidence.
I did not stay at a Holiday Inn Express last night, but I also would surmise those upcoming sellouts against Bob Huggins' guys and the rematch against the Jayhawks may have something to do with Kruger's basketball acumen, and that incredible three-overtime thriller Monday night, even though Oklahoma lost 109-106.
It was No. 1 vs. No. 2, or No. 1 vs. No. 1, depending on how you looked at the polls, and Dick Vitale lost his voice at courtside, and Brent Musburger said he had "friends in the desert" — which might have been the thinnest veil ever applied to a reference to our local sports books.
(I still thought they had a great broadcast, at least when you could hear them over the roar of the Allen Fieldhouse crowd. That was some serious tumult.)
Oklahoma's Buddy Hield scored 46 points. After the overtimes and the awesomeness, the KU fans, who know their basketball, hung around to applaud him as he left the court.
And while I still believe Kansas' Frank Mason should have been given a technical for stepping over the line and stripping the ball from Hield as he tried to inbound it at the end, that's beside the point.
That would have only been sour grapes whereas this game was vintage wine. From fine old kegs, from the brim to the dregs, it poured sweet and clear. Thanks, Mr. Sinatra.
Even Kruger said so. Only he didn't use that analogy, because Kruger is more of an X's and O's guy than an analogy guy. Fran Fraschilla is more of an analogy guy. And one time, when Kruger was asked about what was playing in his tape deck, he said Abba. Not the same as Sinatra.
"Given what's at stake and the stage and all, I don't know that I've been in one better," the Sooners coach said right afterward about the awesomeness of Monday's game. "It was just terrific."
On Tuesday, Kruger reiterated those views during a video chat on the Oklahoma website. He was wearing a black Sooners windbreaker and a white golf shirt, and his voice was hoarse from the night before. He was seated between a young blond woman who said she was sitting "with one of the best college basketball coaches in all the land" and a guy wearing a dark blazer and a pocket square over a plaid shirt who referred to Oklahoma as "We."
"It was a great battle. Very proud of the guys," Kruger said in a raspy tone.
Kruger always says he's proud of his guys. You don't get that all the time with Bob Huggins. Both men can coach. That's why they let Bob Huggins do it in a tracksuit; that's why basketball people around here started singing Lon Kruger's praises on their Twitter accounts Monday night while the great game still was in regulation.
This is where it probably should be noted that when Kruger took the money and ran off to Oklahoma, where the wind and Barry Switzer come sweepin' down the plain, some of these same people said for Kruger not to let the door hit him on the rear end or whatever.
Most were more complimentary than that. But the general consensus among the local Basketball Joneses was that Kruger had taken the Rebels as far as he could take them, given the allotted resources.
Now that he has taken Oklahoma to the brink of something much greater, they miss him, of course.
What was it that Joni Mitchell said in that song about the Big Yellow Taxi? That you don't know what you've got 'til it's gone?
It's just that sometimes they've got to pave paradise and put up a parking lot — or lose to a middling Fresno State team at home — before you can see it.
— Review-Journal sports columnist Ron Kantowski can be reached at rkantowski@reviewjournal.com or 702-383-0352. Follow him on Twitter: @ronkantowski