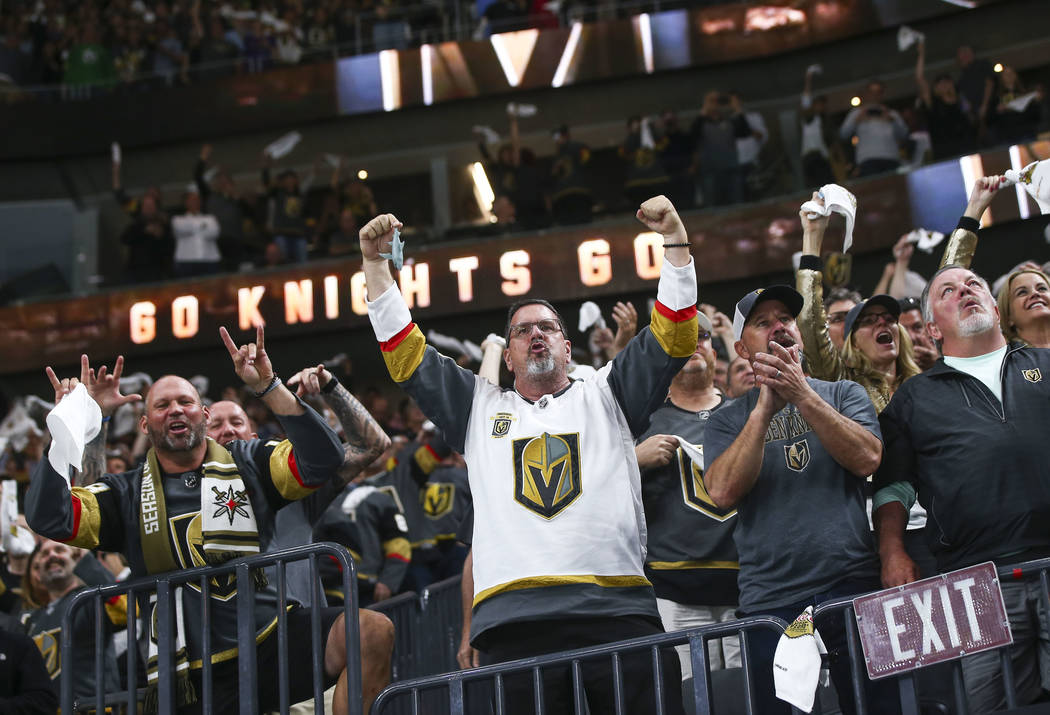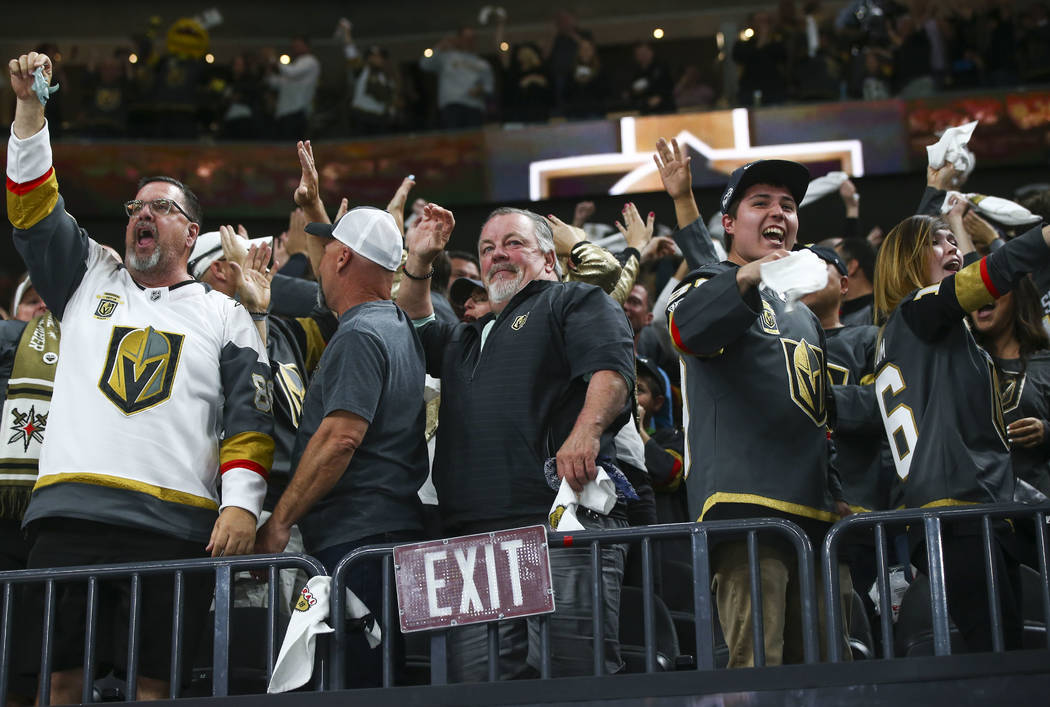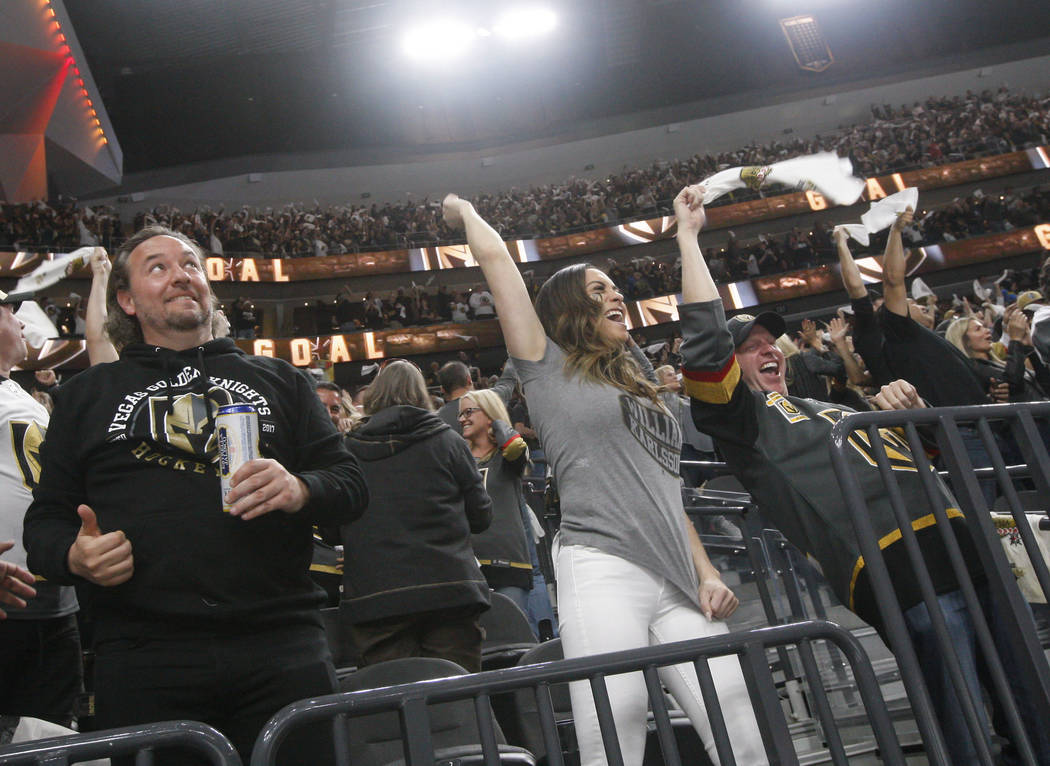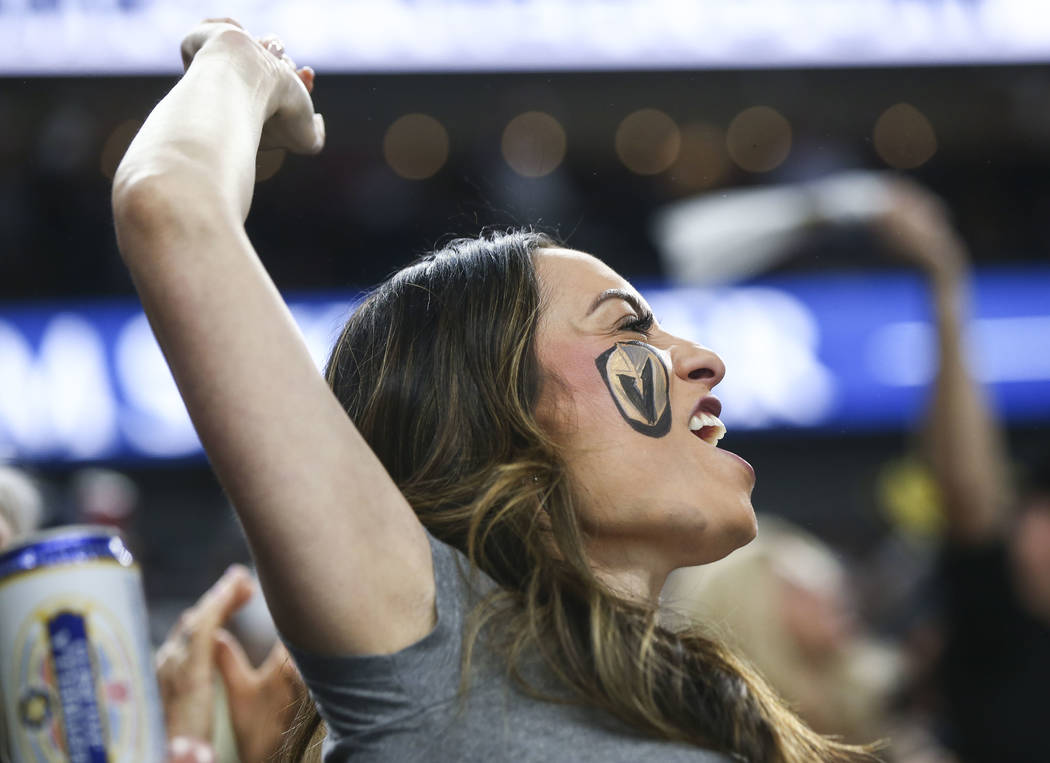 After the Golden Knights opened their second-round playoff series with a 7-0 victory over the San Jose Sharks, Vegas coach Gerard Gallant said something that at first blush seemed more outrageous than TV weatherman Ted Pretty's reaction to William Karlsson's game-winning overtime goal in Game 3.
"I think it's right up there with Chicago Stadium," said Gallant, comparing the decibel level at T-Mobile Arena to that of the Blackhawks' old hockey barn.
T-Mobile is quickly building a reputation as one of the NHL's most deafening arenas. It's like the amplifiers of the fictional rock band Spinal Tap: Where the roar in most buildings tops out at 10, it goes to 11 on Knights' home ice.
Wrote San Francisco Chronicle columnist Ann Killion on Twitter: "The noise in this arena is obscene."
"It lived up to the hype," NBC hockey analyst Eddie Olczyk said after experiencing the T-Mobile atmosphere in Game 2. "The energy in the building, the pregame festivities and everything else that went with it."
Olczyk put Madison Square Garden, PPG Paints Arena in Pittsburgh, Bell MTS Place in Winnipeg and the "Shark Tank" in San Jose (aka SAP Center) on his list of modern-day madhouses.
"I'd put Vegas in there with the current buildings," he said.
But not with venerable Chicago Stadium. At least not yet.
"I respect Gerard, " said Olczyk, adding that when Jonathan Marchessault scored what appeared to be the game-winning goal in overtime of Game 2 he could hear the roar through his headset. "But Chicago Stadium has its own place in history."
Home sweet away
Previously at the Stanley Cup playoffs, the home teams had won 29 games … and the away teams had won 29 games. This was heading into Saturday, and supports a notion that home-ice advantage isn't what it used to be.
Supposedly, you want to play at home for myriad reasons. Foremost among them: Having the last line change, which enables home coaches to get the matchups they prefer. Home teams also get to sleep in their own beds, which didn't apply in Derek Sanderson's day with the Bruins.
Apparently matchups are overrated in this year's playoffs. And were this the old Central Hockey League, where road teams stayed at Best Westerns, the home bed factor probably would be more significant.
"If it comes down to a Game 7, you'd want the game in your own building, 110 percent," Olczyk says of a Knights-Sharks series in which each side has a road win. "But the way the game is now, the way it is officiated and the way the players are prepared, I don't think it is as big a deal as it used to be."
Book on O'Bannon
The coolest thing about having a car serviced at Findlay Toyota is you never know what former sports star you might bump into.
It was Ed O'Bannon the other day. The former UCLA basketball star asked how my Corolla was treating me. He also said he was happy how his book turned out.
It's called "Court Justice — The Inside Story of My Battle Against the NCAA." It's about the Las Vegan's legal wrangling with the sanctioning body to see players no longer are treated as pawns in a high-stakes chess match, or are at least compensated for having their images used in video games that help the NCAA make even more money.
O'Bannon said you can get a copy through Amazon or Barnes and Noble. If you take the book to the dealership, he'll probably be happy to sign it for you and let you test drive the new Camry.
0:01
Hate to keep sounding like my grandpa or Bob Costas, but here's something sent by a fellow baseball fan:
"Game 7 of the 1960 World Series — Pirates 10, Yankees 9 — ended at 3:35 p.m. on a Thursday afternoon on Oct. 13 in front of 36,683 people, with no seats in left or center field, and was played in 2:36 though 19 runs were scored and nine pitchers were used. There were five walks, five home runs and zero strikeouts.
Today, a stadium would never be built like that — the city would exercise eminent domain over whatever was blocking the construction of outfield seating. The game would start at 9 p.m. Eastern time in early November, last five hours, end after 1 a.m. and at least 15 pitchers would be used. There would be 25 strikeouts, 10 walks, and 10 home runs."
But at least you could get a Bill Mazeroski-sized chaw of nachos served in a plastic batting helmet.
Contact Ron Kantowski at rkantowski@reviewjournal.com or 702-383-0352. Follow @ronkantowski on Twitter.