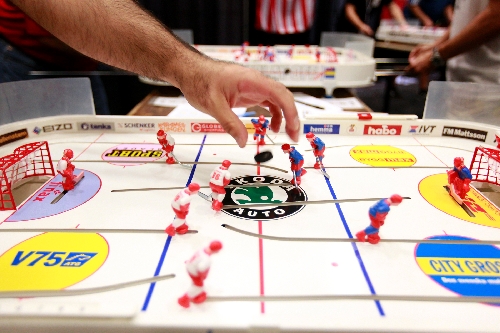 If you were a young boy in the 1960s, then you probably grew up playing with a Slinky, G.I. Joe – when Joe still stood a full 12 inches and before he developed the Kung-Fu grip – and table hockey with the two-dimensional metal players.
Unless you grew up in some place like Phoenix, in which case you probably had no interest in table hockey. And in which case your G.I. Joe probably had sand in his beard, and you get scolded when some got on the carpet.
Claude Lemieux played hockey in Phoenix, but he wasn't born there. He was born in Buckingham, Quebec, 47 years ago. So when Lemieux strolled into the table hockey championships at the Let's Play Hockey International Expo at the Las Vegas Hotel on Tuesday morning, and said with a strident French-Canadian accent that he wanted to play some table hockey because it brought back youthful memories, every effort was made to accommodate him.
Now, this might have been because Lemieux had a large scar holding together his upper lip. But I think it was mostly because the table hockey players found a real hockey player in their midst. And while it's possible this could happen every day, at least in Canada, it probably doesn't.
So one of the table hockey players, who also spoke with a French-Canadian accent, immediately jumped up to play Lemieux, who said he was a pretty good table hockey player growing up in Canada (probably because it was a lot easier to master than electric Canadian football).
After they pulled on the rods a bit, making the little players "skate" up and down their grooved slots, the smaller of the French-Canadians scored a goal. Probably went five-hole or something, though it happened so fast, I didn't see it.
Lemieux blamed it on not being familiar with the knob that controls the goalie on these new table hockey games made in Sweden. And then he said "first goal wins," and that he had to get back to the expo, where he probably was brought in to sign autographs for Zamboni drivers from Saskatoon.
Still, most of the table hockey players seemed impressed that Claude Lemieux had dropped by during the first intermission.
Three transplanted Las Vegans originally from hockey cities were pulling on the rods in this tournament – John Labianca, an optician for the Department of Veterans Affairs for the Southern Nevada Healthcare System; Bill McNeill, a computer technician at Nellis Air Force Base; and Jay Petrick, a race and sports book supervisor at the Flamingo, who said the odds on him winning were roughly 1,000-1.
These guys are pretty good table hockey players. They know where the goalie knob is on these new Swedish-made games with the plastic three-dimensional players. The games used here featured Team Canada vs. Team USA; Labianca said these can be swapped out with little plastic Maple Leafs, or Blackhawks, or Buffalo Sabres. Or probably even little plastic Kansas City Scouts and California Golden Seals, if one looks on eBay.
(You know what would be really cool? If the little plastic Philadelphia Flyers came with mullets and bushy mustaches.)
Labianca, a native of Long Island, N.Y., is ranked No. 8 in the USA, but he was no match for Reggie Stefaniszyn, ranked No. 1 in Canada, who beat him 5-1 in the first round.
Afterward, Stefaniszyn, a 50-year-old English teacher who makes his home in Edmonton and grew up playing hockey with (or against) four of the six Sutter brothers from Viking, Alberta, said he's ranked only No. 320 in the world.
Table hockey, I am told, has been taken over by the Swedes and the Russians, which surely must upset those Zamboni drivers from Saskatoon.
The Swedes, in fact, had won every International Table Hockey Federation world team championship held since 1992 before the Finns won in 2005, and then the Russians took control of table hockey, with their Russian lab-coat, Ivan Drago-vs.-Rocky Balboa mentality. Stefaniszyn says the top Russian players have coaches and even study video of their opponents.
(And it wouldn't surprise me one bit if they have girlfriends who look like Brigitte Nielsen in her prime, because Russians, at least in the movies, seem to be drawn to women that look like Brigitte Nielsen in her prime.)
Reggie Stefaniszyn said the last time he went to Moscow to play table hockey, a 16-year-old Russian girl skunked him, 8-3. And when one of the top Swedes played one of the top Russians, it got heated, and they had to bring in the head of the federation, who is Danish, to drop the little plastic puck.
Stefaniszyn said the Canadians don't like the Swedes, and the Swedes don't like the Russians, and the Red Wings don't like Claude Lemieux (only he didn't say that about Lemieux; it's just a known fact).
And I almost would be willing to bet that when the little French-Canadian guy tells his grandkids he beat Claude Lemieux 1-0 in Las Vegas, he won't utter a word about the goalie knob on these new Swedish games being hard to locate.
Las Vegas Review-Journal sports columnist Ron Kantowski can be reached at rkantowski@reviewjournal.com or 702-383-0352. Follow him on Twitter: @ronkantowski.