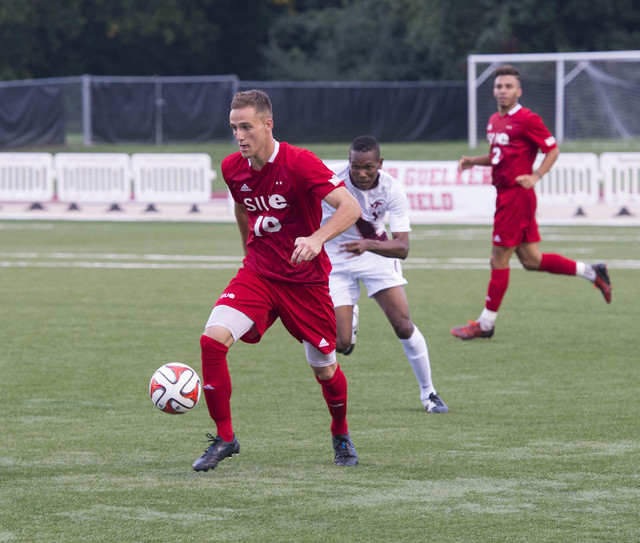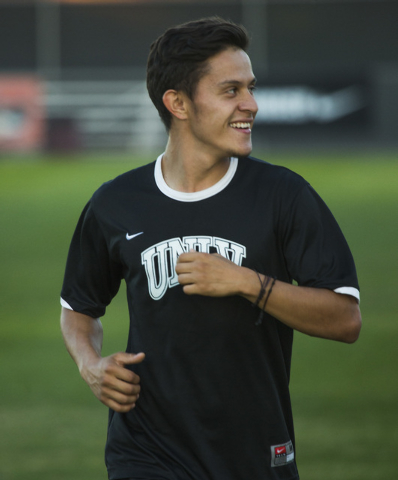 On the soccer pitch, about 40 yards separate the midfielders from where the forwards line up, depending on whether the midfielder is attacking or defending. In real life, Christian Volesky and Matt Polster are closer than that.
To wit: Earlier this week, when Volesky was asked how it was going at the Major League Soccer Scouting Combine, he said pretty good so far. And then he handed his cellphone to Polster, who was sitting right next to him in Fort Lauderdale, Fla., where the nation's top college soccer players were practicing corner kicks and whatnot.
Polster had to be at a meeting to discuss the 4-4-2 formation and other soccer related-matters in a few minutes, Volesky said. Volesky had about 15 minutes before he was due at a similar meeting. They keep you hopping at these scouting combines, and you have to fill out a bunch of a paperwork.
Volesky went to Foothill High in Henderson; Polster was the Nevada Gatorade Player of the Year at Palo Verde. But they played on the same club side (Downtown Las Vegas) and the same college side (Southern Illinois-Edwardsville).
Yes, UNLV recruited them, but they wanted to get away to play college soccer. SIU-Edwardsville is only 27.4 miles from St. Louis. And St. Louis, Volesky said, is the mecca of U.S. college soccer, the holiest of U.S. college soccer grails.
So these two have practiced a lot of corner kicks and the other soccer skills together. When Polster passes the spotted ball to Volesky, he knows what boot Volesky likes it on. Both were on the short list (34 players) considered for the Hermann Award, college soccer's Heisman Trophy,
The teammates were among three Las Vegans invited to the MLS scouting combine.
UNLV forward Sal Bernal, last season's Western Athletic Conference Player of the Year who made a couple of All-America teams, also went to Florida to play soccer and be interviewed by MLS coaches. Bernal stands only 5 feet, 7 inches, which is short for a target forward, but his lack of size hasn't stopped him thus far.
Only 55 received invitations to the combine. With three being from Las Vegas, that probably says something about the growth of Las Vegas-area soccer.
After Volesky handed the cellphone to his soccer pal, Polster said what it means is that the Las Vegas area is becoming a special place to play youth soccer. Just to be invited to the MLS combine is pretty cool, he said.
The combine is expected to jump start the pro careers of the three locals, though none is projected as first-round picks.
Still, an MLS spokesman said there is a good chance that all players who attended the combine will be selected starting today when the MLS SuperDraft begins at 9:30 a.m. PST at the Pennsylvania Convention Center in Philadephia.
The two MLS expansion clubs — Orlando City SC and New York City FC — will choose first. Sporting Kansas City will have the 10th, 12th and 20th picks. This may or may not be relevant, though one has to admit Sporting Kansas City is a pretty cool name for a soccer team.
Maybe we'll be seeing a lot more of Sporting Kansas City around here if Las Vegas builds its new downtown soccer stadium and is awarded an MLS expansion franchise.
Volesky, who scored eight goals to lead SIUE in scoring for the third straight season, and Polster, who anchored the defense during the Cougars' drive to the NCAA Tournament second round, said playing for or against a hometown MLS side would be a bigger rush than bending one in like Beckham, when David Beckham still could bend them in.
But at least one prominent observer of the local soccer scene said MLS might only be the start for these guys, especially Polster.
"That dude will be a professional for 10 or 15 years," said Simon Keith, the former UNLV star who was the first player selected in the 1989 Major Indoor Soccer League draft. "He is the real deal.
"These three guys are really just the first in a crop of Las Vegas players that could be long-term professionals. There's more coming."
Said Polster, who has dark features and pearly white teeth and from a distance looks like Cristiano Ronaldo of Real Madrid (female MLS soccer fans are going to love this kid): "The goal is play as a pro. If the MLS is (interested) then that's where I'll start."
The first two rounds of the SuperDraft are today, with the third and fourth rounds to be conducted via conference call on Tuesday. Volesky and Polster said they probably would attend in Philadelphia. It wouldn't surprise me one bit if they were sitting next to each other in the convention center ballroom.
Las Vegas Review-Journal sports columnist Ron Kantowski can be reached at rkantowski@reviewjournal.com or 702-383-0352. Follow him on Twitter: @ronkantowski.