October 16, 2010 - 11:00 pm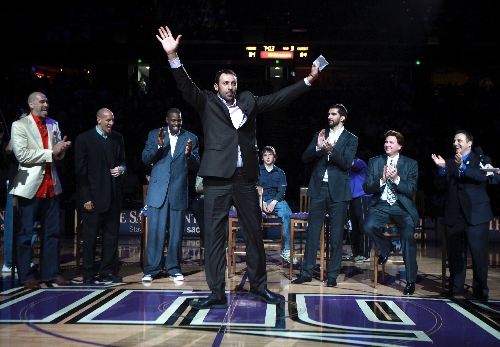 Several years ago, Seat Williams of the local ESPN Radio affiliate and I interviewed Vlade Divac's knees in a tiny DJ cubicle. When Divac sat, you had to look through his knees and upward to see his face, or at least the whiskers on his chin.
Divac wasn't like most NBA stars I have interviewed. He was friendly and interesting. That is, until I asked about the strife in what used to be Yugoslavia. By then it had been torn asunder by a brutal civil war pitting Serbia, the region of his birth, against Croatia, the region of Drazen Petrovic's and Toni Kukoc's and Dino Radja's birth.
These were his teammates when Yugoslavia was the best basketball team in the world, so good that we had to assemble a Dream Team to beat them. They were like brothers, until Divac ripped the Croatian flag away from a fan who had stormed the court after the Yugoslavs won the FIBA World Championship in 1990.
Divac believed the basketball court was the place one sinks baskets and snares rebounds and makes nifty no-look passes, not a place where one makes political statements.
It was this instinctive act that drove a wedge between Divac and his teammates, especially Petrovic, and inspired "Once Brothers," arguably the best installment yet of ESPN's compelling "30 for 30" series of sports docudramas. If you missed last week's premiere, you can catch it at 6:30 p.m. Wednesday. I would set the DVR now.
Divac and Petrovic once were best friends, and you would think that would count for a lot/something. But there are certain parts of the world where nationalistic pride dissolves bonds once thought indelible.
Not saying that's right or wrong, just how it is, and watch a soccer match between two former warring nations and see if you don't agree.
I'll never forget the tears that welled in Divac's eyes when I asked about the troubles back home, knowing I never would understand them in the way he did.
THREE UP
■ GREG ARCHULETA: The New Mexico football beat writer for the Albuquerque Journal has been reassigned after suggesting to one of the Lobos in an e-mail that if the player indeed had quit the team, maybe it was for the better (considering how bad New Mexico is in football). It seemed like a convoluted scheme on Archuleta's part to start enjoying his Saturdays, but at least it worked.
■ FOOTHILL HIGH: We were sitting in the backyard Friday night when there was this huge roar immediately followed by this spirited rendition of a fight song. Foothill High had just pulled out a football victory over Basic to remain undefeated. Sometimes in sports you have to be there. And sometimes you only have to be sitting in your backyard a couple of blocks away.
■ ALLAN BAINTER: That was the name of the New Mexico high school football official attacked by a player on the field in 1996 and rendered unconscious, resulting in various addendum to various rule books, and that might be the 10 minutes of infamy for which he will be remembered after his death because of illness. But I will remember him as a lousy Strat-O-Matic baseball player, someone who once set his living room ablaze by adding charcoal fluid to the embers in his fireplace, and as a guy you'd be proud to call a pal.
THREE DOWN
■ PHIL JACKSON: The legendary Lakers coach was telling a story before the annual NBA preseason game here that made it sound as if his first visit to Las Vegas was cut short by the deadly MGM Grand fire in 1980 that coincided with a junket for the old Knicks. "So you were there?" one of the TV guys asked incredulously. "No," the former Albany Patroons coach said. "But that is probably the only chance where I would have come." In the Zen world, I'm sure it made perfect sense.
■ DANICA PATRICK: The auto racing diva has announced that March's Nationwide Series race at Las Vegas Motor Speedway is on her 2011 schedule. I think this is supposed to spur ticket sales or something.
■ T.J. LAVIN: An unfortunate aspect about inherently dangerous sports is that the competitors usually make them look easy and that sometimes it takes a catastrophic accident to remind the rest of us of their inherent danger. And then all you can do is say a little prayer or the equivalent, hoping that a guy such as the frolicsome BMX star from Las Vegas is going to be OK when the swelling on his brain goes down.
Las Vegas Review-Journal sports columnist Ron Kantowski can be reached at rkantowski@reviewjournal.com or 702-383-0352.