Three Up, Three Down: Muffled bats are a hit with UNLV's Chambers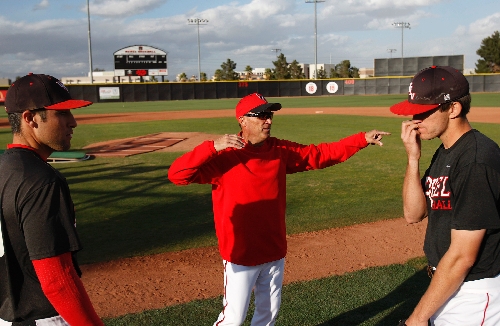 Something was different around the batting cage at Wilson Stadium. Yes, it looked enough like batting practice. No, it did not sound like batting practice. Not at all.
The familiar "ping," the sound that transforms .240 college baseball hitters into Albert Pujols and college baseball games into the Penn Relays in terms of scoring, was gone. It had been replaced by a muffled "thwack."
UNLV coach Tim Chambers loves the sound of a muffled thwack. It means 13-11 games are out and 4-2 games are in. It means a game that closely resembles real baseball is back at college diamonds across the land, owing to new aluminum bats that perform like old wooden ones.
Although the new bats were legislated for safety concerns — the ball doesn't jump off these new metal barrels the way it did the old ones, meaning pitchers are less likely to get skulled with wicked line drives — they have drastically reduced scoring. Home runs are down as much as 50 percent in some of the power conferences, which have become sacrifice bunt and hit-and-run conferences.
Games are being played in less than two hours, like when Bob Gibson pitched against Sandy Koufax. This allows more time for studies or beer pong.
When I asked Chambers about the impact of the new bats, he made a slashing motion across his throat, like a Navy SEAL upon dropping from a helicopter into the compound of a known terrorist.
"The big guys who hit 20 (home runs) are now hitting 10 to 15," Chambers said. "The little guys who hit eight to 10 aren't hitting any."
It has affected the way guys manage, too. There are a lot more Tony La Russas on campus today than Earl Weavers. A lot more games are being decided by squeeze bunts and sacrifice flies than three-run homers. More dings, less dongs.
"A couple of dings, a couple of pushes," Chambers says about the new mindset. "You can't get it all back in one swing."
Last year, the Rebels hit 47 homers and their opponents hit 57; with a week remaining in the 2011 regular season, UNLV has gone yard 34 times, their opponents 23. Last year, the run totals were 451 (UNLV) and 497 (other guys); this year, it's 316 and 265.
Chambers nodded in the direction of the cage where Trevor Kirk and Scott Dysinger, two of UNLV's best hitters, were taking BP.
Kirk has one home run; Dysinger has zero. They don't even hit batting practice home runs. Everything both players hit on this day was a hard ground ball or a line drive.
Thwacks with mufflers on board.
THREE UP
■ After I wrote the 51s have a lousy bullpen and going to their games seems mostly like something to do when there is nothing to do, the team went on a winning binge, taking nine of 10 before losing to Albuquerque on Friday night — in front of a season-high announced crowd of 10,202 on Warm Weather Night at Cashman Field. (Actually, it was 51s' Retro Jersey Night.)
■ South Point owner Michael Gaughan and co-drivers Mike Growney and Billy Goerke finished fourth among 65 starters in the vintage class — for the years of the cars and trucks, not the drivers — at the NORRA 1000 off-road race in Mexico. Gaughan is 68 years old. And no, wise guy, he did not leave his turn signal on for the entire 1,000 miles.
■ UNLV's Tanner Peters recorded his third consecutive complete game in a 3-1 victory at Air Force on Friday, giving him seven complete games in 13 starts this season. By comparison, Roy Halladay of the Philadelphia Phillies leads the majors with three complete games in eight starts; last season, Halladay led the majors with nine in 33. Tanner Peters, it can be assumed, was not terribly impressed.
THREE DOWN
■ Last year, UNLV played six home football games, including one against budget-boosting Wisconsin — and the program still lost more than a half-million dollars. This year, when money is tighter than Kirstie Alley's blue jeans, the Rebels will play only five home games — and one is against Southern Utah. I smell another Retro Jersey Night coming.
■ Former UNLV standout Charley Hoffman has slipped to No. 3 on Yahoo.com's list of "hottest fantasy golfers" after snapping his putter in two coming off the 18th green at The Players Championship on Thursday upon missing a 3-foot putt for par. Hoffman was sporting lime green slacks and a mullet, which might or might not make it more difficult to manage one's anger.
■ Bryce Harper, who is hitting the ball so hard and far (.393, nine HRs, 31 RBIs at Class-A Hagerstown) that he might soon be called up to the Gashouse Gorillas, was recently forced to endure vulgar taunts pertaining to his mother and sister from an obnoxious fan in West Virginia. Shrugged Harper to the Washington Post: "It's just getting me ready for Philly."
Las Vegas Review-Journal columnist Ron Kantowski can be reached at rkantowski@reviewjournal.com 702-383-0352. Follow him on Twitter: @ronkantowski.