Tonalist spoils party, leaves fans stunned at South Point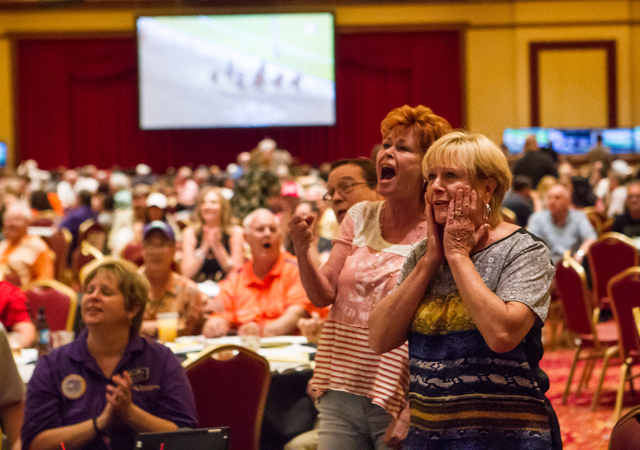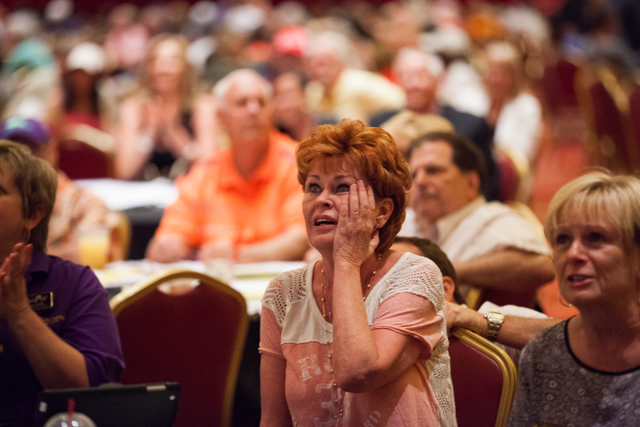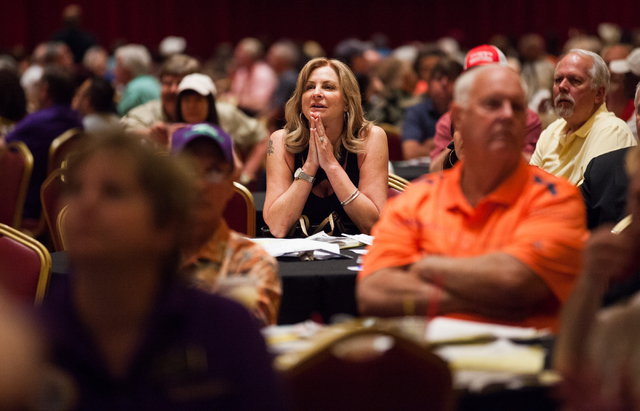 There are triple crowns in baseball, motor sports, pro wrestling, poker, alpine skiing, European basketball, boxing, bridge, cycling, Brazilian football, golf, nordic skiing, rugby union, snooker, surfing, tennis, cricket, hiking, dog shows and paintball.
Other triple crowns include the papal tiara, a crown worn by popes; the triple crown of acting; Triple Crown Records; hockey's Triple Crown line (Marcel Dionne, Dave Taylor and Charlie Simmer of the old Los Angeles Kings); and Triple Crown Car Wash and Towing of Anderson, Ind.
But the triple crowns people get most worked up about are in horse racing. There are eight, with the biggest being the Triple Crown of thoroughbred horse racing in the United States. It's what makes our sports books smell like stale cigars for five weeks every year.
Sir Barton (1919), Gallant Fox (1930), Omaha (1935), War Admiral (1937), Whirlaway (1941), Count Fleet (1943), Assault (1946), Citation (1948), Secretariat (1973), Seattle Slew (1977), Affirmed (1978). These are the Triple Crown winners. There have been only 11, and none since the advent of the disco era, if that puts it into any kind of perspective.
On Saturday, a horse named California Chrome became the 13th winner of the Kentucky Derby and the Preakness to try to win the Belmont Stakes since Affirmed won all three despite Alydar's protestations.
Chrome was a great story, mostly because he is owned and trained by average joes. That would explain why the sports book at the South Point was filled to capacity Saturday, and about 200 more people clutching racing forms spilled into the Grand Ballroom for a Belmont Stakes party.
In years when the Triple Crown is not at stake, you'd be lucky to get a few old-timers wagering on allowance races at Gulfstream Park.
The grand ballroom was set up with 32 big screens and four ginormous ones, and temporary betting windows, and $1 hot dogs, also temporary. You could tell right away this was a way bigger deal than the Triple Crown of paintball.
Just before 4 p.m., the horses were loaded into the starting gate. And then they were off. Even Ride On Curlin, who would finish 87 lengths off the pace.
A lot of people sprang from their seats to shout at the 32 big and four ginormous screens. They were all shouting for California Chrome and his jockey, Victor Espinoza.
"He's OK!"
"Don't block him in!"
"Find a hole, Victor!
"C'mon Victor, move him to the front!"
It went on like that for 2:28.52.
It turned out California Chrome wasn't OK.
He got blocked in.
Victor couldn't find a hole, couldn't move him to the front.
At the wire, a horse named Tonalist won. Who wanted to see that? Nobody, judging from the grand hush that fell over the grand ballroom.
Usually at a horse race, somebody bets the winner, and somebody is cheering like mad at the finish. If anybody bet this horse Tonalist, they weren't whooping and hollering about it. Nobody approached the betting windows to collect their earnings for a full five minutes, at least.
The people who were shouting at the TV screens plopped back to their seats in resignation. I had seen the disappointed looks on their faces before. I had seen it at Christmastime many years ago, when my siblings were expecting an Etch-A-Sketch or a Slinky and instead received clothes.
"You looked pretty disappointed," I said to a redheaded woman who had plopped back to her chair.
"I was," said the woman, Theresa McQuiggan.
"How many tickets did you have on Chrome?"
"No, it was the history. I was here for the history."
Well, she was mostly there for the history. She was partly there because Theresa McQuiggan's husband, Patrick, is the house handicapper at South Point.
Patrick McQuiggan looked a little stunned, too.
"It was a fantastic story of mom-and-pop breeders that had that dream," he said of California Chrome's connections, primarily of his co-owner Steve Coburn, who sports one of those bushy Wilford Brimley mustaches.
"Best day ever for the Belmont," McQuiggan said of the buzz generated by Chrome and his connections.
Let the record and the Daily Racing Form show that California Chrome finished fourth, which is pretty much where he was at the top of the stretch. By then, he was not running like a tremendous machine. Only Secretariat could run like that. By then, Chrome was running like Prince Fielder trying to stretch a single into a double.
The grand ballroom knew it, too. These were horse racing people. These were not people — except for one lady — wearing big bonnets like at the Derby.
A woman sidled over to where I was chatting with McQuiggan and Wife. She also looked disappointed, though she said she had made about $280 betting the preliminary races.
She looked familiar.
It was a nice lady named Joan Marcotte. I had written about her a couple of years ago when she and her partner had picked the Super Bowl teams before the NFL season even started and had bet some money on them. But there was something different about her.
It was then I noticed she was wearing one of those breathing strips across her nose in honor of California Chrome.
Las Vegas Review-Journal sports columnist Ron Kantowski can be reached at rkantowski@reviewjournal.com or 702-383-0352. Follow him on Twitter: @ronkantowski.