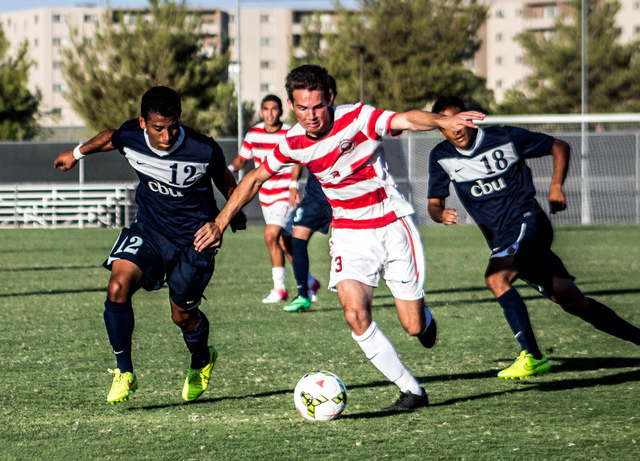 Another UNLV football season has arrived, which means other nonrevenue-producing sports programs at UNLV also are beginning their seasons, only with much less fanfare.
If you go to the football games, you might get to meet one of those other UNLV teams, which tend to have high grade-point averages.
Sometimes when one of those other teams achieves success, players are introduced to the crowd at halftime of a late-season football game. Public address announcer Dick Calvert says let's give these student-athletes a nice hand, and then people who don't go out for a beer at halftime always do.
Maybe this year, it'll be the men's soccer team that receives a nice hand.
After the 2010 season, after Mario Sanchez had guided the team to an 8-7-4 record — the first winning season for the men since 2002 — he resigned.
To become an assistant coach at Louisville.
Head soccer coaches usually do not resign to become assistant soccer coaches, unless there's a good reason, such as strong rumors the men's soccer program might have to be sacrificed because of budget concerns.
So when Sanchez left, his recruits went with him, or went elsewhere. The men's soccer cupboard was bare.
Rich Ryerson, a former UNLV stalwart when Barry Barto was soccer coach, bravely volunteered to take over the program as its death watch continued. Money was so hard to come by that Ryerson sold fireworks out of a stand at the intersection of Westcliff and Durango drives for Fourth of July festivities.
The soccer program somehow survived.
New benefactors — the Engelstad Family Foundation and the family of Gary Hanna, a former local car dealer — joined old benefactors such as Ken and Alice Johann.
Now the men's soccer program is back on firm footing. Now there is a new 90-foot sun shade over the north bleachers at Peter Johann Field, and the area around the picnic ground has been opened up by removing fences. Flowers are blooming in the picnic area.
The soccer pitch is emerald green and it all looks very inviting.
"How incredible has it been to have had a few families in the community step up for us?" Ryerson asked rhetorically.
And now, with cash influxes of high six figures and even seven figures, UNLV has been picked to finish in second place in the WAC. This is what statisticians and Hindus might call cause and effect.
It's also the highest UNLV's men's soccer team has ever been picked in a preseason poll. (When the Rebels were good when Barto was coach, the Big West didn't conduct a preseason poll.)
But if you want to see for yourself how much progress the men's soccer team has made under Ryerson since he was spotted selling Roman candles on the Fourth of July, you'll have to park at the UNLV baseball diamond and walk to Peter Johann Field, or ride on a golf cart.
A construction project that was supposed to be finished by now, that will provide an additional 125 parking spots at the soccer complex, isn't finished. Now they're saying mid-September. So now there are just nine parking spots at Johann Field, or one for every returning UNLV starter, if all the returning starters drove cars.
"It's great to see progress being made," Ryerson said, which goes for on the field as well as off.
The Rebels improved to 7-10-2 last year, but with four all-conference players returning, anything less than a winning record would be a bigger disappointment than returning to campus and finding the soccer parking lot still all torn up.
"We had some great preseason poll results," said Ryerson, whose team opens the season this weekend at the Hotels at Grand Prairie Classic hosted by Bradley in Peoria, Ill. "But at the end of the day, at the postseason, are we going to have those same four players involved? Are we going to have the No. 1 position (in the WAC)?
"It's surprising that we would have four players on the all-conference team of 11 and still not be the No. 1 (pick). So I don't know how that quite works. But it gives us a little chip on our shoulders, something to shoot for."
UNLV will be shooting to unseat Seattle University atop the WAC with a significant percentage of homegrown talent. Of the 26 players on the preseason roster, 15 are native Nevadans, with 13 having received their soccer upbringings in Clark County.
Two of the four returning all-WAC players, midfielder Sal Bernal (Clark High) and defender Kyle Mellies (Silverado) are locals, as is top recruit Danny Musovski, a forward who played at Liberty High and was heavily recruited by Washington and Northwestern.
Getting Musovski was huge, Ryerson said, and so was the fact that the Rebels didn't have to sell fireworks this year, thanks to those benefactors.
So when the dust clears on 2014, UNLV might even find itself in NCAA playoff contention, and being introduced to the crowd at halftime of the UNR football game on Nov. 29. By then, there might even be a place for Rich Ryerson's assistant coaches to park their cars.
Las Vegas Review-Journal sports columnist Ron Kantowski can be reached at rkantowski@reviewjournal.com or 702-383-0352. Follow him on Twitter: @ronkantowski.