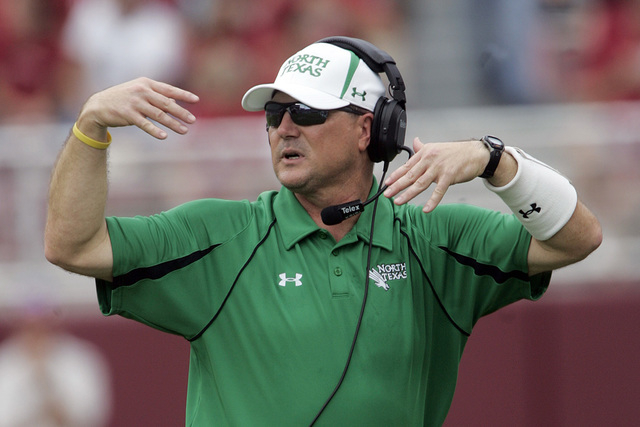 It was called the Bold Experiment.
By now you probably are familiar with Notre Dame having hired a wildly successful high school coach from a Cincinnati parochial school named Gerry Faust to wake up the echoes. This was in 1981. The echoes hit the snooze button until Faust was fired and Lou Holtz, a proven college coach, was brought in. Then the Fighting Irish won the national championship.
But as was written when rumors surfaced that UNLV would turn to Bishop Gorman's Tony Sanchez to guide its football team, they already had a nice weight room at Notre Dame.
An even bolder experiment, one that correlates more directly to UNLV, was conducted on the field turf laboratory at North Texas, now of Conference USA, then of the Sun Belt.
In December 2006, the Mean Green hired Todd Dodge straight out of Southlake Carroll High School in the affluent Dallas suburbs to direct its moribund football program.
During his seven years under Friday night lights at Southlake Carroll, Dodge's teams went 98-11, won four Class 5A state championships and lost a fifth by one point. Each of his title teams was anointed national champion. USA Today named Dodge, a former Texas quarterback under Fred Akers, national coach of the year.
Coach Eric Taylor of the Dillon Panthers refused to schedule Southlake Carroll, that's how good the Dragons were.
The New York Times came out with a story about Dodge, and about his free-wheeling spread offense they called "Dodgeball."
"If football is king, then Todd Dodge is a prince in the Lone Star state," wrote the Gray Lady.
In hiring Dodge, North Texas beat the Dallas Cowboys to it. True story. Dodge was so admired as a prep football coach that when Bill Parcells was coaching the Cowboys, he offered Dodge a job on his staff.
So when the Mean Green search committee got into Dodge, people in the Denton area were pretty excited — a lot more enthusiastic than people around here seem to be about Tony Sanchez coaching the Rebels, at least judging from the message boards.
They agreed to build a new 31,000-seat football stadium for Dodge and the team that cost $78 million. And this was without Dodge bringing a benefactor with deep pockets to the dance. At North Texas, they just jacked up student fees to pay for it.
The new stadium opened in 2011.
Todd Dodge was not around to see the ribbon cut. He was fired in the middle of the 2010 season.
With a 6-37 record, he might have gotten a contract extension at UNLV.
So a lot of people have written off the bold experiment of Tony Sanchez as Rebels coach before they even have his news conference today, when most people seemed enthused about Bobby Hauck coming on as coach, or Mike Sanford before Hauck, or John Robinson before Sanford.
They even put in new goal posts for Robinson at Sam Boyd Stadium, and a new press box with luxury suites, and nobody seemed concerned about where the money was coming from, because that's what you needed to be competitive.
Then, at least. Now you need a new weight room, because Boise State has one, and a study hall because the library is too far too walk.
Some of the football optimists in North Texas said Todd Dodge's biggest problems weren't the weight room or the study hall but his assistant coaches.
Dodge brought four of his high school cronies with him. A fifth aide came from a Division III school that didn't offer scholarships; a sixth had been out of coaching 13 years.
Tony Sanchez has a lot of energy. He has that fiery look in his eye, like Lombardi. People who are giving him the benefit of doubt say with the right assistants he might even win a few games. In the downward spiral that is the Mountain West, it wouldn't take a whole lot.
It is here that I would point out that Tom Cable, Scott Linehan and Chuck Pagano went on to become NFL head coaches, and that you couldn't have seen that coming when they were UNLV assistants, owing to the Rebels' won-loss record.
So maybe it's not about the coach, or his assistants.
Maybe it's not even about weight rooms and a study hall and a new stadium and cool uniforms, although Oregon was pretty lousy in football until it got cool uniforms (and a bazillion dollars from Phil Knight at Nike headquarters).
Indiana, thanks in part to John Mellencamp's deep pockets, now has indoor practice fields and the biggest weight room in the Big Ten.
The Hoosiers finished 4-8 this season. Little pink houses and a win over Missouri.
As for North Texas, it replaced Todd Dodge with Dan McCarney, a proven college coach, a guy who won a fair share of games at Iowa State, which is hard to do. Last season, the Mean Green went 9-4 and whipped UNLV in the Heart of Dallas Bowl.
Neal Smatresk, who by then had resigned as UNLV president to become chief executive at North Texas, presided over the coin flip.
The Mean Green, playing in its new football stadium, went 4-8 this season.
UNLV went 2-11 again.
Smatresk probably thought North Texas had a pretty good season.
Las Vegas Review-Journal sports columnist Ron Kantowski can be reached at rkantowski@reviewjournal.com or 702-383-0352. Follow him on Twitter: @ronkantowski
RELATED:
Sanchez to get four-year, $500,000 annual salary from UNLV