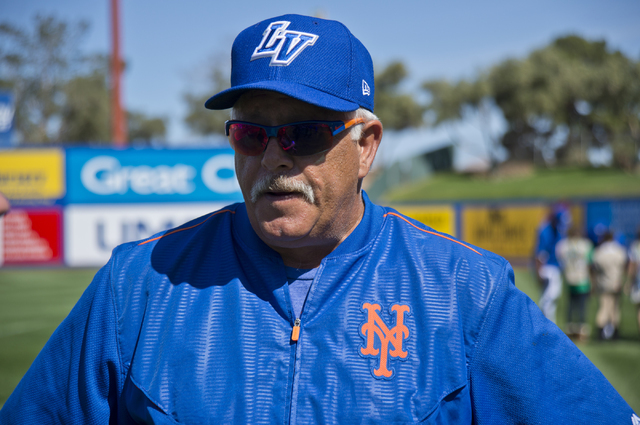 Was Wally Backman fired as manager of the 51s? Did he resign? Was it a combination of the two?
The term used by reporters in New York was that Backman was pushed out for a "pattern of defiance." This may be an overwrought expression for "not letting Michael Conforto hit against lefties," which Backman may have done once, because Backman really wanted to win the game.
But as far back as spring training he talked (outside the lines) about his days being numbered in New York, or at least how the baseball tea leaves were not lining up with his old team. Backman said then he was thinking about moving on.
Some baseball people have said Wally Backman could be difficult to deal with. Maybe for umpires who missed a call, that was accurate.
I found the exact opposite to be true. He spoke gruffly, but that was because he chain-smoked.
This was one baseball man who would do anything you'd ask. Yes, Backman was old school, but he also used Sabermetrics, because he thought they helped him win.
He would answer difficult questions after a difficult defeat, and after you sheepishly said the red light on your cellphone didn't come on, he would answer them again, for the makeshift video.
His pattern, if anything, was one of cooperation. Not of defiance.
CHANGING THE GAME
Why is it that everytime a new weight room is built for football players or a new stadium is built on the outskirts of town people refer to it as a game-changer?
Remember when a game-changer was the guy who scheduled doubleheaders after a rainout?
Now everything and everybody is a game-changer — a helium reserve discovered in Tanzania recently was said to be a game-changer — and then it starts to sound cliche, and then you grow tired of it.
It's sort of like that Chicago Blackhawks' hockey song ("Chelsea Dagger" by The Fratellis). The first 1,000 times you heard it, it probably sounded pretty cool.
Use of the term game-changer started in 1993 according to Merriam-Webster's. It did not say who was responsible.
I'm guessing it was the same guy who started calling game-winning home runs walk-off home runs.
IT'S ALWAYS UNLV'S FAULT
The website Deadspin said Rob Boras, a former UNLV assistant coach who is now offensive coordinator for the Los Angeles Rams, was in large part responsible for that deplorable-in-baskets Monday Night Football opener during which the 49ers and Rams combined for nine consecutive three-and-outs.
An unnamed 49ers player said the Rams were tipping passing plays by how they lined up.
Wrote Deadspin's Barry Petchesky: "Right now you're probably racing to look up who the Rams' offensive coordinator even is. I'll spoil it, it's Rob Boras, and his resume isn't a hearty or heartening one: three seasons at UNLV, and then 11 years as a tight ends coach."
Boras was UNLV's offensive line coach, and later offensive coordinator, under John Robinson when the Rebels beat Arkansas in the Las Vegas Bowl and were actually pretty good for one season.
STONE-FACED SLUGGERS
If Kris Bryant (Bonanza) is George Washington on Las Vegas' Mount Rushmore of current-day baseball sluggers, and Bryce Harper (Las Vegas High) is Thomas Jefferson because Harper's batting average has nose-dived to the .240s, then who is Teddy Roosevelt, the third face to be carved in horsehide-covered granite?
Chris Carter, for sure.
The 29-year-old Silverado High product has hit 34 home runs for the Brewers, third-most in the National League behind Bryant and the Rockies' Nolan Arenado, who are tied for first with 37. Carter also has started 140 games and played in 146, which leads Milwaukee.
"I've always wanted to be one of those guys who goes out there every day and plays, and being able to do that is big," the equally big — 6 feet 4 inches, 245 pounds — first baseman told reporters in Cincinnati.
As for who is Abe Lincoln this year, I'm still going with Bishop Gorman's Joey Gallo over Durango's Tommy Pham (.228, 9 HRs, 17 RBIs for the Cardinals) and Spring Valley's Tyler Anderson (.121, 1 HR as a Rockies pitcher) — even if Gallo is only hitting .059 for Texas and hasn't done anything since being recalled from Triple-A Round Rock. Because when Gallo does run into one, it usually winds up in the Black Hills.
JUST CALL HIM RY
Ryan Alan Reeves, who was a good baseball player at Western and Palo Verde High before he became the famous professional wrestler Ryback, is trying to legally change his name to the latter.
Ryback — an amalgamation of Ryan and Silverback, as in the gorilla — revealed on his podcast that he has gone to court since leaving World Wrestling Entertainment so he can continue using the name of the persona he created.
Was this pulling a concealed foreign object from one's tights when the referee wasn't looking? Maybe. It's also like World B. Free, without the high-arcing jump shot.
A couple of years ago, when Ryback — aka "The Big Guy" — and I spoke via cellphone when he was riding around Phoenix, it was mentioned that Randy "Macho Man" Savage had been a minor league catcher and outfielder when he was known as Randy Poffo. To which The Big Guy said his uncle was Randy St. Claire, who had pitched for the Expos, Reds, Twins, Reds, Braves and Blue Jays — and who had just been named pitching coach for the Las Vegas 51s.
After the 2013 season it was announced Randy St. Clair would not return as 51s pitching coach.
There was no mention of a pattern of defiance.
Las Vegas Review-Journal sports columnist Ron Kantowski can be reached at rkantowski@reviewjournal.com or 702-383-0352. Follow him on Twitter: @ronkantowski.